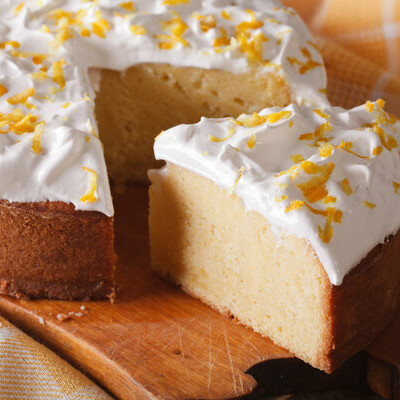 Tres Leches Cake
Also known as tres leches bread or three milks cake
---
What is Tres Leches Cake?
Tres leches cake is a moist dessert made with a sponge cake soaked in three different milks, as the name implies. It's a Latin American cake that can be eaten plain or with a meringue and cinnamon topping.1
The different milk types used as a soaking syrup include whole milk, evaporated milk, condensed milk, cream milk or half and half. Flavors like chocolate, coconut, coffee or strawberry are commonly used.1
Variations of tres leches:1
Cinco leches cake: the cake is topped with 2 cups of rum whipped cream, and ¼ teaspoons of ground cinnamon.
Cuban tres leches cake: coconut milk is used to replace condensed and evaporated milks.
Peruvian dulce de leche cake: dulce de leche or arequipe is placed between two cake layers.
Origin
There is a dispute whether tres leches was first created in Nicaragua or Mexico. Some historians associate the development of tres leches with the invention of commercial condensed milk in the 1860's, and was a part of  the merchandising campaign to promote it.2
As a traditional Latin-American dessert, tres leches is enjoyed in Mexico, Nicaragua, Venezuela, Cuba, Costa Rica and Puerto Rico. Today, Latin American restaurants around the world have created their own versions of tres leches.2
Ingredients
Commonly used ingredients in tres leches cake:2
Ingredient
Type
Usage level (%weight of formulation)4
Function3
Eggs
Fresh Eggs
30.28 %

Provides structure via protein unfolding and aggregation
Imparts color, a result of  Maillard's browning reaction

Condensed Milk
Canned condensed milk
28.73 %

Provides a sweet and rich flavor

Milk
Liquid whole milk
23.29 %

Provides moisture for the soaking syrup

Cream
Traditional cream
21.74 %

Provides a sweet and rich flavor

Sugar
Granulated white sugar
15.53 %

Provides sweetness
Stabilizes meringue by reducing  aggregation of protein molecules

Flour
All purpose flour
9.94 %

Provides weak gluten network
Imparts color, a result of  Maillard's browning reaction

Salt
Granulated salt
0.58 %

Enhances flavor and aroma perception

Baking Powder
–
0.19 %
Vanilla
Pure vanilla extract
–

Provides a characteristic flavor
Nutrition
Typical nutritional value of commercially available tres leches cake per 100 g:5
| Component | Grams |
| --- | --- |
| Carbohydrates | 41.86 |
| Water | 41.49 |
| Fat | 8.73 |
| Protein | 6.35 |
*Composition made does not add to a 100 g
Tres leches cake provides around 267 kcal per 100 g serving.4
Commercial production
Traditional tres leches cake is produced through the following process:1,2
Sponge cake
Dry ingredients mixing.
Mixing: fold the dry mix into the egg yolk mixture.
Egg wihte mixing: egg whites are beaten until soft peaks. Remaining sugar is then added.
Final mixing: folding egg whites mixture  into the flour-yolk mixture and transferring to a rectangular greased baking dish.
Oven baking:  the sponge cake is baked  at 180 oC (350 oF) for 25 – 30 minutes.
Cooling for further processing.
Three milk syrup
Mixing:the three milks are mixed with the vanilla.
Soaking: pouring the milk mixture on the cooled sponge cake.
Topping: prepared meringue is poured over the soaked cake followed by sprinkling ground cinnamon. In the US, meringue is replaced by whipped cream.
Tres leches has a short shelf life, typically  around two days in the refrigerator, and is best served cold.1
Regulations
Tres leches cake doesn't have specific regulations by the FDA and core ingredients are generally recognized as safe by the FDA.
In the EU, tres leches cake doesn't have specific regulations and its core ingredients are considered safe for consumption.
References
Castella, K. A World of Cake: 150 Recipes for Sweet Traditions from Cultures Near and Far-Honey Cakes to Flat Cakes, Fritters to Chiffons, Meringues to Mooncakes, Tartes to Tortes, Fruit Cakes to Spice Cakes. Storey Publishing, 2010.
Stradley, L. "Tres Leches Cake History And Recipe." What's Cooking America, 2015, https://whatscookingamerica.net/history/cakes/treslechescake.htm .Accessed 16 October 2021.
Figoni, P. How Baking Works: Exploring The Fundamentals Of Baking Science. 2nd ed., John Wiley & Sons, Inc., 2008.
"Pastel Tres Leches | Recetas Nestlé." Recetas Nestlé, 2021, https://www.recetasnestle.com.ar/recetas/postres/pastel-tres-leches .Accessed 16 October 2021.
U.S. Department of Agriculture, Agricultural Research Service. FoodData Central, 30 October 2020. https://fdc.nal.usda.gov/fdc-app.html#/food-details/1100946/nutrients . Accessed 16 October 2021.