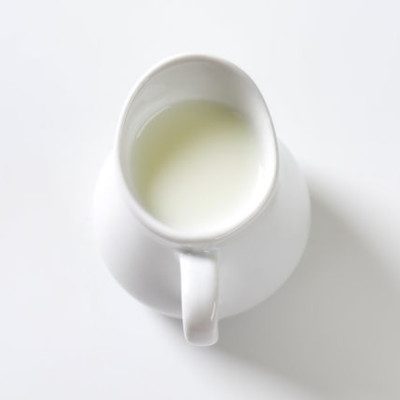 Milk
---
What is Milk?
Milk is a nutrient-rich white fluid secreted from the mammary glands of female mammals. In baking, it moistens batter or dough, and adds protein, color and flavor to baked goods.1
The most common form of milk in baking is non-fat dry milk (NFDM), which is dehydrated skim milk. The shelf life of dry milk is longer than liquid and easier to bulk transport. Dry milk helps to:
Improve the texture and mouthfeel of baked goods
Create a strong batter or dough from the protein
Add fat and sugar to help provide a crisp crust, color, and flavor
Origin
Milk became common in food and diets with domestication of livestock around 9000-7000 B.C. Today, liquid milk is pasteurized, homogenized, and fortified before being packaged and sold.
Function
The Maillard reaction can be produced from the combination of proteins and lactose (fast-browning milk sugar) in milk at high temperature. The combination of proteins and lactose, along with fat, delays the staling of baked products. Especially, for lean bread doughs. If milk is used instead of water, the crust is softer in products like cream puffs and pan bread. Milk also reacts with flour in strengthening gluten formation. So, it is considered a dough strengthener.
Types/Variations
Substitutes or alternatives
Application
Adding milk to dough will:
Increase water absorption of dough. Dough will become softer compared to dough made with water.
Increase pH of dough vs. water dough. Fermentation will be slower and fermentation tolerance will be slightly improved.2
Increase bench time due to slow fermentation.
Baked goods will color faster than water dough.
Baked goods will show greater volume (improved capacity to retain gas), darker crust (presence of lactose), and longer shelf life (milk fat).
In baking formulations, fresh whole milk can be replaced with NFDM, butter and water. For every 100 g of whole milk, use 8.5 g NFDM, 3.5 g butter and 88 g water. NFDM is often used in pancake, muffin, biscuit, pancake mix, or sugar cookies.3
Evaporated milk is used for pie or cake, while condensed milk is the main ingredient in many desserts and sweets.
FDA Regulation
Milk is regulated by FDA in article 21CFR131.110 of the Code of Federal Regulations that pasteurized or ultrapasteurized before in final package form for beverage use, including various types, such as concentrated milk, dry whole milk, skim milk, nonfat dry milk, etc.4
References