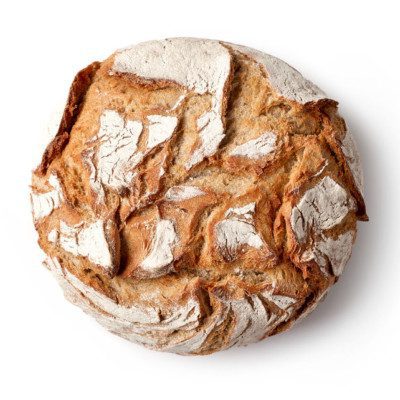 Clean Label Bread
---
What is Clean Label Bread?
Clean label bread means baking with simple, trusted, wholesome ingredients that are familiar to the home cook. Additionally, it means that the ingredients do not rely on conventional agriculture methods such as genetic modification and harmful pesticides.
In bread, cleaning up a label means removing:
Mold inhibitors such as propionates, benzoates and parabens. Replace with vinegar, prune juice concentrate, raisin concentrate, cultured whey, cinnamon or clove.4
Oxidants such as bromates, iodates, calcium peroxide and azodicarbonaminde (ADA). Replace with ascorbic acid (vitamin C) or enzymes.5
Emulsifiers and surfactants such as mono- & di-glycerides, lactylates, and polysorbates. Replace with lecithin or enzymes.5
Clean label does not have a common or objective definition and differs from the organic or all natural label. Clean label focuses on avoidance of chemicals, additives, preservatives, artificial colors, artificial flavors, GMOs, hydrogenated oils and high fructose corn syrup. Having a clean label is no longer a trend, it is a standard.1
Origin
In industrialized countries, consumers are more interested in the food they eat than 50 years ago. They seek out food that seems healthier, tastier and environmentally friendly.  Mintel and Innova Market Insights named clean label a top trend in 2015.3 Also, in 2015, 20% of consumers reported being "heavy" users of clean label products.1
Application
Enzymes, processing aids that may not need to be listed on a label, can improve the quality of bread and while also maintaining a clean label. The careful selection and addition of enzymes will allow for the increase of fiber and reduction of fat and sugar in a bread recipe.6 Consumers looking for a clean label bread expect it to have these qualities but still taste good.
Clean label bread can also mean replacing high fructose corn syrup with natural sweeteners such as agave syrup, honey, stevia and monk fruit. Or, replacing modern cereal grains, wheat and corn with ancient grains. Ancient grains include chia, buckwheat, quinoa, hemp, khorasan, emmer, einkorn and amaranth. The use of these natural ingredients in new products launches has nearly doubled between the years 2012 and 2014.1
FDA regulation
There are no FDA regulations or guidelines for clean label or clean label bread.
References
Williams, LuAnn. "Formulating for Clean Label Products". Food Technol, 2016, 70:1, pp 37-47.
Sloan, E.A. "Clean Label Rules, but Confusion Reigns". Food Technol, 2015, 69:9, pp 48-51.
Multisponsor surveys, "2015 Study of Clean Label Foods and Beverages". http://www.multisponsor.com/wp-content/uploads/2015/09/Clean-Label-Food-Beverages-15014.pdf ,Accessed 16 Nov 2018.
Albers-Nelson, R. "Clean Label Mold Inhibitors for Baking". Oklahoma State University Food Technology Fact Sheet FAPC-173, http://www.multisponsor.com/wp-content/uploads/2015/09/Clean-Label-Food-Beverages-15014.pdf, Accessed 16 Nov 2018.
Pyler, E.J. and Gorton L.A. "Bakery Ingredients: Part C Micro Ingredients". Baking Science and Technology ,4th Edition, Sosland Publishing, 2008, pp 394-442.
World Bakers. "Enzymes and Clean Labels".Oct. 20, 2017, https://www.worldbakers.com/enzymes-clean-label/.