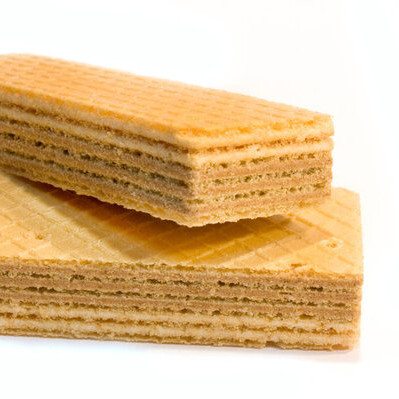 Wafers
---
What are Wafers?
Wafers are a crisp, thin, aerated baked good with characteristic surface reeds.  They are commonly filled with a cream paste of vanilla, chocolate, hazelnut or other inclusions.1 Wafers can also be made gluten-free.
Commercially, wafers come in two main varieties:1
No or low sugar wafers: typically filled with sweet creams, and/or enrobed with chocolate.
Sugar wafers: contain at least 10% sugar and include wafers cones, reels, flutes, fans and sugar wafer cookies.
Origin
Wafers' origin dates to the 9th century Western Europe where the first waffle tong or waffle iron was discovered. The term wafer was first included in Middle English by 1377.1 In the 1890s, Josef Manner manufactured the first hazelnut cream-filled wafer sandwich. Further improvements in continuous baking waffle irons helped with commercializing wafers. 1
Ingredients
Commonly used ingredients in wafers*:1,2
Ingredient
Type
Usage level (Baker's percentage) 
Function
Water
–
140 %

Aids in starch gelatinization
Enhances leavening

Flour
Low protein flour (All- purpose wheat flour)
100 %

Provides structure
Imparts brown color, a result of  Maillard's  reaction

Fat
Butter, margarine
1 %

Provides tenderness, lubrication and mouthfeel
Provides a rich buttery flavor
Improves release from plate

Sugar
Granulater white
12 -20% for sugar wafers

Adds sweetness and browning flavor/color
Enhances texture crunchiness

Leavening
Sodium bicarbonate or ammonium bicarbonate
0.3 %

Provides leavening and aerated texture

Salt
Granulated
< 0.4 %

Enhances flavor and aroma perception

Emulsifier
Lecithin
0.2 %

Aids in emulsification of batter
Improves release of steam
* Older recipes included the addition of eggs and milk for a richer flavor.
Nutrition
Typical nutritional value of commercially available per 100 g:3
| Component | Plain (Rye Flour) | Chocolate | Vanilla |
| --- | --- | --- | --- |
| Carbohydrate | 80.4 | 72.7 | 73.6 |
| Fat | 0.9 | 14.2 | 15.2 |
| Protein | 9.6 | 6.6 | 5 |
| Water | 5 | 4.5 | 5.1 |
| Ash | 4.1 | 2.0 | 1.1 |
A commercial wafer provides 334 – 441 kcal per 100 g serving.3
Commercial production
Wafers are commercially produced through the following process:1
Mixing: water, flour, fats, lecithin and other minor ingredients are mixed in a stainless steel vessel to form a batter.
Depositing: batter is deposited in large baking plates with top and bottom layers.
Baking: wafer sheets are baked at 180 oC (356 oF) for 2 minutes or until moisture drops to below 2%.
Cooling: wafer sheets are demoulded and cooled at ambient temperature.
Cream application: cream is deposited and spread on cooled wafer sheets.
Sandwich building: a top wafer sheet is placed on top of the cream, and the wafer sandwich passes through a cooling tunnel to solidify the cream.
Cutting: wafer sheets may be cut into smaller wafer fingers.
Packaging; wafers are immediately wrapped in moisture-tight packaging material.
Processing considerations1,2
Addition of starch improves sheet quality, stability and produces lighter colored versions.
Ammonium bicarbonate produces softer wafers.
Fats should be thermally stable for sheet release.
Storage: at temperatures below melting points of creams.
Regulations
All ingredients used in wafers production are considered GRAS when following Good Manufacturing Practices. They hold a USDA style B commercial item description.4
In the EU, wafers trade is regulated by the EU Commission 510/2014. All core ingredients are considered safe when following Good Manufacturing Practices.5
References
Tiefenbacher, K. F. The Technology of Wafers and Waffles I: Operational Aspects. Academic Press, 2017.
Tiefenbacher, K. F. The technology of wafers and waffles II: Recipes, product development and know-how. Academic Press, 2018.
U.S. Department of Agriculture, Agricultural Research Service. FoodData Central, 30 March 2021.https://fdc.nal.usda.gov/fdc-app.html#/?query=wafer . Accessed 23 May 2021.
U.S. Department of Agriculture, Agricultural Research Service. Commercial Item Description: Cookies. https://www.ams.usda.gov/sites/default/files/media/CID%20Cookies.pdf. Accessed 23 May 2021.
European Commission (EC). Regulation (EU) No 510/2014 of the European Parliament and of the Council of 16 April 2014 laying down the trade arrangements applicable to certain goods resulting from the processing of agricultural products and repealing Council Regulations (EC) No 1216/2009 and (EC) No 614/2009 .Official Journal of European Communities, 16 Apr 2014.