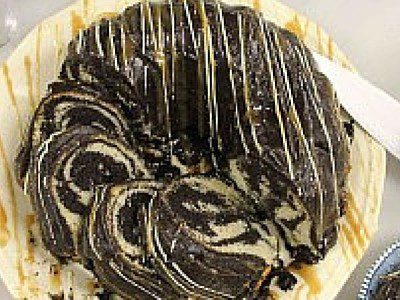 Caramel Marble Bundt Cake
---
Ingredients
2 C Sugar
1 C Butter (softened)
6 Eggs
1 tsp Vanilla
1⅓ C Buttermilk
3½ C All purpose flour
4 tsp Baking powder
1 tsp Salt
½ C Cocoa powder (Dutched)
¾ C Boiling water
Ganache
½ C Cream
¾ C Confectioner's Sugar
1 tsp Vanilla
¼ C Cocoa powder (Dutched)
Topping
½ C White chocolate chips
½ C Alma salted caramel
Method
Grease a 9" Bundt cake pan. Preheat the oven to 350oF.
Mix the flour, baking powder and salt in a bowl. Cream the butter and sugar in another bowl. Gradually add in the eggs, vanilla and buttermilk.
Fold in the flour mixture.
In another small bowl, mix the cocoa powder with the boiling water.
It should look like thick frosting.
Remove a cup of batter and mix it with the chocolate.
Pour the white batter into the bundt pan, then pour the chocolate batter into the center of the white batter, in a circle.
Use a skewer to swirl the chocolate into the white batter.
Bake the cake at 350oF for 55-65 mins, or until an inserted toothpick comes out clean.
At about 45 mins into the bake, prepare the ganache by mixing all the ingredients together.
When the cake exits the oven, de-pan it and pour the ganache over the hot cake. Let it cool for 1 hour.
Melt the white chocolate chips in the oven for 5 mins.
Warm the caramel in the microwave for 30 secs and drizzle both over the cake.
Place it in the refrigerator to harden for at least two hours.