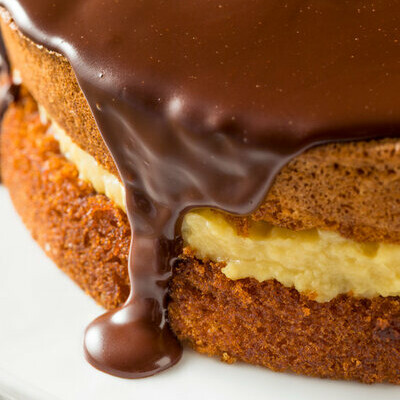 Boston Cream Pie
---
What is Boston Cream Pie?
Boston cream pie is not a pie at all but a sponge cake (or other yellow batter cake) filled with a pastry cream and topped with a freshly cooled chocolate ganache for enrobing.1
A traditional Boston cream pie has 3 main components:
Vanilla batter or sponge cake
Pastry cream as filling
Chocolate ganache as topping or enrobing
How is Boston cream pie made?
Here is a typical formulation of vanilla sponge cake for the base:
Formulation of pastry cream
| Ingredient | Baker's % (based on flour weight) |
| --- | --- |
| Egg Yolks | 32.0 |
| Granulated Sugar | 36.0 |
| Corn Starch | 11.0 |
| Butter | 11.0 |
| Whole Milk (hot) | 175.0 |
| Vanilla Extract | 3.0 |
| Total | 267.0 |
Formulation of chocolate ganache
| Ingredient | Baker's % (based on flour weight) |
| --- | --- |
| Dark or bittersweet chocolate (chopped) | 41.0 |
| Heavy cream (hot) | 43.0 |
| Total | 84.0 |
Application
Processing
Bake sponge cake in standard layer pans or pie tins.
When cool, split each cake into two layers.
Fill with pastry cream and ice the tops with chocolate fondant, or sprinkle with confectioners' sugar.
Sponge vanilla cake
Mixing

Stir dry ingredients and set aside
Blend milk, vanilla extract and butter together while heating in a saucepan until fat melts over medium-low heat. Set aside liquid mixture.
Whisk whole liquid eggs and sugar on high speed for about 5 min until a light and pale sponge is formed.
Gradually add hot milk-butter mixture on top of freshly mixed sponge
Gradually add dry ingredients and mix until fully combined and mixture is homogeneous
Depositing: deposit batter in a 9 in (23 cm) round cake pan. Generously grease the sides, and line it with parchment paper.
Baking: bake sponge cake at 325°F (160°C) for about 30 min, or until a toothpick inserted into the center comes out clean.
Cooling: let product cool for 15 min while still in the pan. With a very thin knife, cut around the edge to release the cake from the side of the pan. Carefully flip the cake onto the rack, then turn it right-side-up to cool completely.
Pastry cream
Mix all pastry cream ingredients together in a saucepan (except vanilla extract), then heat mixture at medium fire. Cook the mixture while whisking constantly to allow the intended custard to thicken and become highly viscous, a consequence of water boiling and starch gelatinization.
Strain custard through a fine mesh sieve into a small bowl, pushing it through with a small spatula. Stir in vanilla. Cover with plastic wrap, pressing the plastic directly onto the surface. Refrigerate pastry cream for at least 3 hours and up to 24 hours before final assembly.
Final cake assembly
Using a serrated knife, carefully cut the cake into two layers and place the bottom layer on a serving plate. Stir custard or pastry cream and spread onto the cut side of the bottom half. Replace the top half of the cake, cut side down.
Chocolate ganache
In a small saucepan over medium-low, pour cream over chocolate chips, and let stand for 3 minutes. Whisk until smooth and dark. Spread the chocolate glaze evenly over the top of the cake. Refrigerate topped or glazed cake for at least 3 hours before serving.
References
Byrn, A. American Cake: From Colonial Gingerbread to Classic Layer, the Stories and Recipes Behind More than 125 of Our Best-Loved Cakes. Rodale, 2016, p. 46