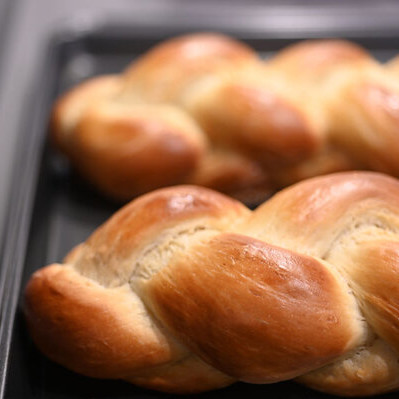 Challah Bread
Also known as khale, berches, hallah
---
What is Challah Bread?
Challah bread is a traditional braided Jewish bread. This egg-bread is characterized by its three-braided form, tender texture and cottony strands.1
The challah bread can be eaten with or without toppings. Common toppings for this type of  bread include sesame seeds, nuts, candied fruits, chocolate, seeds and herbs.1
Commercial variations of challah bread include:1
Traditional Challah
Challah rolls
Round challah (prepared for Jewish New Year)
Key shaped challah  (shlissel challah)
Origin
Challah bread is traditionally a Jewish bakery product of Eastern European origin, commonly consumed during shabbat, weddings and religious holidays. The meaning of the word Challah is thought to mean a "piece of dough removed from loaf as an offering".
In 1488, the first recorded mention of Challah as the sabbath bread was made.1 It was introduced to the United States in the 19th century by Jewish immigrants.1 Today, challah bread is a well-known bread type that is consumed outside of Jewish circles and is produced in a variety of bakeries.1
Function
Commonly used ingredients for the production of challah bread include:2
Ingredient
Type
Baker's Percentage
Purpose
Flour
All purpose or bread flour
100 %

Choice of flour takes into consideration the final texture desired.
Flour acts as a structure builder

Eggs
Whole
27 %

Provide hydration and protein for Maillard reaction.

Egg Yolk
Yolk
23 %

Imparts a rich flavor and characteristic yellow color.

Water
Cold Water
15 %

Acts as a hydration medium for yeast and gluten development.

Sweetener
Honey, maple syrup, malt syrup or granulated sugar
10 %

Used as yeast food in the rich dough preparation.
Provides sweet flavor and sugar for browning reactions.
Combination of granulated sugar and other liquid sweeteners is commonly used.

Fat
Fine salt
9 %

Provides a tender texture, moistness, mouthfeel and rich flavor in the case of olive oil.

Salt
Dry yeast, compressed yeast
3 %

Helps with fermentation control
Increases dough development time.

Yeast
Column 2 Value 8
1 %
Nutrition
Typical nutritional value of commercially available challah bread per 100 g:3
| Component | Grams |
| --- | --- |
| Carbohydrate | 52.00 |
| Water | 32 |
| Fat | 8.00 |
| Protein | 8.00 |
Challah bread is a calorie-rich bakery product due to the high levels of sugar and saturated fats. A commercial challah bread provides  296 – 393 kcal per 100 g serving.3
Commercial production
Challah bread is commercially produced through the following process:2
Scaling and weighing separate ingredients.
Mixing fat, sugar,and flavoring thoroughly in a vessel followed by addition of flour and yeast to form a smooth dough.
Dough bulk fermentation for 60 min.
Punching to deflate dough.
Scaling and dividing dough into equal 60 g (2.11 oz) pieces using an industrial hand divider.
Molding into 23 cm (9 in) strands.
Braiding of 3 or 6 strands together to form the loaf and placing it on greased baking pans.
Proofing of loaves to ferment for 90 – 120 minutes at 24 – 27 oC (75 – 80 oF) with a relative humidity of 80%.
Egg wash.
Baking challah bread loaves for 20 -25 minutes at 190 – 200 oC (374 – 392 oF). Internal loaf temperature should reach 90 oC (195 oF).
Cooling loaves down to room temperature.
Packaging and storage.
Regulations
Challah bread is included within the FDA definition of "egg bread". Ingredients required for challah bread production are considered GRAS by the FDA. When labeled, challah bread should declare eggs as part of the ingredient list.4
In the EU, egg content of Challah bread should be notified to consumers due to its potential allergic reactions.5
References
Marks, G. Encyclopedia of Jewish Food. United States, Houghton Mifflin Harcourt, 2010.
Bernstein, M. "Happy Challah-Days: How To Master The Ultimate Braided Loaf." Seriouseats.Com, 2016. https://www.seriouseats.com/2016/12/guide-to-making-braiding-jewish-challah-bread.html .
U.S. Department of Agriculture, Agricultural Research Service. FoodData Central, 02 November 2017.https://fdc.nal.usda.gov/fdc-app.html#/food-details/1544805/nutrients. Accessed 03 April 2021.
"FDA Definition Of Bread And Rolls | Processes | Bakerpedia". Bakerpedia, 2021, https://bakerpedia.com/processes/fda-bread-rolls/. Accessed 3 Apr 2021.
European Commission (Ec). Regulation (EU) No 1169/2011 of the European Parliament and of the Council of 25 October 2011 on the provision of food information to consumers, amending Regulations (EC) No 1924/2006 and (EC) No 1925/2006 of the European Parliament and of the Council and repealing Commission Directive 87/250/EEC, Council Directive 90/496/EEC, Commission Directive 1999/10/EC, Directive 2000/13/EC of the European Parliament and of the Council, Commission Directives 2002/67/EC and 2008/5/EC and Commission Regulation (EC) No 608/2004. Official Journal Of European Communities, 25 October 2011. Available at https://eur-lex.europa.eu/legal-content/EN/ALL/?uri=CELEX%3A32011R1169.