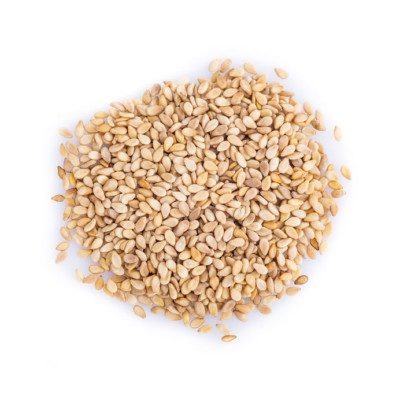 Sesame Seeds
---
What are Sesame Seeds?
Sesame seeds are small, flavorsome oilseeds from the sesame herbaceous plant (Sesamum indicum L.).They can be used in a variety of baked goods as a topping for breads and rolls. Or, as fat substitute in other food products.1
Several varieties of sesame seeds are known such as brown, black, red, ivory and yellow. Brown seeds are considered to be the most flavorful of them all.2 They can be found in the form of:1,3,4
Hulled and dehulled seeds.
Oil
Flour
Meal
Protein isolate (95% protein)
Protein concentrate (70% protein)
Butter
Origin
Sesame seed is considered the oldest known oilseed, dating back to 3500-3050 BC in Indus and Mesopotamia. It spread to China by the end of the second century BC. Currently, China is the main producer of sesame seeds worldwide.1,2
Function1,3
Sesame seeds perform several functions in baked goods such as:
Flavor: provides a rich nutty flavor that can be intensified by toasting
Aroma: provides a characteristic nutty aroma
Texture: contributes to a crunchy texture
Fat replacer: the seed oil or butter can be used as a fat replacer
Flour enhancer: the flour may be used as a partial substitute for wheat flour
Nutrition
Composition of per 100 grams:2
| | |
| --- | --- |
| Component | Grams |
| Carbohydrates | 23 |
| Fiber | 12 |
| Protein | 18 |
| Fat | 47 |
Sesame seeds are a source of high quality protein and oil. The oil is rich in polyunsaturated fats and natural antioxidants, while the sesame flour is rich in essential amino acids such as methionine and tryptophan. Some health benefits associated with this seeds include prevention of cancer and heart disease.
1,5
Commercial production
Various products derived from sesame seed can be obtained including:
Sesame meal: obtained from crushing sesame seeds.3
Sesame oil: can be obtained from raw or roasted seeds.6 Oil from raw seeds is extracted by crushing seed meal similar to other oilseeds. Seeds roasted at 180-200°C (350-390 °F ) are subjected to expelling followed by filtration and refinement.6
Sesame seed flour: obtained from defatted sesame meal, through a similar process of size and humidity reduction.1,3,6
Application1,3
A wide variety of baked goods use sesame seeds to provide characteristic organoleptic properties, such as:
Coating or topping: sesame seeds are added to bread, rolls and cookies as a topping to provide flavor, aroma and texture.
Added ingredient: sesame seeds may be added as an ingredient to breads, pastries and crackers to provide flavor and texture.
Cooking oil: sesame seed oil can be used as a cooking oil due to its high smoke point providing a nutty flavor. It may also be used as a fat substitute for a more refined flavor in baked goods.
Dressing: sesame seed meal or tahini can be used as a cracker dressing.
Fat replacement: sesame seed butter can be used as a fat substitute. For this purpose, sesame seed butter needs to be double the amount of the original fat.
Flour replacer or enhancer: sesame seed flour can be used as a partial flour replacer mainly to increase the level of high quality proteins.
FDA regulations
Sesame seeds have been generally recognized as safe by the FDA since 1993. However, recent controversy concerning its current status as an allergen has surfaced. Currently, the FDA is researching the potential allergen status of sesame seeds and the possible change of its GRAS status.7
References
Bedigian, D. Sesame: The genus Sesamum Medicinal and Aromatic Plants – Industrial Profiles. 1st ed., CRC Press, 2010, pp. 2-25.
Marcus, J B. Culinary Nutrition:The Science And Practice Of Healthy Cooking. 1st ed., Elsevier/Academic Press, 2013, pp. 258-261,561.
Roehl, E. Whole Food Facts: The Complete Reference Guide. 6th ed., Inner Traditions/Bear & Co, 1996, p. 122.
Onsaard, Ekasit. "Sesame Proteins". International Food Research Journal, vol 19, no. 4, 2012, pp. 1287-1295., http://ifrj.upm.edu.my/19%20(04)%202012/1%20IFRJ%2019%20(04)%202012%20Ekasit%20(037).pdf . Accessed 31 May 2020.
Elleuch, M, Bedigian, D  and  Zitoun, A. "Sesame (Sesamum indicum L.) seeds in food, nutrition, and health." Nuts and seeds in health and disease prevention. Academic Press, 2011. 1029-1036.
Shi, J. , Ho, C.T and Shahidi, F. Functional Foods Of The East. 1st ed., CRC PRESS, 2010, pp. 216-218.
U.S Food and Drug Administration. "FDA Asks For Input On Sesame Allergies And Food Labeling". U.S. Food And Drug Administration, 2020, https://www.fda.gov/food/cfsan-constituent-updates/fda-asks-input-sesame-allergies-and-food-labeling . Accessed 30 May 2020.