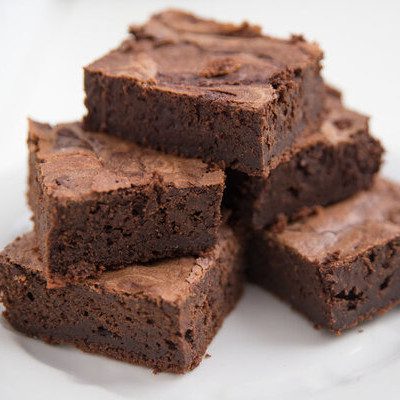 Brownies
---
What are Brownies?
Brownies are chocolaty baked products made in square or rectangle shapes. They are commonly consumed around the world and are made with flour, fat (oil or butter), sugar, eggs and chocolate (molten or cocoa powder). Nuts such as walnuts, almonds, pecans and macadamia nuts can be added to provide a characteristic texture to brownies.1,2
Common variations of brownies include:2
Fudgy brownie
Cakey brownie
Chewy brownie
The difference between these variations is based on ingredients proportions, the presence of a chemical leavening (e.g baking powder), the type of fat or chocolate, etc.2
Origin
Brownies originated in United States of America. The first written mention of brownies was in a 1896 book by the Fannie Farmer Cookbook out of Boston.1 The original recipe was cake flavored and colored with molasses, not resembling today's brownie. Later revisions of the original cookbook presented a renewed bakery product based on chocolate, flour, sugar, fat and eggs for leavening.1
Ingredients
Commonly used ingredients for the production of brownies include:3
Flour: cake flour or all-purpose flour are commonly used in brownies recipes depending on the desired final product.
Fats: contribute to the flavor, tender texture, moistness and mouthfeel. Oil, butter or a combination of both can be used in the production of brownies yielding a variety of products depending on the proportion and type used.
Sugar: is added to provide brownies with sweetness, to tenderize and increase water holding capacity and improving shelf life. In cakey brownies, it aids in leavening during the creaming step.
Eggs: aid in structure building, flavor, air incorporation and moistness. In cakey brownies, eggs may be as important as flour in structure building.
Chocolate: provides the characteristic flavor and color to brownies. Adjustments in formula or process conditions may be required depending on the chocolate type, cocoa powder or melted chocolate.
Baking powder: aids in leavening and is most commonly used in cakey brownies.
Nuts: pecans, macadamia nuts, pistacchio, walnuts or almonds can be added to provide unique textures.
Nutrition
Typical nutritional value of commercially available brownies per 100 g:4
| Component | Grams |
| --- | --- |
| Carbohydrate | 61.54 |
| Fat | 31.54 |
| Water | 13.84 |
| Protein | 3.08 |
Commercial production
Brownies are commercially produced through a process similar to cakes: 5
Weighing and dosing: dry and wet ingredients are weighed and placed in two separate vessels.
Premixing: ingredients are thoroughly mixed to prepare the batter for further processing.
Buffering and tempering
Aeration: batter is aerated to increase gas bubbles aiding in leavening.
Sheeting or molding: batter is deposited in a baking sheet or individual molds to prepare for baking.
Baking: using oven bands at 176oC (350 oF) for 12-16 minutes.
Cooling: baked brownies are left to cool to room temperature.
Packaging: cooled brownies are packaged in plastic bags and placed in boxes for storage and transportation.
Application
Brownies are found in several varieties. The most common are cakey, chewy and fudgy, which differ in the ratio of ingredients, baking temperatures and times.2
Brownie type
Parameter
Cakey
Chewy
Fudgy
Baking Temperature
176oC (350 oF)
162oC (325 oF)
162oC (325 oF)
Baking Time
20 min
<20 min

<20 min

<20 min

<20 min

Flour
Cake or All purpose
All purpose
All purpose, smaller proportion
Fat
Butter
Preferably oil
Butter or oil, interchangeable when no leavening agent is used.
Chocolate
Cocoa powder
Melted chocolate or cocoa powder, increase liquid when using cocoa powder.
Melted chocolate or cocoa powder, increase liquid when using cocoa powder
Eggs
Whole egg
Whole egg or egg yolk
Whole egg or egg yolk, higher ratio of egg yolks.
Sugar
Higher ratio in unsweetened chocolate products.
Higher ratio in unsweetened chocolate products
Higher ratio in unsweetened chocolate products
Baking pan
Glass pan for even cooking, dark metal pan for bottom crust.
Glass pan for even cooking, dark metal pan for bottom crust.
Glass pan for even cooking, dark metal pan for bottom crust.
Regulations
There is no specific FDA regulations for brownies. However, all of its core ingredients are considered safe by the FDA when following good manufacturing practices.6
In the EU, brownies don't have a specific regulation beyond following good manufacturing practices and the use of generally recognized safe ingredients.
References
Smith, Andrew F., ed. The Oxford companion to American food and drink. Oxford University Press, 2007, pp. 70 – 71.
McDowell, Erin. "A Choose-Your-Own Adventure Brownie Experience". Food52, 2015, https://food52.com/blog/12120-a-choose-your-own-adventure-brownie-experience . Accessed 29 Mar 2021.
Serna-Saldivar, Sergio O. Cereal grains: properties, processing, and nutritional attributes. CRC press, 2016, pp. 259 – 272.
U.S. Department of Agriculture, Agricultural Research Service. FoodData Central, 05 March 2019. https://fdc.nal.usda.gov/fdc-app.html#/food-details/1358223/nutrients . Accessed 29 March 2021.
Feeney, Robert D., et al. "Process for making brownies containing cellulosic fiber." U.S. Patent No. 4,774,099. 27 Sep. 1988.
of Federal Regulations Title 21, Part 137 Cereal Flours and Related Products, https://www.accessdata.fda.gov/scripts/cdrh/cfdocs/cfcfr/CFRSearch.cfm?fr=137.105 , Accessed 29 March 2021.