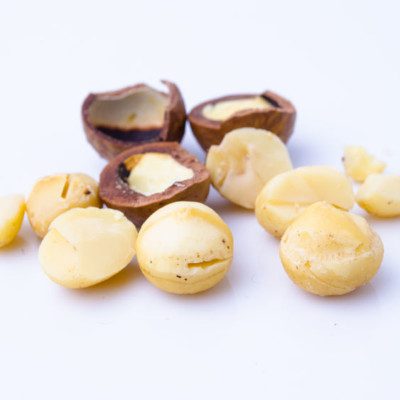 Macadamia Nuts
Also known as Bush nuts, Australian nuts
---
What are macadamia nuts?
Macadamia nuts are a popular premium ingredient in food products. Known for their unique buttery texture and rich, sweet flavor, their creamy color enhances a product's sensory appeal.
Macadamia nuts have a tender, soft crunch.
Their flavor blends very well with the delicate, nuanced flavors of white chocolate or tropical fruits.
They are an expensive ingredient and can add to the consumer's perception that a prepared food product is high quality or gourmet.
Origin
Macadamia trees originated in the aboriginal area of Eastern Australia. In the later part of the 19th century, the trees were introduced to Hawaii.1 Currently,  Hawaii is the largest producer of macadamia nuts. Other producing countries include Brazil, Indonesia and South Africa as well as California and Florida which produce minor quantities.
Macadamia nuts are named after the Australian chemist John Macadam (1827-1865) who was a professor as well as a public health analyst.2
Function
Nuts can generally influence a person's choice of a baked good. They add crunch, flavor and a visual dimension. Macadamia's rich and delicate sweet flavor allow its use in sweet foods such as cookies, cakes, pies, ice cream and confections.
Nutrition
Typically, nuts are energy dense, high in unsaturated fats and may help weight management and support cardiovascular health. Compared to other tree nuts, macadamias provide the most fat, about 70%, with monounsaturated fatty acids constituting the largest portion (~80%).3  They also contains the highest concentration of palmitoleic acid found in any food (22%).
An important aspect of this nut's lipid profile is its low omega 6: omega 3 ratio, a critical factor in reducing the incidence of inflammation. They are also rich in calcium, iron, phosphorus, magnesium and potassium as well as vitamins (thiamine, riboflavin, niacin, retinol), flavonoids and antioxidants (tocopherols, tocotrienols and squalene).
Various nutrition studies have shown that consumption of macadamia nuts can help in reducing bad (LDL) cholesterol and triglycerides,3 as well as improving insulin sensitivity.4
Commercial Production
Large scale commercialization of macadamia nuts began in Hawaii in the later part of the 19th century. The macadamia tree produces a spherical kernel with two joined halves. The kernel is encased in a shell and outer husk. When ripe, the enclosed nut falls to the ground and is manually picked up off the ground. Once harvested, the husk should be removed within 24 hours. The shelled nut is dried to approximately 10% moisture, sorted and sent for further processing.5
Application
Macadamia nuts find use in sweet baked goods and adds a premium quality to a food product.
Nuts can be packaged and stored for short periods at ambient temperatures. Cold or frozen conditions are recommended for longer periods. Water condensation should be avoided after defrosting to avoid discoloration and rancidity.
Food safety concerns with macadamia include salmonella contamination and mycotoxin development. Monitoring for moisture6 and pest control can reduce these hazards.
FDA regulations
Macadamia nuts are one of the "Big 8" allergens identified by the FDA in the Food Allergen Labeling and Consumer Protection Act. The FDA guidance on proper labeling of macadamias can be found here.
In 2017, the United States Food and Drug Administration replied to a petition for allowing a qualified health claim for the relationship between macadamia nuts consumption and reduced risk of coronary heart disease. Currently, food manufacturers can use the following claim:6
"Supportive but not conclusive research shows that eating 1.5 ounces per day of macadamia nuts, as part of a diet low in saturated fat and cholesterol and not resulting in increased intake of saturated fat or calories may reduce the risk of coronary heart disease. See nutrition information for fat [and calorie] content."
References
Hardner C. Macadamia domestication in Hawaii, Genet Resour Crop Evol. 2016 63:1411-1430. Doi 10.1007/s10722-015-0328-1
Shigeura G, Ooka H. Macadamia Nuts in Hawaii: History and Processing. 1983. https://www.ctahr.hawaii.edu/oc/freepubs/pdf/RES-039.pdf
Griel, A.E., Cao, Y., Bagshaw, D.D., Cleffeli, A.M. and Holub, B. A macademia nut-rich diet reduces total and LDL-cholesterol in mildly hypercholesteromic men and women. J. nutr., 2008, 138, 4, pp. 761-767.
O'Neil, C.E., Keast, D.R., Nicklas, T.A. and Fulgoni, V.L. Nut composition is associated with decreased health risk factors for cardiovascular disease and metabolic syndrome in US adults. NHANES 1999-2004. J. Am. College Nutr., 2011, 30, 6, pp.502-510.
FAO Agricultural Services Bulletin. Minor Oil Crops, Macadamia Nuts.1992. http://www.fao.org/docrep/x5043e/x5043E09.htm#Macadamia%20 nuts
U.S. Food & Drug Administration. Constituent Update, FDA Completes Review of Qualified Health Claim Petition for Macadamia Nuts and the Risk of Coronary Heart Disease. 2017. https://www.fda.gov/food/newsevents/constituentupdates/ucm568052.htm