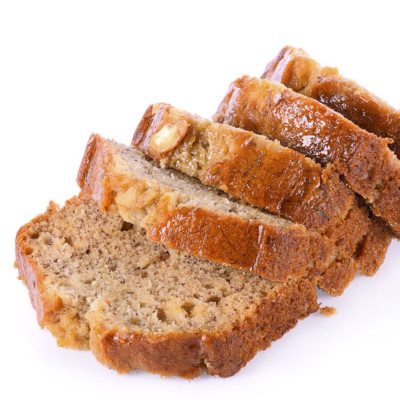 Banana Bread
---
What is Banana Bread?
Banana bread is a very popular batter-based quick bread. As the name implies, quick breads are easy to make. They are leavened with baking powder and steam produced in the oven. Because there is no yeast, no fermentation time is necessary.
Banana bread formulations are not as rich as regular batter cakes.
For this reason, this type of sweet bread is usually consumed during breakfast.
How banana bread is made
Typical formulation of banana bread using the muffin method:
Total formula hydration: 112.0%
a Water content, 75%
b Water content, 82%1
c Water content, 20%
Processing
Mixing (muffin method)

Sift together the dry ingredients.
Combine all liquid ingredients, including melted butter.
Add the liquids to the dry ingredients and mix just until all the flour is moistened. After hydration and incorporation the batter will look lumpy.
Be careful not to overmix. Because banana bread is a tender product with little gluten network development, mixing should take just a few minutes.
Makeup and depositing

Muffin tins and loaf pans should be greased with shortening or pan spray and dusted with flour or greased with a commercial pan grease preparation.
Deposit/scale 750 g of batter in a 22×11-cm aluminum steel pan.
Baking

Bake banana bread at 190°C( (375°F) for about 50 minutes, or until the bread springs back when pressed and a tester inserted near the center comes out clean
Formulas for banana bread may be baked as muffins instead of Similarly, standard muffin batters may also be baked as loaves or sheets.

Cooling
Serving
Nutrition and health
Banana bread is an indulgence yet definitely healthier option for people willing to obtain more from baked goods. According to recent FDA amendments on nutrition facts label, the health protection agency encourages consumers to obtain more potassium from foods.
Typical nutritional data for 100 g of raw banana:2
Protein, 1%
Total dietary fiber, 2.6%
Sugars, 12%
Potassium, 360 mg
Vitamin C, 8.7 mg
Folate, 20 mcg
Application
Quick bread batters, such as muffins, loaf breads, and pancakes are mixed as little as possible to prevent excessive crumb toughness and chewiness.
The presence of fat and sugar, also helps keep gluten development low to preserve tenderness.
Overmixing quick bread batters not only causes toughness but also produces irregular shapes and large, elongated holes inside the muffins (this is called tunneling).
References
Ahmed. J. "Green Banana Processing, Products and Functional Properties." Handbook of Banana Production, Postharvest Science, Processing Technology, and Nutrition, John Wiley & Sons Ltd, 2020, pp. 141–168.
Ahmed. J. "Chemical Composition and Nutritional Profile of Raw and Processed Banana Products." Handbook of Banana Production, Postharvest Science, Processing Technology, and Nutrition, John Wiley & Sons Ltd, 2020, pp. 207–225.