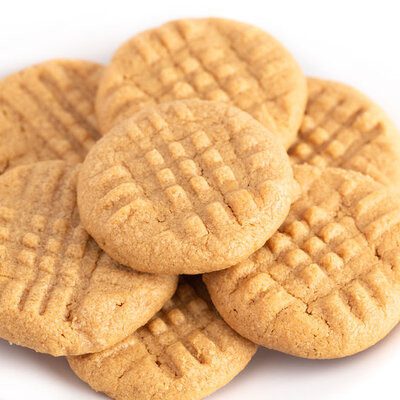 Peanut Butter Cookie
---
What is a Peanut Butter Cookie?
A peanut butter cookie is a flat, crunchy cookie made with peanut butter as the main ingredient. It is characterized by a strong peanut flavor, crumbly texture, and typical surface fork marks.1
Two types of peanut butter cookies are:
Origin
The first documented recipe for peanut butter cookies was in the 1896 Boston Cooking School Cookbook. Earlier versions were either ball-shaped or thinly-rolled pieces. The fork criss-cross marks were popularized later by the Pillsbury Co. to flatten the dense shape of earlier versions.
Today, peanut butter cookies are consumed in the US and Canada.1
Ingredients
Commonly used ingredients in peanut butter cookies: 2
Ingredient
Type1
Usage level (Baker's percent) 1
Function2
Peanut Butter
Creamy or crunchy
139%

Provides peanut flavor
Imparts  tenderness, mouthfeel, and unique textures

Flour
Low protein flour (All- purpose wheat flour)
100%

Provides low gluten network structure
Imparts color, a result of  Maillard's browning reaction

Fat
Butter, margarine, shortening
63%

Imparts tenderness, lubrication and mouthfeel
Aids in air incorporation during creaming
Provides a rich buttery flavor

Sugar
Granulated white or brown sugar or their combination
56% of each type

Provides sweetness and Maillard browning flavor
Aids in the creaming of fats
Contributes to cookie spread
Chewiness (coarse sugar granules) or crispness ( fine sugar)

Flavor
Vanilla liquid essence
2.8%

Adds vanilla flavor/enhances other flavors and aromas

Leavening
Baking powder
1.7%
Salt
Granulated
<0.1%

Enhances flavor and aroma perception.
Nutrition
Typical nutritional value of commercially available peanut butter cookies per 100 g:3
| Component | Grams |
| --- | --- |
| Carbohydrate | 58.82 |
| Fat | 22.35 |
| Water | 12.95 |
| Protein | 5.88 |
Peanut butter cookies are highly caloric bakery products due to the high levels of sugar and saturated fats. A commercial peanut butter cookie provides 459 kcal per 100 g serving.
3
Commercial production
Peanut butter cookies are commercially produced through the following process:2
Scaling and weighing ingredients separately.
First stage mixing or "cream up": fat and sugars are mixed in a horizontal or vertical mixer.
Second stage mixing: flour is added, and the mixing is continued at low speed to form a homogeneous mass.
Resting: for 30 min
Forming: dough is fed to a rotary moulding machine from a two roll sheeter.
Baking: dough is baked at 180oC (350 oF) depending on thickness for 10 minutes.
Cooling and packaging.
Application
Peanut butter cookies are commonly made following a short dough process. Using crunchy or creamy peanut butter yields slightly different texture profiles.
Considerations during processing:2
Reduced water, high sugar and fat content are responsible for the cookie crumbly texture.
High humidity at the beginning stages of the baking process is important for structure setting.
Baking duration depends on cookie thickness and can range from 6-13 minutes. Longer baking times are preferred over high temperatures.
Second stage mixing should be minimal to avoid developing the gluten web.
Regulations
Peanut butter cookies have a Commercial Item Description (CID) by the USDA, and are considered a Type 1 and style S cookie. All of its ingredients are considered safe by the FDA when following good manufacturing practices. However, the label must clearly declare peanuts as an ingredient, due to potential allergic reactions for certain consumers.4
In the EU, peanut butter cookies belong to the Cereal and Bakery Products category. Its ingredients are considered safe. However, peanut should be declared on the label as a known allergen for some consumers.5
References
Sember, B. COOKIE: A Love Story: Fun Facts, Delicious Stories, Fascinating History, Tasty Recipes, and More About Our Most Beloved Treat. Sember Resources, 2012.
Davidson, I. Biscuit, cookie and cracker production: process, production and packaging equipment. Academic Press, 2018 , pp. 6 – 158.
U.S. Department of Agriculture, Agricultural Research Service. FoodData Central, 30 March 2021. https://fdc.nal.usda.gov/fdc-app.html#/food-details/1506684/nutrients . Accessed 24 April 2021.
U.S Department of Agriculture. COMMERCIAL ITEM DESCRIPTION COOKIES The U.S. Department Of Agriculture (USDA) Has Authorized The Use Of This Commercial Item Description (CID).. United States Department Of Agriculture, Washington, 2007, pp. 1-5.
Food Safety Authority of Ireland. Guidance Note On The EU Classification Of Food. Food Safety Authority Of Ireland, Dublin, 2001, p. 33.