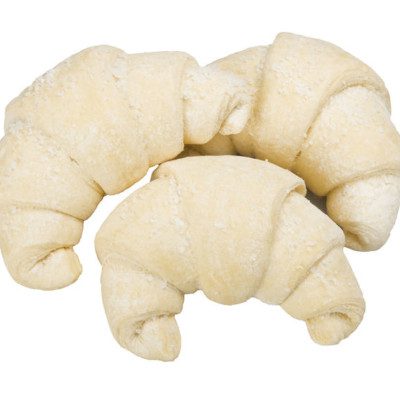 Frozen Dough
Also known as freezing
---
What is Frozen Dough?
Frozen dough is regular dough pieces which have undergone freezing and frozen storage prior to proofing and baking steps.
It is one of the fastest growing segments in the baking industry. This trend is driven by consumers' appetite for convenience and ability to eat freshly-baked products that can be pulled out of the freezer and baked. It is commonly made with short dough processing systems such as straight dough and no time dough. Laminated products and small-sized hearth breads from frozen dough have been popularized recently.
Origin
The technology of freezing doughs was known since the 1950s. However, its implementation was introduced in the 1970s helped pave the way for the spread of in-store retail bakeries. Such outlets do not have the time and/or resources to process and bake a regular dough from scratch.
How does it work?
Bread is a complex, dynamic and biologically active system. If quality bakery products are to be produced from frozen dough, biological materials (yeast, flour and added enzymes) must remain viable and metabolically active until baking stage in which these ingredients are thermally denatured and/or killed.1,2
Frozen doughs can be immediately baked (without undergoing thawing) or they can be proofed  prior to baking (a thawing cycle is required to temper dough).
Application1,2,3
Flour: should be strong with high protein content (>12.5%) to  ensure sufficient dough strength and gas retention during proofing after thawing cycle.
Yeast: should be added at 1.5–2 times more than regular straight dough systems. The use of compressed and liquid forms of yeast such as cream is advisable since these forms are less processed and contain the lowest amount of cell damage.
Yeast food: mineral yeast food is recommended to improve cell viability, condition the water and improve gassing.
Water: only low levels are required to reduce the generation of free water, after thawing frozen dough, which may damage gluten structure and yeast cells. It is important to have the flour fully mixed hydrated and mixed to limit the amount of free water.
Dough hydration: lower levels of dough hydration also help the dough maintain its shape during makeup and increase its stability during freezing and thawing cycles.
Oxidizing agents: are essential for improving gas retention by promoting aggregation of gluten-forming proteins.
Fat: higher fat levels are recommended for frozen doughs. Inclusions of 3–8% based on flour weight are common to help extend dough shelf-life and improve its machinability during moulding as water levels are reduced.
Salt: salt levels in frozen dough formulations are similar to regular dough. Typically 1.8–2.0% based on flour weight is used to enhance the flavor and control yeast activity.
Sugars: higher levels are required in frozen doughs. Sugars' hygroscopic nature provides for binding excess free water. Subsequently improving dough freezing and thawing stability. Higher sugars also increase shelf-life and help with crust color.
Modified starches and gums: are often included to improve dough freezing/thawing stability.
Emulsifiers: SSL, DATEM and GMS can act as crumb softeners, thus improving the texture and enhance the overall quality of the baked product.
How does ascorbic acid help frozen dough?
Processing considerations
Mixing frozen dough ingredients: The use of chilled water, ice and a cooling system are all advisable to keep a low dough temperature. The lower the temperature, the lower the yeast activity, the smaller the temperature differential for a quicker freezing operation. Final dough temperature should be between 72–75°F (22–24°C).
Floor time, dough fermentation, conveying times: These should be kept to a minimum to prevent excessive yeast activity and keep as many starting yeast cells as possible.
Dividing and moulding: These can be carried out with regular equipment.
Freezing: Blast freezing of moulded dough pieces is a standard practice.

Blast freeze dough pieces immediately after forming or makeup to a core temperature of 20°F (-6.7°C). Freezing process can be completed by storing partially frozen dough pieces at 0°F (-17.8°C) to 10°F (-23.3°C).
Storage of frozen dough: There is an indirect relationship between length of frozen storage and baking quality of the dough. The longer the frozen storage, the weaker and slacker dough will become. This effect may be caused by the release of glutathione (a reducing agent) from dead yeast cells as well as structural damage to gluten matrix caused by small ice crystals formation.
Thawing: This step may be carried out slowly at room temperature in a retarder box. Once the dough reaches room temperature, it will resume fermentation that will mellow the dough, improve flavor and aroma in finished product.

Dough temperature should be raised to refrigeration ranges by placing the product into a storage temperature of 34–40°F (1–4°C) and holding it for a given time to thaw and equilibrate dough temperature. This thawing process can take 12–18 hours, depending on the initial and final temperature and rate of heat transfer.
Thawing equipment or room should prevent any dry conditions that may lead to product dehydration and/or too humid conditions that may lead to condensation of moisture on the dough pieces.
Proofing (optional, after thawing): Time, temperature and humidity conditions should be adjusted to promote as much yeast activity as possible to help maintain product volume, texture and flavor.

Proofing conditions are usually 90–110°F (32–43°C) at a relative humidity of 70–75%. Proofing times are longer (80–100 minutes) than those of fresh operations (50–70 minutes). This is of course due to the much greater temperature differential between the initial temperature of the dough pieces at refrigeration values and final temperature of proofed product (95°F or 35°C).
Baking: Bake products to an internal temperature of 205°F (96°C). Addition of higher amounts of sugars and emulsifiers and lower levels of water  can affect starch gelatinization.3 At high levels, they can raise the gelatinization temperature of starch in addition to prolonging the crumb set during baking.

Baking time and temperature are dependent on the type of oven, heating pattern, size and dimensions of dough pieces.
References
Sievert, D., Hoseney, R.C., and Delcour, J.A. "Bread and Other Baked Products." Ullmann's Food and Feed, Volume 2, Wiley-VCH Verlag GmbH & Co., 2017, pp. 462–507.
Moore, T.R. "Frozen Dough." Encyclopedia of Food Grains, 2nd edition, Volume 3 Grain-Based Products and their Processing, Academic Press, Elsevier Ltd., 2016, pp. 354–358.
Stauffer, C.E. "Bakery Products." Emulsifiers, Eagan Handbook Handbook Series, AACC International, Inc., 1999, pp. 47–56.