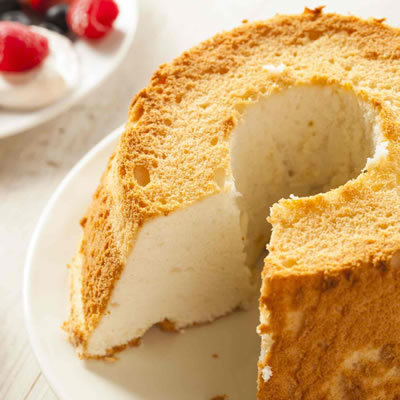 Angel Food Cake
---
What is Angel Food Cake?
Angel food cake is a type of sponge cake made with egg white, sugar and cake flour. The absence of egg yolk and fat makes it a good low fat and low calorie alternative to a classic short cake.1
Angel food cake is characterized by its light cloudy texture
This adds a novel sensorial attribute in the absence of rich buttery flavor1
Origin
Angel food cake was first developed in the 1880s in St. Louis, Missouri. The first detailed recipe of this cake was published in the Boston Cooking School Cook Book in 1884.2
By the 1930s, the angel food cake recipe was firmly established. During this time several research efforts were pursued to better understand the science behind the manufacturing process.2 Today, this cake is a staple of American cuisine and it's commonly consumed with fresh strawberries.
Ingredient
Commonly used ingredients in angel food cake:1
Ingredient
Type
Usage level (Baker's percent)
Function
Egg whites
Fresh or frozen egg whites
267 %

Provides structure by the unfolding and aggregations of its proteins
Imparts color, a result of  Maillard's browning reaction

Sugar
White granulated sugar
266 %

Provides a sweet flavor
Stabilizes meringue by slowing the unfolding and aggregation of protein molecules

Flour
Low protein flour (Cake flour)
100 %

Provides low gluten network structure
Imparts color, a result of  Maillard's browning reaction

Flavor
Vanilla liquid essence

Almond liquid essence

2.5 %

1.25 %

Adds vanilla flavor/enhances other flavors and aromas
Adds almond flavor for a different flavor profile

Acid
Tartaric acid powder
1.7 %

Stabilizes foam by lowering pH

Salt
Granulated
1.5 %

Enhances flavor and aroma perception
Nutrition
Typical nutritional value of commercially available cake per 100 g:3
| Component | Grams |
| --- | --- |
| Carbohydrate | 58.7 |
| Water | 32.9 |
| Protein | 6.1 |
| Fat | 0.3 |
*Composition made not add to a 100 g
Angel food cake has a lower fat and calorie content than other commercial cakes, and thus represents an alternative for low calorie consumers. A commercial food cake provides 259 kcal per 100 g serving.3
Commercial production
Production process of angel food cake at home or at the bake shop:1
Weighing and scaling the ingredients
Whipping: egg whites are whipped until they form soft peaks Salt and cream of tartar are added at the beginning of whipping.
Foaming: half of the sugar is added to egg whites and whipped to form a soft meringue.
Flavoring: vanilla and other essences are added to provide flavor.
Final mixing: flour and the rest of the sugar are added and gently folded into the mixture.
Baking: the batter is deposited in tube baking pans, and are baked at 180 oC (360oF) for 30 min.
Cooling
Processing considerations1
Egg white can be slightly warmed to provide a better volume. All other ingredients should be at room temperature.
Fresh eggs provide a better texture with a tight crumb, and thus are preferred over days old eggs.2
Sifting flour with half of the sugar provides a better distribution in the foam.
Avoid using steam when baking this cake.
For chocolate angel food cake, substitute 24% of flour for cocoa.
When baking:1
| Tube Pan | Temperature | Time |
| --- | --- | --- |
| 8 in (20 cm) | 180 oC (360oF) | 30 min |
| 10 in (25 cm) | 175 oC (350oF) | 50 min |
Regulations
Angel food cake doesn't have a specific FDA Regulation. However, all of its ingredients are considered safe when following good manufacturing practices. A guidance for labelling of cake products establishes the correct use of the label statement.4
In the EU, this cake doesn't have a specific regulation just like in the US. However, EU Regulation No 1169/2011 establishes the allergen information that should be disclosed to consumers.5
References
Gisslen, W. Professional baking. No. 1. Wiley, 2019.
Goldstein, D. The Oxford Companion to Sugar and Sweets. United Kingdom: Oxford University Press, 2015.
U.S. Department of Agriculture, Agricultural Research Service. FoodData Central, 30 October 2020.https://fdc.nal.usda.gov/fdc-app.html#/food-details/1100890/nutrients . Accessed 12 June 2021.
US Food and Drug Administration. "Reference amounts customarily consumed: list of products for each product category: guidance for industry.", 2018.
Food Standards Agency. "Food allergen labelling and information requirements under the EU Food Information for Consumers Regulation 1169/2011: Technical Guidance." Allergen Label Tech Guide, 2015.