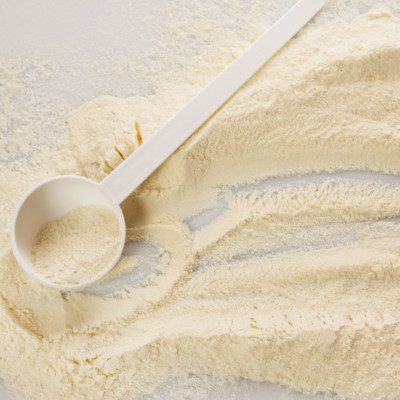 Whole Egg Powder
---
What is Whole Egg Powder?
Whole egg powder is the dried version of fresh eggs. It can be used as substitute for fresh eggs or to produce protein-rich food products.
It has great importance for the food industry with respect to food handling and food safety.
Origin
Whole egg powder is produced from whole eggs by a spray-drying method.
Function
Like whole eggs, whole egg powder also has the functions of foaming, gelling, and emulsifying. It can be used in baked products to provide these functionalities. But whether it can replace fresh eggs depends on the egg powder's quality.
In one study, whole egg powder was used to replace fresh eggs in cake baking. No significant differences were observed in the volume, grain, flavor, or general desirability of cakes prepared with fresh eggs or with good-quality powder that was incorporated into the cake batter either by reconstituting the egg or by sifting the powder with the flour and baking powder. Cakes baked with poor-quality whole egg powder had less volume and poorer eating quality.1
The quality of whole egg powder can be indicated by solubility. Good-quality whole egg powder has higher solubility. Quality is affected by the spray-drying process. The way that whole egg powder is packaged and stored can influence its functionality as well.2 These factors can explain the variability in quality that you might find when purchasing whole egg powder. It should be stored accordingly to the recommended instructions.
Application
To replace fresh eggs in a formula, use 26% egg powder/74% water ratio. Therefore, every 100g of whole eggs need to be replaced by 26g of whole egg powder and 74g of water.
Benefits:3
Adds color
Helps with coagulation
Aids emulsification
Adds texture
Facilitates foaming
Simply the product label
FDA regulation
Whole egg powder should be free of viable Salmonella microorganisms, according to the FDA.3 The glucose content of the liquid eggs may be reduced before drying. It should contain not less than 95% by weight of total egg solids.4
References
Ary, J.E., and R. Jordan. "Plain Butter Cakes and Baked Custards Made from Spray-Dried Whole-Egg Powder 2." Journal of Food Science, vol. 10, no. 6, 1945, pp. 476–484, doi:10.1111/j.1365-2621.1945.tb16195.x.
Koç, M., et al. "Functional and Physicochemical Properties of Whole Egg Powder: Effect of Spray Drying Conditions." Journal of Food Science and Technology, vol. 48, no. 2, Sept. 2010, pp. 141–149, doi:10.1007/s13197-010-0159-1.
Bakerpedia. "Egg." bakerpedia.com/ingredients/egg/. Accessed 29 Aug. 2017.
US Food and Drug Administration. "21CFR160.105 – Code of Federal Regulations Title 21." Accessdata.fda.gov, 1 Apr. 2017, www.accessdata.fda.gov/scripts/cdrh/cfdocs/cfcfr/CFRSearch.cfm?fr=160.105. Accessed 23 August 2017.