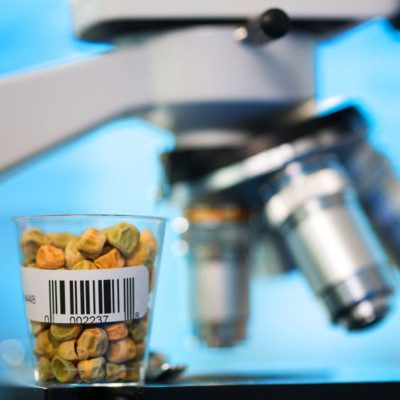 Non-GMO Ingredients
---
What are Non-GMO Ingredients?
Non-GMO or GMO free ingredients do not contain altered genetic material transferred from one organism into another or between non-related species.1  GMO stands for genetically modified organism. GMOs contain DNA that has been altered in a way that does not occur naturally.
Through the use of genetic engineering (GE), gene technology, recombinant DNA technology, and modern biotechnology, GMO foods are on the market.1 Due to consumer concerns about the health and nutrition of GMOs food and ingredient manufacturers have labeled foods as non-GMOs.
Origin
U.S. policy regulating biotechnology was established in 1986 before the USDA released guidelines for organic foods in 2002.5 Since GMO foods were first introduction on the market in the mid-1990s, Consumers have questioned the validity of risk assessments, both with regard to consumer health and environmental risks, focusing in particular on long-term effects.1 Consumer concerns have triggered a discussion on the desirability of labelling GM foods, allowing for an informed choice of consumers.1
How are non-GMO ingredients certified?
Non-GMO ingredients may be certified using third party auditing and certification. The length of time and cost to certify products as non-GMO will vary for each product. Averages are from 6 months to a year. Factors such as non-GMO ingredient availability, reformulation, packaging changes, and cost of verification process need to be considered. The Non-GMO Project is the most recognized label in the US. According to 3rd party auditor Food Chain ID, the process may cost a minimum of $2000 per year for 10 products per year.4 The steps for non-GMO certification, from the Non-GMO Project website are as follows:4
Step 1: Fill out an inquiry form.
You will be prompted to submit basic information about your company and product on the Get Started page. We will answer any questions you have and provide all the information you need to begin the verification process.
Step 2: Select a technical administrator.
The Non-GMO Project works with four independent technical administrators to provide unbiased product evaluations. We encourage you to research each company to find the one that best meets your needs. Pricing and contact information for each technical administrator can be found on the technical administrators page.
Step 3: Sign the Non-GMO Project license agreement.
This agreement outlines use of the Non-GMO Project's name and verification mark. There are separate trademarks and license agreements for the United States and Canada; if you plan to sell verified products in both countries, you will need to sign both licensing agreements. There are no fees associated with signing our license agreement.
Step 4: Complete a product evaluation with your technical administrator.
Once you sign a contract with your technical administrator, they will request the documents necessary to evaluate your ingredients and the manufacturing facility. If you have high-risk inputs in your product, GMO testing and an onsite inspection may be required–this will be determined by your technical administrator. Upon verification, the technical administrator will issue you a certificate of compliance.
Step 5: Promote your verification.
When you have completed the verification process, the Non-GMO Project will send you the verification mark and your products will be eligible for listing on the Non-GMO Project website and shopping app. We will also connect you with our Marketing team, who will work with you to promote your products through social media and other marketing channels.
Step 6: Annual renewal.
Your product verification will need to be renewed each year. Your technical administrator will request updated documentation reflecting changes since your initial evaluation.
What can bakers do?
When bakers are switching to non-GMO ingredients, they may use organic ingredients. As stated by the USDA under the guidelines for the National Organic Program (NOP), 7 CFR § 205.105 of the NOP regulations prohibits the use of GMOs as excluded methods in organic production and handling.3 The use of GMOs is prohibited in all ingredients in "organic" and "made with organic (specified ingredients or food groups(s))." When baking organic, bakers should also avoid known GMO ingredients, such as this approved GM crops list found here.
FDA Regulations
FDA encourages food manufacturers to ensure that labeling terminology concerning the use of modern biotechnology in the production of a food or its ingredients be accurate, consistent and that the integrity and meaning of scientific terminology be preserved to help ensure clear communication in food labeling.2  
When the terms "GMO free," "GE free," "does not contain GMOs," "non-GMO," and similar claims are made on a food label they must be substantiated. False or misleading statements such as "None of the ingredients in this food is genetically engineered" on a food where some of the ingredients are incapable of being produced through genetic engineering (e.g., salt) are not encouraged by the FDA.2
References
"Q&A: Genetically Modified Food." World Health Organization. World Health Organization, Mar. 2014. www.who.int/foodsafety/areas_work/food-technology/faq-genetically-modified-food/en/. Accessed 22 May 2017.
Center for Food Safety and Applied Nutrition. "Labeling & Nutrition – Guidance for Industry: Voluntary Labeling Indicating Whether Foods Have or Have Not Been Derived from Genetically Engineered Plants." U S Food and Drug Administration Home Page. Center for Food Safety and Applied Nutrition, Nov. 2015. www.fda.gov/Food/GuidanceRegulation/GuidancedocumentsRegulatoryInformation/LabelingNutrition/ucm059098.htm. Accessed 22 May 2017.
McEvoy, Miles. "GMO Disclosure & Labeling." GMO Disclosure & Labeling. Agriculture Marketing Services, Jan. 2012. www.ams.usda.gov/rules-regulations/gmo. Accessed 22 May 2017
"Verification FAQs." Non-GMO Project. www.nongmoproject.org/product-verification/verification-faqs/. Accessed 22 May 2017.
Huffman, Wallace. "Issues in GM and Non‐ GM Coexistence: A United States Perspective." EuroChoices 15.1 (2016): 69-73.