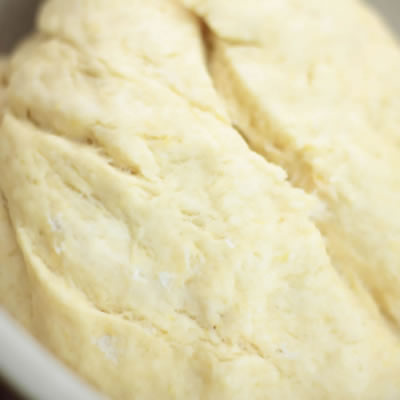 Sponge and Dough
---
What is the sponge and dough method?
The sponge and dough method is a type of bulk fermentation used in bread-making. The process involves two stages. First, a light, airy sponge is created through mixing a portion of the flour, water, yeast and improving agents and allowing them to ferment. Next, the remaining ingredients are mixed into the sponge, resulting in a dough.1
The sponge and dough method is common for white pan bread, producing bread with higher loaf volume and fluffy crumb. It is popular in north and southeast Asian countries, North America and Central Europe.2  
Process
The sponge and dough method consists of two distinct mixing stages.
Stage 1: Making the sponge
In the first stage, 50%–70% of the total dough flour is combined with water and yeast, then mixed and fermented for a period of time (2.5–4.5 hours) to produce a sponge.
The sponge fermentation time may be varied depending on the sponge temperature, the ingredients used and the amount of yeast. In small-scale sponge production, the mixer is used to form the sponge and also to store it. In the large-scale production of sponge, a separate container is used to store the sponge under controlled conditions to ensure the uniformity of sponge development, and the fermentation time is around 2.5-4.5 hours. The temperature of sponge dough is usually kept around 30˚C (86˚F), which is similar to the final dough temperature.
Stage 2: Making the dough
In the second stage, the sponge is added to the other remaining ingredients to form a final dough. The final dough can be processed by a rapid processing method, immediately sized and shaped, or given a short period of bulk fermentation time. To learn more about the sponge and dough method, read our eHandbook on Dough Systems.
Commercial production
Commercial bread manufacturers use a combination of mixing methods. Automation has created faster production times and a continuous mixing system. Many commercial bakeries use bread improvers and added flavors in place of the sponge and dough method to speed up production.3 Some bakeries that create small batches or artisan loaves still use the sponge and dough method.
Application
The main use for this method is the production of white pan bread. The sponge and dough method accounts for over 60% of total bread production in the USA.3
The sponge and dough method provides the following advantages to the bread-making process:1
More extensible dough
Activation of the yeast
Facilitation of dough formation
Imparting superior aroma and flavor
Generating silk-like, soft and regular crumb textures
More forgiving of processing delays
The type of flour used in the sponge and dough method is important for achieving desired results. Dark Northern Spring, Canadian Western Red Spring, and Canadian Western Extra Strong grades of flour are commonly used.2 They have over 13% protein and strong dough properties.2
References
Cavanagh, C.J. O. Taylor, N. Larroque, et al. "Sponge and Dough Bread Making: Genetic and Phenotypic Relationships with Wheat Quality Traits." TAG Theoretical and Applied Genetics 121.5 (2010): 815–828.
Lever, T.T., A.A. Kelly, J.J. De Faveri, et al. "Australian Wheat for the Sponge and Dough Bread Making Process." Crop and Pasture Science 56.10 (2005): 1049-1057.
Stear, C.A. Handbook of Breadmaking Technology. Elsevier, 1990: 277–279.