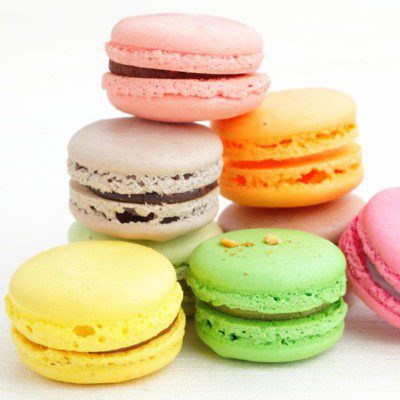 Macaron
---
What is Macaron?
Macarons are small, delicate, meringue-based French cookies. They have a crunchy exterior and soft, light, nougat-like interior similar to an Oreo. The top cookie (crown) is slightly domed while the bottom (foot) is flat.
The name applies to a wide variety of cookies:
Shells made with ground almonds, sugar and egg whites
Filled with a layer of buttercream, ganache, hazelnut/honey, fruit jam, etc
The shells can be colored and flavored with coffee, chocolate, nuts or fruit.1
Origin
Macarons are believed  to have originated in Venice, Italy during the Renaissance Era. The name is derived from the Italian word 'maccherone' and the venetian word 'macarone,' meaning a fine paste, from which the word macaroni is also derived.1
These cookies were spread into France in 1533 by Queen Catherine de Medici's chef who accompanied her to France when she married Duc d'Orleans who became King Henry II in 1547. The first macaron recipes were recorded in 1725 during the French revolution when two Carmelite nuns, known as Les Soeurs Macarons, sought asylum in Nancy, France were selling macarons to pay for their housing.3
Modern macarons were created by chef Pierre Desfontaines, at the Pâtisserie Ladurée in Paris. Currently, macarons are ubiquitous worldwide, especially in Europe where they are served at fine pâtisseries as well as fast food restaurants such as McCafé.
How are macarons made?
Many macaron styles are currently available which they vary in:
Composition of the cookie base such as the ratio of granulated to confectioners sugar.
Method of preparation, mainly French or Italian.

The French method: involves whipping the egg whites to form a stiff meringue followed by folding in the almond flour and confectioners sugar, thus forcing the air out of the mix. The process is referred to as Macronage.
The Italian method: calls for forming a meringue by whisking the egg whites with a hot sugar syrup. The almond flour and confectioners sugar are mixed with raw eggs to form a paste. Mixing the meringue and paste form a stable macaron base. This method is commonly used in restaurants and food service establishments.
Almond macarons can be prepared using the following formula:4
| | |
| --- | --- |
| Ingredient | Baker's % (based on sugar) |
| Almond Paste/Macaron Paste | 100.0 |
| (Granulated + Confectioners) sugar | 100.0 |
| Egg whites | 37.5 |
Processing specifications
The macaron base (French or Italian versions) prepared using single-stage mixing will form a thick, glossy and sticky batter.
Batter is deposited, manually or using a confectionery depositor, in the form of small discs 5 cm in diameter and 4.5 cm high over a baking sheet lined with parchment paper.
Allow the discs to rest for ~45 min to dry out.
Bake at 325 °F (163°C) in a convection (or deck) oven until golden brown, approximately 10-15 minutes.
Finishing involves dipping the bottoms of a cookie pair in tempered chocolate or other filling paste to act as a glue and set before packaging.
Application
Macarons are notoriously finicky to make. Small variations in recipe or process can lead to drastic changes in the final product. Important considerations for manufacturing consistent quality macarons:
Dry ingredients such as almond flour and confectioners sugar should be free of particulates and sifted to a fine powder to avoid formation of visible specks on the cookie.
Ratio of granulated to confectioners sugar can have a dramatic impact on macarons quality. Better cookie texture, sponginess and absence of air pockets are generally associated with high levels of granulated sugar. High levels of confectioners sugar often lead to flimsy, less-cohesive cookie surface with large air pockets in the cookie cross-section.
Egg whites should be brought to room temperature prior to whipping.
Macaron-cookie base should be prepared in a copper bowl, whenever possible, to form medium-stiff meringue with soft but not rigid peaks upon whipping.
Texture of the baked cookie should be light and airy with slight chew. Its cross-section should reveal an even, spongy texture free of large air cells.
References
Jones, B., and Robuchon, J. "Puff Pastry." New Concise Larousse Gastronomique: the Culinary Classic Revised and Updated, Hamlyn, 2007, p. 700.
Suas, M. "Cookies" Advanced Bread and Pastry: A Professional Approach, first printing, Delmar, Cengage Learning, 2009, pp. 400-441.
History of macaron. http://www.madmacnyc.com/history-of-macaron
Gisslen, W. "Cookies" Professional Baking, 7th edition, John Wiley & Sons, Inc., Hoboken, New Jersey, 2017, pp. 483-517.