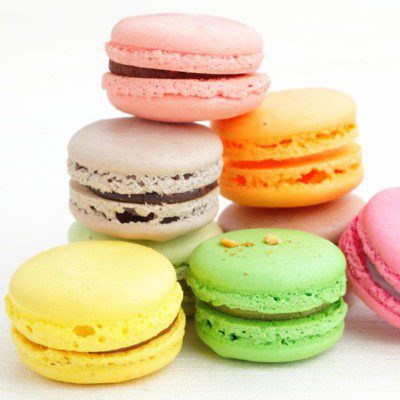 Macaron
---
What is a Macaron?
Macarons are a type of cookie that has become popular worldwide. It refers to the French or Parisian egg white foam-based cookie. This cookie is the French take on the original macaroon (hence the name macaron).1
Macarons are small, delicate and meringue-based cookies. They have a crunchy exterior and soft, light, nougat-like interior. Macarons can be recognized by their characteristic slightly domed top and a ruffled base known as the foot.1
Origin
The macaroon cookie, being the base for macarons, originated in the 17th century but was transformed by the French to resemble their characteristic modern-day versions during the early 20th century.2
Macarons involve two cookies sandwiched together using ganache or cream. Macarons today can be found with a wide variety of flavors and colors that are only limited by the imagination of the chef creating them.2
How are macarons made?
Many styles of macaron production can be found in the market today. The primary differences in formulation and production can be summarized as:
Composition of the cookie base, such as the ratio of granulated to confectioner's sugar.
Method of preparation, mainly French or Italian. These methods are named based on the type of meringue used in the production of the macarons.
The French method involves whipping the egg whites to form a stiff meringue followed by folding in the almond flour and confectioner's sugar, thus forcing the air out of the mix.
The Italian method calls for forming a meringue by whisking the egg whites with a hot sugar syrup. The almond flour and confectioner's sugar are mixed with raw eggs to form a paste, mixing the meringue and paste form a stable macaron base. This method is commonly used in restaurants and food service establishments.
French Method Plain Parisian Macarons Formula:2
| | |
| --- | --- |
| Ingredient | Baker's % (based on egg whites) |
| Egg whites (liquid) | 100.0 |
| Granulated sugar | 37.0 |
| Almond flour | 120.0 |
| Powdered sugar | 200 |
| Food coloring | As desired |
Italian Method Plain Parisian Macarons Formula:1
Ingredient
Baker's % (based on egg whites)
Almond flour
100.0
Powdered sugar
100.0
Egg whites (liquid)
50.0
Food coloring
As desired
Italian Meringue
Water
40.0
Granulated sugar
100.0
Egg whites (liquid)
40.0
Processing specifications
The macaron base (French or Italian versions) prepared using single-stage mixing will form a thick, glossy and sticky batter.
Batter depositing, manually or using a depositor, in the form of small discs 5 cm in diameter and 4.5 cm high over a baking sheet lined with parchment paper.
Resting of discs for about 45 min to dry out.
Bake at 325°F (163°C) in a convection (or deck) oven until golden brown, approximately 10–15 minutes.
Finishing involves dipping the bottoms of a cookie pair in tempered chocolate or other filling paste to act as a glue and set before packaging.
Application
Macarons are notoriously finicky to process. Small variations in recipe or process can lead to drastic changes in the final product. Important considerations for manufacturing consistent quality macarons:
Dry ingredients such as almond flour and confectioner's sugar should be free of particulates and sifted to a fine powder to avoid formation of visible specks on the cookie.
Ratio of granulated to confectioner's sugar can have a large impact on macarons quality. Better cookie texture, sponginess and absence of air pockets are generally associated with high levels of granulated sugar.
High levels of confectioners' sugar often lead to flimsy, less-cohesive cookie surface with large air pockets in the cookie cross-section.
Egg whites should be brought to room temperature prior to whipping.
Macaron-cookie base should be prepared in a copper bowl whenever possible to form medium-stiff meringue with soft but not rigid peaks upon whipping.
The texture of the baked cookie should be light and airy with slight chew. Its cross-section should reveal an even, spongy texture free of large air cells.
References
Gisslen, W. "Cookies" Professional Baking, 7th edition, John Wiley & Sons, Inc., Hoboken, New Jersey, 2017, pp. 483–517.
Suas, M. "Cookies" Advanced Bread and Pastry: A Professional Approach, first printing, Delmar, Cengage Learning, 2009, pp. 400–441.