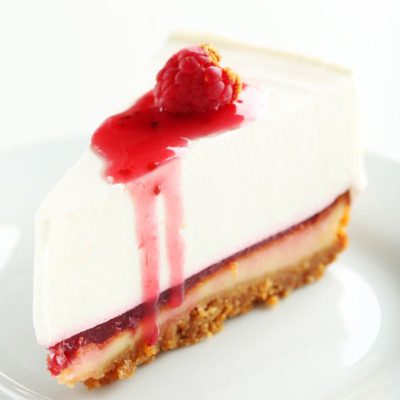 Cheesecake
Also known as tarta de queso
---
What is Cheesecake?
Cheesecake is a unique type of cake that is made with a custard type filling as the batter and a cookie or short dough as the base or side crust.
The custard is typically made with sweetened cheese curds, eggs, milk, sugar, and flavorings.
Some cheesecakes are unbaked and rely on gelatin for thickening while others are frozen. These are not really custards but are more like chiffons or mousses.
How it is made
The filling of cheesecake can be dense and rich (New York style) or light and fluffy (Italian style, made with ricotta cheese). The filling may also include fruit, nuts and flavorings. They are often topped with fruit or sour cream glaze.
Formulation for New York style cheesecake
Filling
| | |
| --- | --- |
| Ingredient | True % (based on formula weight) |
| Cream cheese (room temperature)* | 65.0–70.0 |
| Granulated sugar | 15.0–20.0 |
| Whole eggs (liquid) | 12.0–15.0 |
| Cake flour or cornstarch** | 1.0–5.0 |
| Vanilla extract (liquid) | 0.5–0.8 |
| Lemon zest (grated finely) | 0.2–0.5 |
| Lemon juice | 0.1–0.2 |
| Heavy or sour cream | 1.0–3.0 |
| Sodium propionate / potassium sorbate | 0.1–0.15 |
*Alternative options: soft/fresh cheese, ricotta, cottage or farmer's cheese
**Can also be all-purpose flour
Base or crust
Options
Amount
Graham crackers (crushed)*
Enough to cover pan base and/or pan sides
Unsalted butter (melted)
* Alternatives: short dough, ground nuts, cookie crumbs
Topping
Ingredient
Amount
Fruits
Enough to cover filling top
Sour cream glaze
Raspberries
Raspberry sauce and chocolate
Base / crust preparation1
Ingredients scaling: amount of short dough or cookie crumbs depends on the size of the pan and desired crust thickness. Melted butter can be added to the base at 60% (based on cookie crumbs or graham crackers weight).
Short dough can be prepared by blending pastry flour and butter (60% based on flour weight) to short flakes. Mix to pea size lumps.
Combine the graham cracker (cookie) crumbs with the melted butter. Press the mixture into the bottom of the springform pan. Bake for 10 minutes at 392°F (200°C) until the crust is dry to the touch.
Set aside.
Filling processing
Ingredients scaling.
Crust / base preparation. Line the bottom and sides of the pans with a crumb or short dough crust.
Mixing.

Blend cream cheese and sugar on low speed with a paddle attachment until no lumps remain. Scrape down the bowl often.
Add whole eggs slowly for optimum incorporation. Scrape down the bowl and paddle after addition.
Add the flour and mix until combined. Add the remaining ingredients and mix until a smooth, creamy texture is achieved.

Depositing. Deposit filling into a pan with base / crust.
Baking. Bake filling at 300°F (150°C) until the batter is set and no longer jiggles, approximately 75–90 minutes.
Cooling. Cool overnight, or for about 6 hours at refrigeration temperature.
Depanning. Unmold cheesecake from the springform pan.
Serving.
Application
Cheesecake pans are somewhat special and differ from those used in regular batter cakes. Two types of pans are used in the production of cheesecakes. They are:
False bottom pan
Springform pan
False bottom pans are constructed of two pieces, so that the sides may be removed, leaving the cheesecake on the pan bottom. This differs from a springform pan in that the sidewall is a solid ring.
Springform pans have sidewalls that expand through a clasp mechanism to free the pan sidewall from its baked product. The pan's bottom is fully separate from the sidewall and is maintained in place by the tension of the closed sidewall clasps.
Specifications for cheese
The cream cheese must be soft, fresh curd cheese with about 33% fat. It can be blended with Baker's Cheese to reduce cost and/or fat content.
The structure of the filling depends on the denaturation of egg, flour and milk proteins (coagulation by heat). Cheesecakes should be depanned and cut when cold and firm. Use a knife dipped in clean hot water, wiped after each cut to prevent buildup on the knife and the surface of the cake.
References
The Culinary Institute of America. "Quick Breads and Cakes." Baking and Pastry: Mastering the Art and Craft, 2nd Edition, John Wiley & Sons, Inc., Hoboken, New Jersey, 2009, pp. 291–294.