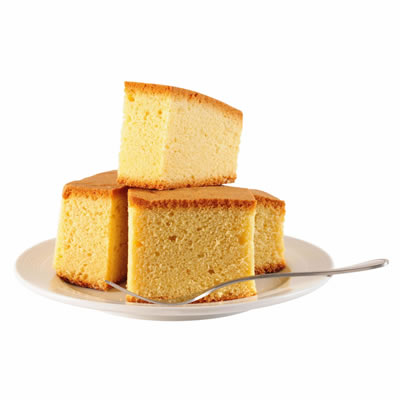 Butter Cake
---
What is Butter Cake?
Butter cake is considered the quintessential American cake. Variations of it are often served at weddings and birthdays. The most common forms are white and yellow cake. Both are fairly simple and contain flour, eggs, butter, sugar, sometimes salt, and a chemical leavening pair.
In the U.S., butter cake is often referred to as pound cake. It is:1
Flavorful
Soft and light in texture
Moist enough to stand on its own or to accommodate a variety of frostings and toppings
Origin
The pound cake is said to have originated in England as the first 'butter cake.' France then adopted this cake and called it quatres-quarts. The American butter cake is a variation of this basic formula.1
Traditional formula relies on the creaming method to incorporate air into the batter to produce the cake's characteristic dense and moist texture. Current butter cakes make use of chemical leavening in the form of baking soda or baking powder, or a combination of both to reduce mixing times and achieve similar results.
How is a butter cake made?
While the traditional formula may have consisted of equal quantities of flour, fat, sugar and eggs, today's formulas involve multiple variations.
A typical butter cake formula includes:2
| | |
| --- | --- |
| Ingredient | Baker's % |
| Chlorinated soft wheat flour (air classified, short patent) | 100.0 |
| Table sugar (refined, granulated sucrose) | 85.0–90.0 |
| Butter | 80.0–85.0 |
| Liquid milk | 100.0–110.0 |
| Whole eggs (liquid) | 50.0–60.0 |
| Salt | 0.5–1.5 |
| Baking powder | 3.5–4.0 |
| Vanilla extract | 0.5–1.5 |
Mixing and baking considerations:
Use creaming method to first mix butter and sugar until the mixture is light and fluffy. Then, gradually add the eggs so that incorporation of the added egg portion is complete prior to adding more.
A small portion of the dry ingredients may be added at this stage to ensure that a proper emulsion is formed and to prevent the batter from splitting.
Add the dry ingredients, alternating them with the liquids until all the ingredients are incorporated to form a homogenous batter.
Scrape the walls of the bowl after addition of eggs and dry ingredients.
Baking time and temperature can vary depending on the weight of batter in each pan as well as the shape of the pan. A general rule of thumb is that smaller products would bake for a short time at a higher temperature and vice versa.
Commercial production of butter cakes:
Ingredient scaling/metering.
Mixing (target specific gravity is a function of volume and finished product texture)
Depositing or panning
Splitting or docking with a layer of oil on top of loaf
Baking
Cooling
Finishing (decoration can be optional)
Packaging
Important guidelines for producing Butter Cakes:1,2,3
Care should be taken to ensure consistency of the product if a combination of fast and slow acting leavening agents are used.
The use of chemical leavening requires proper batter temperatures during the mixing process to activate them at the correct times. Batter temperature has a direct effect on the viscosity of the aerated oil-in-water emulsion and rate of chemical leavening reactions.
Specific gravity measurement helps to ensure consistent product quality. This information can help in making adjustments to the mixing process.
Chemical leavening impacts the pH of batter and cake. Incorporating high levels of baking powders should be avoided to avoid the development of undesirable taste and color in the baked cake.
Cake flour imparts tenderness to baked cakes, a result of the flour's low protein content, thereby shorter mix times. Using chlorinated cake flour provides increased batter stability and improved processing tolerance.
The use of emulsifiers or emulsified shortenings in addition to butter allows for  incorporation of higher amounts of sugar, eggs and liquids, with formulations leaning towards  high-ratio cakes with increased tenderness and longer shelf-life.
References
Beranbaum, R.L. "Cakes". The Cake Bible. Houghton Mifflin Harcourt Publishing Company, 2016, pp. 19–30.
Gisslen, W. "Cake Mixing and Baking" Professional Baking, 7th edition, John Wiley & Sons, Inc., Hoboken, New Jersey, 2017, pp. 377–417.
Suas, M. "Cake Mixing and Baking" Advanced Bread and Pastry: A Professional Approach, first printing, Delmar, Cengage Learning, 2009, pp. 548–589.