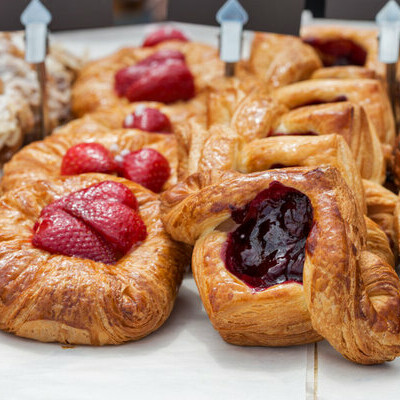 Neotame
---
What is Neotame?
Neotame is a non-caloric artificial sweetener derived from Aspartame with a characteristic liquorice taste. It is used to substitute sucrose in low calorie products. Neotame is 7,000 – 13,000 times sweeter than sucrose, and 30 – 60 times sweeter than aspartame.1
Benefits of neotame include:1,2
High heat and pH stability compared to Aspartame which allows its usage in baking
Leaves no aftertaste
Safe for people with phenylketonuria
Provides slower sweetness onset and lingering sweetness compared to sucrose and aspartame
Chemical Formula
Origin
Neotame was discovered by a French research group led by Prof. Jean Marie Tinti and Claude Notre at Claude Barnard University in the 1980s. It is derived from aspartame and 3,3-methylbutyraldehyde and has a similar structure to aspartame.
This sweetener was originally commercialized by The Nutrasweet Company.2
Function
Compared to other non-caloric sweeteners, it provides a similar taste profile to sucrose at lower concentrations in baked goods. It provides a clean taste and no residual metallic off-flavors.1,2
Nutrition
Because it cannot be metabolized by humans, Neotame is a non caloric sweetener. The Acceptable Daily Intake (ADI) of Neotame is 0.02 mg/kg.1,2
This is safe for individuals with phenylketonuria and is considered  a non cariogenic sweetener with no impact on glycaemic control.2
Commercial production
Neotame is commercially produced from aspartame using the following process:3
Reaction: aspartame and 3,3-methylbutyraldehyde are reacted with hydrogen gas in methanol.
Distillation: the obtained solution is distilled to remove the remaining methanol.
Washing with water (2.5 liter per aspartame mole) followed by cooling.
Isolation: centrifugation isolates the portion.
Washing to remove impurities.
Drying: using a vacuum drier to obtain a crystalline powder.
Sieving: to the appropriate granulometry.
Packaging
Application
Neotame is commonly used in low calorie food products such as:1
Carbonated beverages
Dressings and fillings
Baked goods
Chewing gums
Sauces
This sweetener is stable under baking  pH, moisture and temperature conditions.1 it is not synergetic  with other alternative sweeteners, except with saccharin at a 14-25% rate. The characteristic licorice flavor is usually reduced by blending with other intense sweeteners.2
Other considerations when using neotame:
Potential flavor modification, thus the need for reducing the level of certain flavors such as vanilla, mint and cinnamon in confections.1
The low concentration in baking formulas may require adding a bulking agent to compensate for sucrose elimination.2
Regulations
Neotame is considered safe for addition to food products by the FDA when following good manufacturing practices. This regulation excludes the use in meat and poultry.4
In the EU, neotame (E 961) was allowed for "fine bakery products for particular nutritional uses (diabetic food products)". Since 2018, this category of "diabteic food products" has been eliminated , and thus fine bakery products are regulated by the Nutritional Health Claims Regulations 1924/2006 that doesn't include the use of saccharin in bakery products.5
References
O'Brien-Nabors, L. Alternative Sweeteners, Third Edition, Revised and Expanded. Switzerland, Taylor & Francis, 2001.
Mitchell, H. Sweeteners and sugar alternatives in food technology. John Wiley & Sons, 2008.
Food And Agriculture Organization, 2004. NEOTAME:Chemical and Technical Assessment (CTA). FAO, p.1.
Food and Drug Administration (FDA). US Department of Health and Human Services. CFR Code of Federal Regulations Title 21, Part 172 Food Additives Permitted For Direct Addition To Food For Human Consumption, https://www.accessdata.fda.gov/scripts/cdrh/cfdocs/cfcfr/cfrsearch.cfm?fr=172.829  , Accessed 18 July 2021.
"EU Bans Use Of Artificial Sweeteners In Dietetic Bakery Products". Apps.Fas.Usda.Gov, 2018, https://apps.fas.usda.gov/newgainapi/api/report/downloadreportbyfilename?filename=EU%20Bans%20Use%20of%20Artificial%20Sweeteners%20in%20Dietetic%20Bakery%20Products_Brussels%20USEU_EU-28_2-5-2018.pdf  . Bans Use of Artificial Sweeteners in Dietetic Bakery Products_Brussels USEU_EU-28_2-5-2018.pdf. Accessed 10 July 2021.