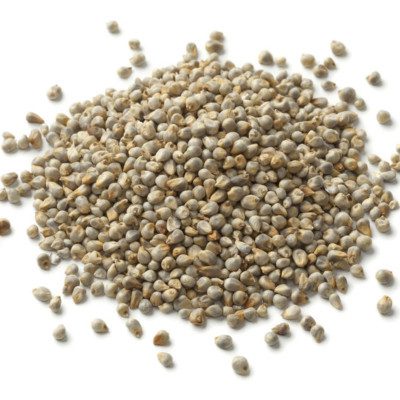 Millet
---
What is Millet?
Millet is a term describing many species of annual grasses with small seeds cultivated for food use. These include several different genera within the family Poaceae. The seeds can be milled into flour and used to make various bakery products.
However, its wider commercial adoption has been hampered by misperception and numerous other factors, including a lack of basic scientific exploration that could promote greater use in prepared foods such as breads and cakes.
Origin
Millet family grasses typically grow on lands deemed marginal in dry areas within Africa and Asia, where they have been cultivated since antiquity. Historians suspect millet was the original staple grain consumed throughout Asia. Its consumption dates back to 8300 B.C.E and its cultivation is estimated to have spread to the Black Sea area by 5000 B.C.E.1, 2
These grasses grow from a foot to 15-feet tall, The hull must be removed before the grain can be eaten.1
Today, millet is the world's sixth most important grain crop. The most important of which is pearl millet. Production of some millet types is in decline, finger millet among them. It is reportedly a tough crop to produce, requiring "a dedication to drudgery that, given a choice, few people are willing to invest," the Food and Agriculture Organization of the United Nations said. Its misclassification and other false information is inhibiting wider consumption and commercial use of millet, said the FAO. This includes the perception that the seeds are only suited for use as animal feed.
Greater cultivation is also hampered by a lack of data and statistics on cultivation, which make the grain seem "as if it doesn't exist" when the grain feeds millions. Increasing recognition of millet as an important cereal crop in drought-prone regions has led to additional interest and research in these seeds use to alleviate hunger and ensure agricultural diversity.3
Types of Millets
Pearl millet (Pennisetum glaucum)
Foxtail millet (Setaria italica)
Proso millet, also called hog, common, or broom corn millet (Panicum miliaceum)
Finger millet (Eleusine coracana)
Other grains under this umbrella may include teff, a seed whose flour is used to make injera bread, fonio, and Job's Tears [Coix lacrima-jobi], which are classified as millets by the United States Department of Agriculture.1
Commercial production
Typically, millet is challenging to process because the seeds are so tiny. Specialized milling equipment exists; however, its commercialization is limited.2  Mass production, according to sources, has been hampered by misperceptions about the grain despite its nutritional content. Also, support for wheat and rice research and development as well as these grains' dominance in the food processing industry has overshadowed millet.4, 2
Nutrition
Millets are considered gluten-free grains that have a high nutritional profile. They are touted for being high in magnesium as well as for providing consumers with various other vitamins and essential amino acids.1, 4
Millet Flour:5
| | | |
| --- | --- | --- |
| Nutrient | Unit | Value per 100g |
| Proximates | | |
| Water | g | 8.67 |
| Energy | kcal | 382 |
| Protein | g | 10.75 |
| Total lipid (fat) | g | 4.25 |
| Carbohydrate, by difference | g | 75.12 |
| Fiber, total dietary | g | 3.5 |
| Sugars, total | g | 1.66 |
Application
Millet flour can be used to make flat and leavened breads. Roti, a flat bread commonly eaten in India, is made using finger millet.1 Its use in leavened breads remains an active research topic. It has been suggested that the total flour volume in a baked good can contain as much as 30 percent millet flour; however, other research suggests increased concentrations of millet flours in cake and bread doughs decreased their baking performance.
Research efforts into its suitability as an ingredient for commercial baking are ongoing. Only a few studies of millet rheology exist. Of those, many focus on or include sorghum in those scientific assessments. McGill University, for example, investigated the characteristics of little, foxtail, and barnyard millets, which are grown in India, as a wheat flour replacement in bread and cake production. This included scientific evaluation of dough rheological behaviors, baking performance, sensory attributes, and other aspects of the final products made with these millet flours.4
Other research into making raised breads with different dough strengtheners and binding compounds such as glyceryl monostearate, locust bean gum, egg white, and lard has been conducted. The result has been baked goods with greater volume, softer crumb, and a more regular texture.3
More research is needed to test millet flour as an ingredient on an industrial scale, including developing standardized bakery product formulations and process parameters to better take advantage of the grains' composition and nutritional profile. 4
FDA regulation
The United States Food and Drug Administration allows whole grain health claims to be made for products meeting specific guidelines. Its Whole Grain Label Statement guidance states "Cereal grains that consist of the intact, ground, cracked or flaked caryopsis, whose principal anatomical components—the starchy endosperm, germ and bran—are present in the same relative proportions as they exist in the intact caryopsis—should be considered a whole grain food."6, 7
References
"Millet and Teff – November Grains of the Month." Whole Grains 101 | The Whole Grains Council, wholegrainscouncil.org/whole-grains-101/grain-month-calendar/millet-and-teff-–-november-grains-month. Last accessed 26 November 2018.
The World Sorghum and Millet Economies: Facts, Trends and Outlook: a Joint Study by the Basic Foodstuffs Service, FAO Commodities and Trade Division and the Socioeconomics and Policy Division, International Crops Research Institute for the Semi-Arid Tropics. Food and Agriculture Organization of the United Nations, 1996. pp. 31-33, 40.
Board on Science and Technology for International Development. Lost Crops of Africa: Grains. Vol. 1, National Research Council, 1996. pp. 3-4, 10, 13 39-53 , 303, 308-310.
Murugesan, Ramesh. "Use of Millets for Partial Wheat Replacement in Bakery Products." McGill University, [email protected], Dec. 2014, http://digitool.Library.McGill.CA:80/R/-?func=dbin-jump-full&object_id=132697&silo_library=GEN01.  pp. 26-27, 29, 114-115, 226-229.
USDA Food Composition Databases, United States Department of Agriculture, ndb.nal.usda.gov/ndb/foods/show/20647?fgcd=&manu=&format=&count=&max=25&offset=&sort=default&order=asc&qlookup=millet&ds=&qt=&qp=&qa=&qn=&q=&ing=. Last accessed 26 November 2018.
Frølich, Wenche, and Per Åman. "Whole Grain for Whom and Why?" Food & Nutrition Research, vol. 54, no. 1, 2010, p. 5056., doi:10.3402/fnr.v54i0.5056.
Center for Food Safety and Applied Nutrition. "Guidance Documents & Regulatory Information by Topic – Draft Guidance for Industry and FDA Staff: Whole Grain Label Statements." U S Food and Drug Administration Home Page, Center for Drug Evaluation and Research, www.fda.gov/Food/GuidanceRegulation/GuidanceDocumentsRegulatoryInformation/ucm059088.htm. Last accessed 21 November 2018.