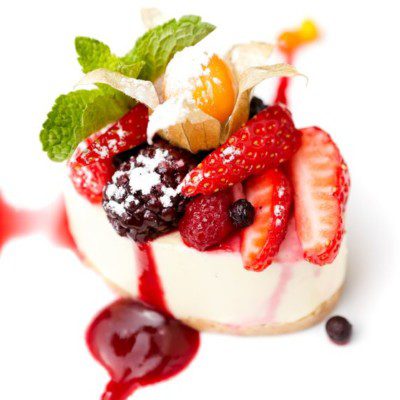 Fumaric Acid
---
What is Fumaric Acid?
Fumaric acid is an organic acid with the chemical formula C4H4O4. It is used in foods as an acidity regulator, an antibacterial agent and a shelf-life extender. As a food grade organic acid, it's often used as a substitute for tartaric and citric acids.
It is widely used in:
Beverages
Powdery dessert mixes
Confectionery
Origin
Fumaric acid is found in nature in bolete mushrooms, lichen and Iceland moss. It was first isolated from the plant Fumaria officinalis.1 Commercially, it is produced chemically or enzymatically from starchy materials.2
It is a colorless, crystalline powder with the following chemical structure: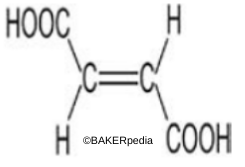 Function
In food and bakery products, it has the following functions:
Strong buffering capacity around pH 3.0.2
Antimicrobial activity
Acidulant and acid leavening properties
Flavor enhancing
Low water solubility (0.7 g/100 ml water at 30oC)
Commercial production
Fumaric acid is primarily produced using isomerization or biochemical routes.1
Isomerization: this method is based on the conversion of maleic anhydride to maleic acid and the cis–trans isomerization of maleic acid to the final product.
Biochemical: this method relies on bioconversion of substrates such as corn starch, corn straw, cassava bagasse or potato flour. It uses maleate isomerase produced by Pseudomonas and Arthrobacter species.
Application3
Typical applications of this type of acid in bakery systems are in:
Bread: added during blending to provide acid leavening. Also, it adds a pleasant  flavor in rye and sourdough breads
English muffins: helps improve dough machinability and baked muffin porosity
Tortillas: acts as a mold inhibitor, dough machinability improver and shelf life extender
Pie fillings: improves smoothness and optimum gelation by extending critical cook time
Other applications for this ingredient are refrigerated biscuit doughs or gelatin desserts.
FDA regulation
The use of this acid as a food additive, as well as the use of it's and its calcium, ferrous, magnesium, potassium, and sodium salts, are regulated by the FDA (21CFR172.350).4
References
Ilica, R-A., Kloetzer, L. and Galaction,A-I. Fumaric acid: production and separation. Biochemistry Letters, 4 (2018): 18.
Das, R.K., Brar, S.K., and Verma, M. Fumaric acid: production and application aspects. In: Brar SK, Sarma SJ, Pakshirajan K (eds) Platform chemical biorefinery: future green chemistry, edn. Elsevier, Amsterdam, (2016), pp 133–152.
Yang, S.T., Zhang, K., Zhang, B., and Huang, H. Biobased chemicals – fumaric acid. In: Young, M.M. (Ed.), Comprehensive Biotechnology. Elsevier, Netherland,2011,  pp. 163–177.
"CFR – Code of Federal Regulations 21CFR172.350" Accessdata.fda.gov. 01 Apr. 2019. https://www.accessdata.fda.gov/scripts/cdrh/cfdocs/cfcfr/CFRSearch.cfm?fr=172.350&SearchTerm=fumaric%20acid. Accessed 8 Nov 2019.