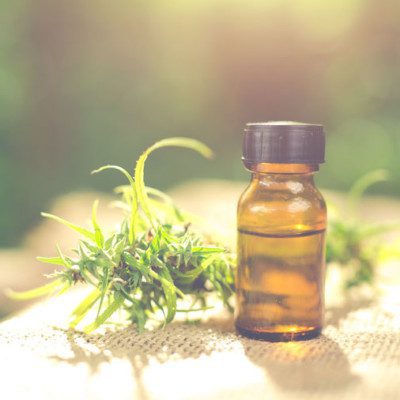 CBD Oil
Also known as cannabidiol, CBD or hemp extract
---
What is CBD Oil?
CBD is the abbreviation for cannabidiol, one of over 100 natural, active compounds found in Cannabis Sativa L plants. Found in industrial hemp and marijuana, CBD does not have the psychoactive effects of tetrahydrocannabinol (THC).
The oil has grown in popularity due to its wellness and medicinal benefits. CBD oil in baked goods runs the gamut from brownies to doughnuts, muffins to cakes. It is not yet approved by the FDA for commercial production of food products.1 Commercially-available forms include:
Full spectrum crude oil (less refined, contains minor cannabinoids and terpenes)
Broad spectrum
Pure CBD crystals and isolates (most refined, does not contain beneficial minor cannabinoids and terpenes)
Water soluble CBD (generally through nano-emulsion technologies)
Origin
Cannabis sativa L plant is considered an ancient crop which was cultivated for medicinal applications in China over 4500 years ago. Its usage declined throughout the years. However, it was revived in the late 20th Century. CBD oil was isolated for the first time in 1940 and characterized structurally in 1963. Its commercialization began in recent years with the prevalence of studies on its potential therapeutic benefits.2
The 2018 Farm Bill legalized industrial hemp in the United States so long as THC levels remained 0.3% or less. With the worry of any psychoactive high set aside, industrial hemp has become an ideal source for CBD and a host of additional "minor cannabinoids" like CBG, CBN and more. These are rapidly gaining interest in baked goods. However, despite industrial hemp being legal to grow and CBD being legal in topical products, it is not yet approved by the FDA  for commercial production of food products.1
Learn more about baking with CBD oil in our free technical paper! Download here.
Function and Physicochemical Properties
CBD oil is used in foods, beverages and baked goods as a supplement with potential therapeutic effects. In more natural and less refined full spectrum form, it imparts rich green and robust flavor notes. However, if it's used at high levels, it tends to distort or mask the flavor of baked goods.1,3
The oil is fairly unstable and tends to oxidize if treated at temperatures higher than its boiling point, i.e. 160-180°C (320-356°F). Considering the small amounts added to a given formula, CBD should be pre-dissolved in the fat portion of baked products. Isolated CBD crystals are the easiest to dissolve in oils and butter. However, they do lose some of the whole plant benefits often called "entourage effect" when CBD is isolated and not left in full or broad spectrum forms that contain minor cannabinoids and terpenes.
Nutrition
CBD is known for its calming, pain relief and anti-inflammatory properties without the psychoactive effects of tetrahydrocannabinol (THC).1 THC is the psychoactive component in marijuana that can get you "high," while CBD found in industrial hemp does not.
The two main components of it are cannabidiol and beta-caryophyllene (BCP) with small quantities of phytocannabinoids and terpenoids. Claimed therapeutic properties range from antiepileptic, antinociceptive, anti-inflammatory, anxiolytic, antidepressant and addiction management.1,3
Bioavailability of CBD oil is best when delivered via a fat based medium and with food, and in newer water soluble formulations made possible with nano-emulsion technology.
Commercial production4
CBD oil is obtained commercially following these steps:
Crushing: dried industrial hemp flower is crushed into a fine powder
Extraction: using supercritical CO2 or ethanol as a solvent
Winterization: mixing oil extracts with alcohol and freezing
Filtration: removing of undesirable fractions
Evaporation: heating the oil-alcohol mixture to remove and recuperate the alcohol.
Distillation: crude oil is distilled to remove unwanted compounds and retain high oil purity
Application5
Few considerations should be kept in mind when formulating bakery products with CBD oil:
Source: purchase from a reliable source and the purity must be known.
Fat medium: it is fat soluble and should be mixed with the lipid components of the formula such as oil, butter or ghee. In some recipes, the fat medium may be substituted by a liquor like rum or vodka.
Temperature: due to its heat sensitivity, this oil may be added after cooking to avoid oxidizing it.
Serving size: it is important to accurately calculate the serving size and CBD oil dosing.
For successful baking with CBD oil, it is important to start with small doses to see the effect on the consumer. Incremental increases should be small and continuously monitored.
A general guideline for CBD oil dosing in baked goods:
FDA regulations
CBD oil used as a food additive or supplement is not yet approved by the FDA. Its usage is only approved as a drug for treating epilepsy.6
References
VanDolah, H.J, Bauer, B.A & Mauck, K.F. "Clinicians' Guide To Cannabidiol And Hemp Oils". Mayo Clinic Proceedings, vol 94, no. 9, 2019, pp. 1840-1851. Elsevier BV, doi:10.1016/j.mayocp.2019.01.003. Accessed 7 May 2020.
Fuchs, C. Cbd Oil And Arthritis Natural Cure For Relieving Pain Ultimate Guide: Discover The Truth And Reverse Your Diseases. 1st ed., Publishdrive, 2019, pp. 18-30.
Corroon, J, and Phillips,J.A. "A Cross-Sectional Study Of Cannabidiol Users". Cannabis And Cannabinoid Research, vol 3, no. 1, 2018, pp. 152-161. Mary Ann Liebert Inc, doi:10.1089/can.2018.0006.
Gibraltar Industries. "How To Extract CBD Oil – The Extraction Process & How CBD Oil Is Made – Apeks Supercritical". Apeks Supercritical, 2020, https://www.apekssupercritical.com/cbd-extraction-process/ . Accessed 7 May 2020.
Petitto, M. (Ed). The CBD Handbook: Over 75 Recipes For Hemp-Derived Health And Wellness. 1st ed., Chartwell Books, 2019.
U.S. Department of Health and Human Services and U.S. Department of Agriculture. "What You Need to Know (And What We're Working to Find Out) About Products Containing Cannabis or Cannabis-derived Compounds, Including CBD". March 2020. Available at https://www.fda.gov/consumers/consumer-updates/what-you-need-know-and-what-were-working-find-out-about-products-containing-cannabis-or-cannabis. Accessed 6 May  2020.