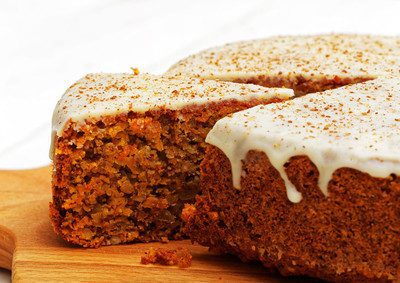 Ingredients
1 C butter
1 C Sugar
1 C Brown Sugar
4 Eggs
2 C Carrots (shredded)
1 C Walnut
1½ tsp Nutmeg
3 tsp Cinnamon
½ tsp Salt
2 tsp Baking Soda
2½C Cake flour
Frosting
8oz cream cheese
1 stick unsalted butter
3 C confectioner's sugar
1 tsp Cinnamon
1 tsp Nutmeg
Method
Preheat the oven to 350oF. Grease a 9" cake pan.
Cream the butter, vanilla and sugar together.
Gradually add in the eggs, while beating.
In another bowl, mix the rest of the dry ingredients together.
Slowly fold in this flour mixture. Pour it out into the pan.
Bake in the oven for 70 mins, or until an inserted toothpick comes out clean.
Cool on cooling rack for at least 30 minutes before frosting.
Slice the cake into a equal horizontal half.
Place all the frosting ingredients in a bowl and whip it up. Use the frosting immediately.
Frost the bottom layer, place the next layer on top and front the top and the sides.
Sprinkle with walnuts.
After frosting, leave it in the refrigerator for 4 hours before serving.