OUR VISION: Enabling our Customers to Feed the World™
Vantage Food™
is a market leader offering customized solutions, in-house research and development, and an extensive portfolio of food processing ingredients. Our offerings include
release agents
,
emulsifiers
,
stabilizers
, processing aids,
shortenings
, esters, polysorbates, antifoams, specialty ingredients, spraying
equipment
, and much more. We offer a full line of clean label solutions including allergen-free, non-GMO, organic, Kosher, and Halal.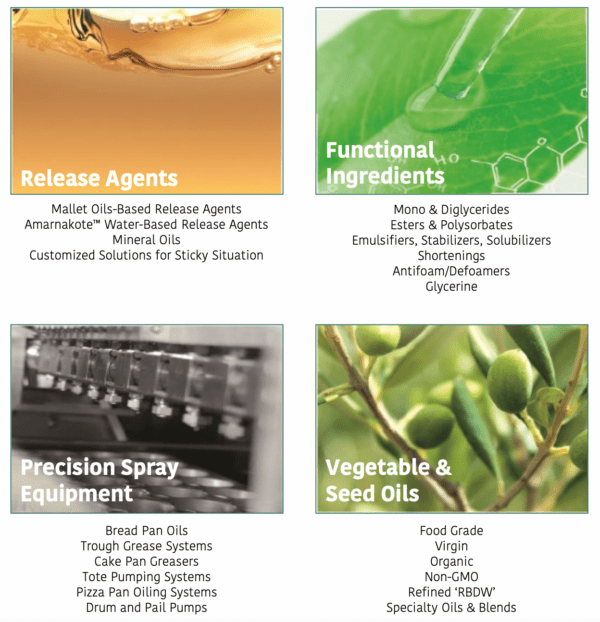 Vantage Food™ Amarnakote™ Release Agents:
Amarnakote™ is a family of water-based release agents that are unique in functionality and performance. Amarnakote™ helps to prevent food products from sticking to production surfaces while offering unique, patented cleaning properties that improve customer productivity.
In general, anything baked and dehydrated is an ideal candidate for Amarnakote™ Release Agent. It's been proven to work in:
Breads, bagels, buns and soft pretzels
Dried fruits and vegetables
Ready to eat cereals and granolas
Pizza and pocket sandwiches
Jerkies
Grill meats
Pet treats
Waffles
Vantage Food™ Oil-Based Release Agents:
Mallet Release Agents provide superior release and help our customers deliver consistently uniform and faultless finished products that are virtually reject free. The release agents are proven to provide superior depanning performance.
We offer a wide variety of blends to meet our customers' needs:
Breads
Cakes
Pizzas
Divider
Flavored oils
Trough greases
Slicer blade oil
Waffle and cones
Nutritional bar release
Band oven oils
Specialty and release oils
Vantage Food™ Spraying Equipment
Vantage Food™ offers Mallet and Amarnakote™ brand equipment. They are known for reliability, speed, and precision in the baking and food processing industry. The Mallet systems provide highly efficient and effective targeted application of release agents and other ingredients.
We offer a complete line of application systems, including the following:
Cake pan greasers
Bread pan, band oven, and sheet pan oilers
Pizza oil application systems
Tote stands and pumping stations
Custom spray systems
All Mallet Branded Equipment is BISSC Certified
Vantage Food™ has an experienced Equipment Divisions to provide industry leading maintenance and technical support. We offer a variety of support options, including preventative maintenance programs to ensure optimum productivity and reduce the risk of equipment downtime.
Better Food Made Possible
At Vantage Food™ we build trusting, long-term relationships with our customers and develop customized solutions for them, leveraging decades of expertise. Our R&D and Quality Assurance Teams are staffed with food scientists who thoroughly understand our customers' needs.
Our Customer Support team is just a call away and includes our highly trained customer care representatives, transportation specialists, field service technicians and equipment engineers. This integrated approach ensures the Vantage Food™ Team is ready to help your organization achieve even greater success!
We're happy to answer any questions you may have and readily available to serve your needs. For more information, please contact our sales representatives at [email protected].
Visit our website to find out more about us and all of the innovative products we offer!