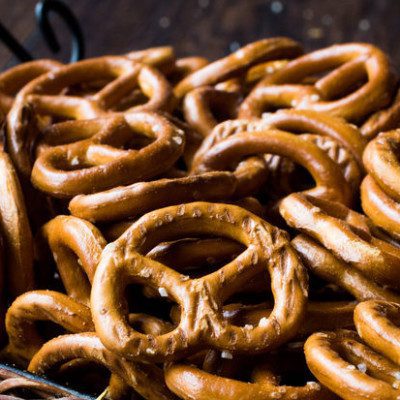 Pretzels
---
What are Pretzels?
Pretzels are one of the oldest snack foods and one of the most popular ones today. Thin rolls of dough are twisted into knots and served either as a soft or crunchy form. Salt is almost always baked on top.
Flour, starch, protein, yeast, shortening and sugar make up the base ingredients. Interestingly, the dough requires both yeast and chemical leavening agents. Pretzels require a lye bath to obtain it's dark shade and distinctive flavor.
Hard pretzels have a low moisture content—usually between 2 and 4 percent—and a long shelf life. However, the softer variety has a higher moisture content. Pretzel's low fat content has made them popular among health-conscious snackers. A rising commercial trend is soft pretzels, in the form of pretzel breads and buns.
Origin
Pretzels can be traced back to 610 A.D, when a monk in France or Northern Italy is first believed have to folded bread dough into a pretzel shape. The snack has strong ties to religious symbols and feasts. It spread across the wine country to Austria and Germany, where it picked up the name bretzel or pretzel. These northern countries built pretzel dough into a part of their traditional cuisine. In the 1600s, an accidental over-baking produced the hard crunchy pretzels popular today. The first commercial pretzel factory was opened in Pennsylvania in 1861.
Application 
Pretzel dough is mixed and then dipped, traditionally in a lye solution, before it is baked. The lye bath influences the Millard reaction—a crucial reaction in bread baking. By dipping the dough in lye (or a baking soda bath), the ratio between sugar and protein is altered, and the pretzels get their characteristic taste, color, and crunch.
Try this pretzel recipe:
Ingredients
• 4 teaspoons active dry yeast
• 1 teaspoon white sugar
• 1 1/4 cups warm water (110 degrees F/45 degrees C)
• 5 cups all-purpose flour
• 1 1/2 teaspoons salt
• 1 tablespoon vegetable oil
• 1/2 cup baking soda
• 4 cups hot water
• 1/4 cup kosher salt, for topping
• Add all ingredients to list
Instructions
1. In a small bowl, dissolve yeast and 1 teaspoon sugar in 1 1/4 cup warm water. Let stand until creamy, about 10 minutes.
2. In a large bowl, mix together flour, 1/2 cup sugar, and salt. Make a well in the center; add the oil and yeast mixture. Mix and form into a dough. If the mixture is dry, add one or two more tablespoons of water. Knead the dough until smooth, about 7 to 8 minutes. Lightly oil a large bowl, place the dough in the bowl, and turn to coat with oil. Cover with plastic wrap and let rise in a warm place until doubled in size, about 1 hour.
3. Preheat oven to 450 oF (230 oC). Grease 2 baking sheets.
4. In a large bowl, dissolve baking soda in 4 cups hot water; set aside. When dough has risen, turn it out onto a lightly floured surface and divide into 12 equal pieces. Roll each piece into a rope and twist into a pretzel shape. Once all of the dough is shaped, dip each pretzel into the baking soda-hot water solution and place pretzels on baking sheets. Sprinkle with kosher salt.
5. Bake in preheated oven until browned, about 8 minutes.
Recipe source: AllRecipes.com