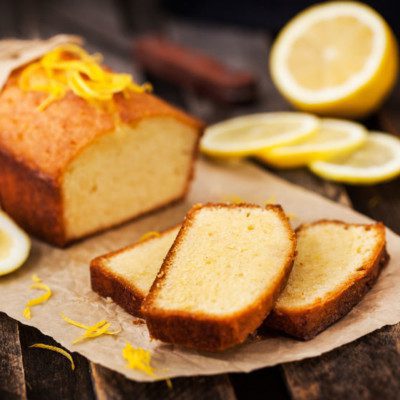 Lemon Cake
---
What is Lemon Cake?
Lemon cake is a dense, flavorful and very popular cake. Lemon is used to provide its unique flavor to a variety of cakes, including bundt, angel food or white cakes. However, lemon cake commonly refers to loaf cake with a tighter grain and more elastic crumb, much like a pound cake.
This is a favorite  cake for tea time and coffee shops
It's a shortened cake with fat as an essential ingredient and baking powder as the leavening agent1
The cake is usually topped with a glaze, syrup or light icing
Origin
The exact origin of lemon cake is unknown. It is probably derived from the pound cake, which was first baked in England around 1700. A pound of each ingredient was used to make a simple, heavy cake to feed large groups of people.
How Lemon Cake is Made
A lemon cake can be made with either lemon zest or juice, sometimes both. When making the cake, have all ingredients at room temperature before starting. The creaming method of mixing is commonly used when baking lemon cake.
Base formulation
| | |
| --- | --- |
| Ingredient | Baker's % (based on flour weight) |
| All-purpose flour | 100.0 |
| Sugar (refined, granulated) | 70.0 (low ratio) –120.0 (high-ratio) |
| Shortening / butter | 40.0–100.0 |
| Salt | 2.0–3.0 |
| Whole eggs | 40.0–110.0 |
| Baking powder | 1.0–3.0* |
| Liquid milk | Variable |
| Lemon juice | Variable |
| Lemon zest | About 3 lemons per loaf formula |
*For chemical leavening purposes. Actual amount depends on the acidity created by the addition of lemon juice.
Adjustments to the base formulation should be made for various product specifications and target markets. Sugar, total liquids, fat, baking powder and other minor ingredients can be added only if proper formula balancing is exercised.
Guidelines for balancing lemon cake formulas:
Amount of sugar should excess that of flour if longer shelf-life and better flavor are expected
Amount of eggs should exceed that of  fat (liquid whole eggs = fat x 1.1)
Total liquids = eggs + milk (if used) = sugar
As the sugar level increases, fat level should decrease and egg level should increase. This to prevent excessive tenderness of the crumb structure that could lead to poor tolerance during product handling and transport
Processing
Ingredients scaling
Mixing (creaming method): Target batter temperature is 68–78°F (20–26°C) and target specific gravity is 0.7–0.8.
Depositing:
Baking: Bake at 320°F (160°C) for about 60 minutes until fully cooked or to an internal temperature of 204°F (95°C) at sea level.
Deppaning: Depan while the cake is still warm.
Glazing (optional): Decorate with glaze while the product is still warm.
Cooling: Cool product to loaf internal temperature of 95–105°F (35–40°C) before slicing and packaging
Icing (optional): Decorate with icing once the product has cooled.
Slicing
Packaging or serving
Application
Baking soda might need to be added to counteract or neutralize the extra acidity created by lemon juice in formula. Lemon juice naturally contains citric acid which quickly reacts with the base present in the baking powder producing CO2 and sodium citrate. This may lead to undesirable flavors and poor crust color due to lower pH of the product after baking.
With the creaming method, fat (usually butter) and sugar are mixed. Then, eggs are added. Lastly, dry ingredients are sifted in. Lemon zest is usually added alongside eggs. Lemon juice should be added at the final stage of mixing once flour has been incorporated into the batter.
All ingredients can be mixed together at the same time, but the cake will not be as high in volume, fluffy and tender. Either way, mix until the batter is smooth and runny.
References
Manay, N. Shakuntala., and M. Shadaksharaswamy. Foods: Facts and Principles. New Delhi: New Age International, 1995.