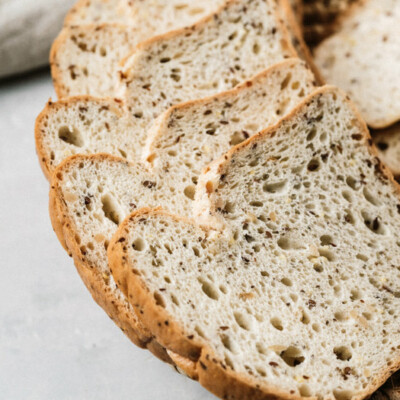 Keto Bread
---
What is keto bread?
Keto bread is a staple food formulated for individuals following the strict low-carb ketogenic diet. 
This bread cannot contain cereal flours such as wheat, so a viscoelastic dough is very unlikely to obtain under this scenario. 

It is made by replacing traditional wheat flour with low-carbohydrate sources and other functional ingredients already used in gluten-free baking (e.g. hydrocolloids and eggs).
Origin
Keto baking has become very popular in developing countries in the last few years. It is based on the well-known "keto diet" used by those who are following a low-carb strategy to lose weight, want to improve a given health condition, avoid consumption of food allergens such as gluten, or simply to change their diet habits.
Download our Keto Pocket Guide, a free eBook and ultimate resource for the trend!
How keto bread is made
Formulation
| Ingredient | Baker's % (based on flour weight) | Function |
| --- | --- | --- |
| Almond Flour | 70.0 | Wheat flour replacement |
| Coconut Flour | 30.0 | Wheat flour replacement |
| Egg Whites | 90.0 | Structure |
| Water 1 (warm) | 11.0 | Hydration and dispersion |
| Water 2 (hot or boiling) | 16.0 | Hydration and dispersion |
| Water 3  (hot or boiling) | 65.0 | Hydration and dispersion |
| Butter (melted) | 30.0 | Lubrication and nutrition |
| Psyllium Husk Powder | 2.0 | Cold gelling binder |
| Salt | 2.2 | Flavor enhancement |
| Baking Powder | 5.25 | Leavening |
| Instant Dry Yeast (IDY) | 1.5 | Leavening and flavor |
| Coconut Sugar | 3.5 | Food for yeast |
| Beef gelatin | 3.0 | Hot gelling binder |
| Vinegar (11% acetic acid) | 2.0 | Mold inhibition |
| Liquid Stevia | 1.5 | Flavor enhancement |
| Total | 332 % | |
Processing
Keto breadmaking demands the use of alternative ingredients and processing methods.
Ingredients scaling
Mixing:

Dry macro-ingredients: Whisk together almond flour, coconut flour, psyllium husk powder, salt, and baking powder.
Yeast propagation: Stir together the instant dry yeast, water 1 (warm), and coconut sugar and let it sit 10 minutes until bubbly or foamy.
Gel preparation: In a separate container or bowl, stir together the beef gelatin and water 2 (hot) until fully dissolved.
Liquid ingredients: Incorporate together the dissolved yeast, dissolved gelatin, egg whites, vinegar, liquid stevia, and melted butter.
Mix the egg white mixture into the dry macro-ingredients, and then beat in the water 3 (hot).

Panning / depositing: Immediately pour the batter into an oiled aluminized steel loaf pan and smooth out the top. Let it rest for 3 minutes.
Topping (optional): Sesame seeds may be sprinkled on top.
Baking (small-scale or homebaking): Bake keto bread for 70–90 minutes at 176°C (350°F). Bake until a wooden pick inserted in the center comes out clean. The loaf is done when it sounds hollow when tapped on the bottom.
Cooling: Remove bread from the oven, transfer the bread to a wire rack, and cool for as long as necessary to reach 30°C (86°F).
Application
Keto bread made with the formulation described above is naturally both emulsifier and gluten free, so its foam structure is highly prone to gas bubble coalescence. This situation causes crumb grain to be coarse and irregular.
Air bubbles incorporated during mixing and expanded by CO2 production need to be stabilized in order to transform into a nice looking cell structure in the crumb. A clean label alternative for foam emulsification (i.e. gas bubble stabilization) involves the use of hydrolyzed (i.e. lipase-treated) lecithin. Lecithin is a natural source of galactolipids and phospholipids which can be enzymatically modified to become strong surface-active molecules.1 A more stable gas bubble structure allows a tighter and finer crumb grain.
A future look at high-speed keto breadmaking
Commercial production of keto bread as a future practice appears to be greatly limited by the very long baking times which are required to obtain optimum product structure and water extraction. Bake times are the major process bottleneck in the high-speed production of keto breads. Under this scenario, existing continuous lines that use direct gas-fired tunnel ovens may be limited to about 45 pieces per minute to handle the lengthy bakes and dense scaling weights that create greater oven loads.
References
MacRitchie, F. "Role of Lipids in Baking." Lipids in Cereal Technology, Academic Press Inc., 1983, pp. 165–187.