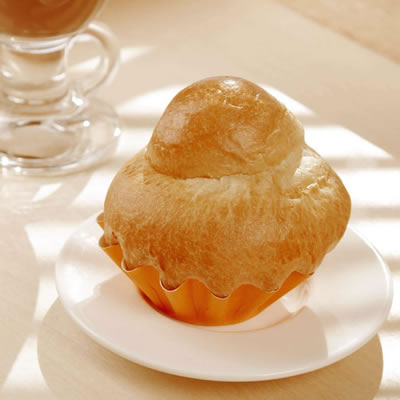 Brioche
---
What is Brioche?
A brioche is a yeast-raised product enriched with butter and eggs and sometimes sweetened with sugar.1 This enriched formula gives the finished product a flaky, almost pastry-like texture.
It's a flavorful and tender artisan good that belongs to the Viennoiserie category of bakery products—the meeting point of pastry and bread.
A brioche may have several shapes, including braided, roll shaped and loaf-type. In the past, brioche  was produced for special occasions such as weddings or baptisms. Although it has earned its reputation as a celebration bread, it is now available in most bakeries worldwide.
Origin
The earliest recorded history of of the word brioche dates back to 1404. It is debatable whether the etymology comes from the French words, bris (to break) and hocher (to stir), or if it comes from the fact that the bread was first made in the Brie region in France.
Historically, two types of brioche were produced:
Rich man's brioche (flour: butter ratio, 3:2)
Pain brioche (flour: butter ratio, 4:1)
Either way, this wonderful bread was perfected in France with the addition of butter, which helped mask the flavor of the yeast or sourdough starter that is commonly used.
Production
The production of brioche usually follows the sponge and dough process, although other methods such as straight dough or short pre-ferments, can be used. The brioche with sponge has all the advantages that accompany long fermentation. It boosts flavor profile, improves flour hydration, and extends shelf-life of finished product.
Brioche formula
The formula for a brioche, following the sponge and dough dough system, uses the following ingredients:3,1
| | |
| --- | --- |
| Ingredients (sponge) | Baker's % |
| Bread flour (white) | 100.0 |
| Water | 65.0 |
| Yeast (instant dry) | 0.1 |
| Total | 165.1 |
| | |
| --- | --- |
| Ingredients (dough) | Baker's % |
| Bread flour (white) | 100.0 |
| Liquid milk (scalded and cooled) | 7.0 |
| Yeast (osmotolerant instant dry) | 1.6 |
| Sugar | 22.0 |
| Salt | 2.6 |
| Eggs | 72.0 |
| Fat (melted butter) | 65.0* |
| Sponge | 54.0 |
| Total | 324.2 |
* This level ensures tenderness of the crumb and enhances shelf-life.
Process:3,1
Sponge side:
Scaling of ingredients
Mixing at low speed for 1–2 minutes to incorporate ingredients at 21°C (dough is not developed in this stage)
Fermenting for 12–16 hours at room temperature
Retarding for 6–8 hours at refrigeration temperature
Dough side:
Scaling of ingredients
Adding sponge
Mixing at low speed (with the paddle attachment in a vertical mixer) to incorporate ingredients and sponge
Mixing at high speed for 8–12 minutes to develop gluten at 24°C (75°F)
Final dough:
Discharging final dough
Fermenting or floor time for 1 hour at room temperature
Dividing
Pre-shaping
Intermediate proofing (resting time of 20–30 minutes)
Shaping
Final proofing for 60–90 minutes at 27°C (80°F), 65% RH
Egg washing
Baking for 15–20 minutes at 190°C (374°F). Shorter times can be obtained by increasing oven temperature
Application
Due to its high solids content (fat, sugar and salt) and low hydration, a brioche dough may need to be inoculated with a yeast capable of growing and thriving in a stressful environment, i.e., the yeast needs to resist the relatively high osmotic pressure generated within the liquid phase of dough.
The high ratio of fat and special shapes make brioche doughs difficult to machine and handle on fully automated or high-speed lines. That is why the production process for brioches usually follows a manual and laborious work at the bakeshop. However, some bakers produce it on a shared line given its profitable market.
Bakery products such as a brioche, given their rich formulation, demand the use of strong flours with higher protein content. Doughs from low-protein flours run the risk of collapsing and losing volume during proofing or baking.4
Eggs and fat should be added the end of mixing, to allow the gluten structure to properly develop within the dough. This method helps prevent interference with gluten hydration.4
References
Suas, M. "Viennoiserie" Advanced Bread and Pastry: A Professional Approach, first printing, Delmar, Cengage Learning, 2009, pp. 305–367.
Suas, M. "Bread Formulas" Advanced Bread and Pastry: A Professional Approach, first printing, Delmar, Cengage Learning, 2009, pp. 206–208.
Gisslen, W. "Rich Yeast Doughs" Professional Baking, 7th edition, John Wiley & Sons, Inc., Hoboken, New Jersey, 2017, pp. 188–189.
Figoni, P. "Gluten" How Baking Works: Exploring the Fundamentals of Baking Science, 3rd edition, John Wiley & Sons, Inc., Hoboken, New Jersey, 2011, pp. 149–150.