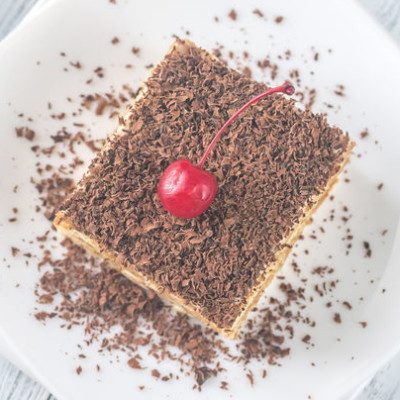 Maraschino Cherries
---
What Are Maraschino Cherries?
Maraschino cherries are cherries that have been preserved, colored and intensely sweetened. They are typically packed in marasca liqueur and flavored with almond or mint oils. These cherries are popular toppings for ice creams and cocktails as well as garnishings for cakes, cookies, cupcakes and pastries.1
Two types are known:
Red maraschino cherries
Green maraschino cherries (mint flavored)
Origin
The earliest recorded production of maraschino cherries was in the Dalmatian region of Croatia. They were made by soaking cherries in salt water followed by preserving in a liqueur made from the same cherries. This recipe spread throughout Europe and was a favorite of the royals. The cherries arrived in the US around the 1800s.
The modern process was developed by Professor Ernest H. Wiegand of Oregon State University. They are typically made with Royal Ann cherries or other white cultivars varieties.2
Function
Maraschino cherries are typically used in baked goods for:
Decoration: mainly as embellishment in cakes and pastries.
Flavor: can be used in fillings to provide a sweet flavor.
Color: provide a bright red color to toppings and fillings.
Nutrition3
The nutritional value of 100 grams of maraschino cherries canned and drained is:
| | |
| --- | --- |
| Component | Grams |
| Water | 57.27 |
| Protein | 0.22 |
| Fat | 0.21 |
| Carbohydrates | 0.33 |
| Ash | 41.97 |
These cherries are high in sugar. Most of the fruit's vitamins are lost during brining and bleaching.
Commercial production4
Maraschino cherries are produced through the following commercial process:
Mature cherries are sorted, pitted, washed and drained
Primary bleaching: cherries are soaked in a brine with sodium metabisulfite (2.1%), citric acid (0.2%) and calcium chloride (1%)
Leaching: the cherries are removed and cleaned from the calcium bisulfite brine
Boiling: to remove excess SO2 from bleached cherries
Second bleaching: cherries are soaked in a brine with sodium chlorite and pH adjustment with glacial acetic acid, then placed again in the first brine until processing
First sugaring: brined cherries are placed in a 15 °Brix syrup
pH adjustment: the pH is adjusted to 3.60
Second sugaring process: can be done using a hot (50 °C / 122°F) process and gradual addition of high fructose corn syrup (HFCS) up to 40°Brix (4°Brix/12 h). Alternatively a cold process can be used using HFCS at 40°Brix (1°Brix/24 h).
Coloring: 150 ppm of Red 50 colorant is added
Flavoring: almond oil or other flavoring is added at 0.2% v/v
Packaging: sugared cherries are packed in vacuum sealed containers and pasteurized
Application
These cherries are commonly used as a garnish in drinks, ice cream sundaes and embellishment in decorated cakes. They can also be used in cookies, muffins and cold cake fillings such as black forest cakes  and as a topping  in pineapple upsidedown cake.
FDA regulations
Maraschino cherries are defined by the FDA as cherries that have been colored and preserved in a flavored sugar syrup. Actual colorant in maraschino cherries must be declared.2
References
Blech, Z. Y. Kosher food production. John Wiley & Sons, 2009, p. 266.
US Department of Health and Human Services. Food and Drug Administration (FDA). ."CPG Sec 550.550 Maraschino Cherries". U.S. Food And Drug Administration, 2020, https://www.fda.gov/regulatory-information/search-fda-guidance-documents/cpg-sec-550550-maraschino-cherries. Accessed 18 June 2020.
Arthey, D and Ashurst, P.H. Fruit processing. 1 st ed., Springer Science & Business Media, 1996, p. 149.
U.S. Department of Agriculture, Agricultural Research Service. FoodData Central, 31 December 2019. https://fdc.nal.usda.gov/fdc-app.html#/food-details/786666/nutrients. Accessed 18 June 2020.