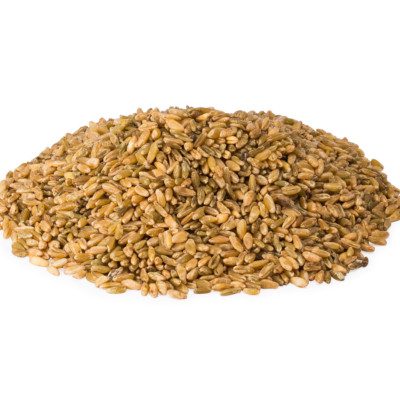 Freekeh
---
What is Freekeh?
Freekeh is an ancient form of wheat grain, similar looking to bulgur. Also known as Green Wheat, Frikeh, Frekeh, Farik, or Firik, it is immature durum wheat (Triticum turgidum var. durum) which has been roasted and rubbed to create its characteristic smoky flavor.
The term freekeh, meaning "rubbed" in Arabic, refers to a step in freekeh production when the wheat grains are rubbed to remove their hulls.
Origin
Freekeh dates back to 2300 B.C. Levantine people, mainly from Lebanon and Egypt, regarded it as a staple and used it in preparing grain-based meals. It has also been mentioned in the Bible. It is still popular today in Middle Eastern and North African countries.
Anecdotally, freekeh came about after an Eastern Mediterranean city was set on fire, burning their wheat crops. In an attempt to salvage their crops and avoid starvation, they discovered that rubbing the burnt hulls left behind a robust tasting grain.
Function
Although an ancient wheat with positive health properties, freekeh has been used to a limited extent in baking and dry fruit-based cereal bars in some East Mediterranean countries. Its high water absorption rate – especially at high temperatures – calls for careful dough handling.
Nutrition
Freekeh is composed of approximately:
77% carbohydrates
12.7% protein
16.5% dietary fiber
Small amounts of Vitamin A, B1, B2, C and E
Compared to wheat, it contains much higher protein and antioxidant levels (mainly phenolic acid and vitamins).1,4
Freekeh has more protein and twice as much fiber as quinoa. It also has a high content of fructooligosaccharides and fructose-rich polymers. These compounds are recognized for their positive effects on human diets including antitumuoral, immunostimulating and prebiotic effects. Products produced with freekeh can be considered a functional food.2,3
Commercial Production
The traditional production method includes cutting the wheat sheaves during the early stage of maturity. Once the wheat sheaves are cut, they are dried for 2-4 hours. Following drying, the sheaves and leafy materials are burned until the glumes are charred, giving rise to the kernels' characteristic smoky flavor. The sheaves are then threshed to separate the grain via milling.
Once dried and roasted, the grain is not perishable and has a long shelf life in the shade to prevent the sun from bleaching the green color.
Freekeh is typically cracked to shorten the cooking time. This method is not quite suitable for large scale production and thus is more commonly seen on small scale production or utilized domestically in home cooking.1,2
Large scale production has been successful in Australia and the United States. Small-scale production plants can be found in Egypt, Lebanon and other East Mediterranean countries.
Approximately 200-300 thousand tons of freekeh are produced annually; its producers demand three times the price of normal wheat.1
Application
Freekeh has been used, though to a limited extent, in baking.
It is typically utilized as a substitute for rice and bulgur, especially in the Arab countries, Turkey and Israel in cooking such as stuffed vegetables and making soup.5,6
Due to its high water-absorption capacity, it would likely be required to increase the liquid ratio in a formulation.
FDA regulation
No specific information has been reported.
References
Al-Mahasneh, Majdi A., and Taha M. Rababah. "Effect of moisture content on some physical properties of green wheat." Journal of Food Engineering 79.4 (2007): 1467-1473.
Maskan, Medeni. "Effect of maturation and processing on water uptake characteristics of wheat." Journal of Food Engineering 47.1 (2001): 51-57.
Özkaya, Berrin, Secil Turksoy, Hazım Özkaya, Burcu Baumgartner, İrem Özkeser, and Hamit Köksel. "Changes in the functional constituents and phytic acid contents of firiks produced from wheats at different maturation stages." Food Chemistry 246 (2018): 150-155.
Tian, Shuang-Qi, Yong-Heng Li, Zhi-Cheng Chen, and Yong-Feng Qiao. "Effects of Layering Milling Technology on Distribution of Green Wheat Main Physicochemical Parameters." Journal of Food Quality 2017.2017 (2017)
Rosner, Abbie. "Roasting Green Wheat in Galilee." Gastronomica: The Journal of Food and Culture 11.2 (2011).
Musselman, Lytton, and Abdel Al-Mouslem. "Triticum Durum in Northern Syria—Parched Corn ( Frikeh ) of the Bible?." Economic Botany 55.2 (2001): 187-189.