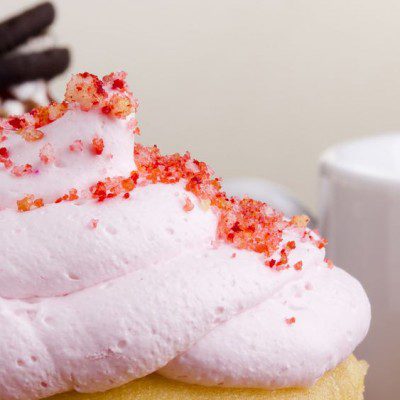 Buttercream
---
What is Buttercream?
Buttercream is a butter-based frosting or icing, typically used on cakes and cupcakes as a coating, layering or decorating cream. Classic buttercream is made from creamed butter and confectioners sugar. 
Flavoring and coloring are added to impart characteristic flavors and colors. ¹,² Various types of buttercream have been developed, such as: ¹,²
American buttercream

Decorator's buttercream

Meringue-type buttercreams: italian and swiss meringue are commonly used. 

French buttercreams

Pastry cream buttercream: german buttercream is the most popular. 

Fondant-type buttercream

Ermine buttercream
Origin
The practice of frosting cakes began in the 17th Century. Although, they were made with egg whites and sugar.³ Buttercream's usage as a frosting started in the 20th Century to replace traditional boiled icings.  
Today, buttercream is one of the most commonly used frostings or icings in baking around the world.¹,²
Function
Buttercream has several uses in baked goods mainly cakes, such as: ¹,²
Frosting 

Layering

Decorating
Nutrition
The nutritional value of a commercial buttercream per 100 g can be seen in the following table:4
| | |
| --- | --- |
| Component | Grams |
| Carbohydrate | 65.71 |
| Lipids | 17.14 |
| Water | 17.15 |
Buttercream frosting is a high caloric food due to its high sugar and saturated fat content. It provides 429 kcal per 100 g.4
Health concerns associated with high cholesterol and high saturated fats such as heart disease risk and obesity, should be considered when consuming excessive amounts of buttercream. 
Application
Examples of various buttercream types in baked goods:¹,²
Buttercream Frosting
Ingredients
Preparation
Considerations

American

50% icing sugar

25% unsalted butter

25% shortening

Cream the butter and shortening.

Gradually add icing sugar.

Salt should be creamed with the fats.

Swiss

59.2% unsalted butter

28.4% sugar

12.3% egg white

Heat the sugar and egg white in a double boiler till complete dissolution.

At 60

o

C(140

o

F) remove from heat, and whisk till soft peaks are obtained. 

Gradually add softened butter. 

Cool the mixture before adding room temperature butter.

Italian

45.6% unsalted butter 28.9 sugar

17.4% egg white

8.1% water

Mix water and sugar. Heat to a boil.

Whisk egg white until almost soft peaks. 

At 115

o

C (239

o

F) remove from heat and slowly add to the egg whites. 

Do not over whip the egg whites. 

When adding the butter it may look curdled, continue to whip until it turns fluffy. 

French

37.3% unsalted butter, 37.3% sugar

21.5% egg yolks

3.9% water

Mix water and sugar. Heat to a boil.

Whisk the egg yolks until they thicken. 

At 115

o

C (239

o

F) remove from heat and slowly add to the egg yolks. 

Add butter slowly or it will melt too quickly

German 

50% unsalted butter

50% pastry cream

Mix pastry cream and softened butter in a stand mixer. 

–
Some considerations when coloring or flavoring buttercreams:¹,²
Chocolate: melt the chocolate and let it cool down before blending with ¼ of the total buttercream mixture. 

Coffee: dissolve 1 ½ tablespoons of instant coffee in water and slowly add to the buttercream. 

Praline: blend a portion of the buttercream with praline paste, then incorporate the rest. 

Almond: soften the almond paste with a small amount of water and mix with a ¼ of the buttercream mixture. 

Color: to  ¼ of the buttercream needed, add a few drops of colorant. Blend with the rest of the mixture. Water-based colorants should be avoided, they may disrupt the emulsion. 
Regulations
The FDA doesn't have a particular section dedicated to buttercream. However, the regulation status of its core ingredients butter and sugar are established as GRAS. 
In the EU, buttercream is regulated by the EU Commission No 445/2007 that establishes the rules for dairy products.5
References
Gisslen, W.

Professional baking

. John Wiley & Sons,4 th ed., 2012.

Ashokkumar, Y.

Textbook Of Bakery And Confectionery, (Revised)

. 2 nd ed., PHI Learning Pvt. Ltd., 2018.

"Buttercream Icing." IFood.tv.

http://ifood.tv/icing/buttercream-icing/about

. Accessed 21 September. 2020.

U.S. Department of Agriculture, Agricultural Research Service. FoodData Central, 09 September 2020. https://fdc.nal.usda.gov/fdc-app.html#/food-details/1022741/nutrients

.

Accessed 21 September 2020. 

European Commission (EC). Commission Regulation NO445/2007 laying down certain detailed rules for the application of Council Regulation (EC) No 2991/94 laying down standards for spreadable fats and of Council Regulation (EEC) No 1898/87 on the protection of designations used in the marketing of milk and milk products . Official Journal of European Communities, 23 April  2007.