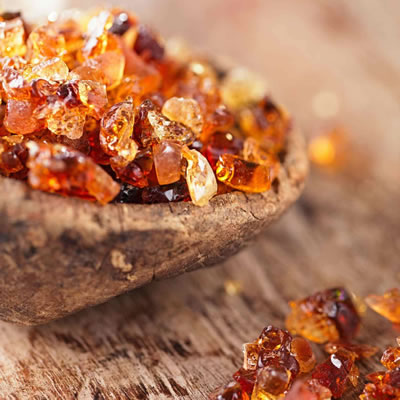 Acacia Gum 
Also known as Arabic Gum
---
What is Acacia Gum?
Acacia gum or gum arabic is a food grade, naturally-derived gum used for its emulsifying and high-gloss properties. In baking, it:
Acts as a stabilizer
Has many clean-label attributes
Is calorie-free, grown without pesticides, and both kosher and halal
Origin
The all-natural gum product is obtained from two acacia species growing in the "Gum Belt" of Africa: 19 nations from Sudan through Chad, up to Nigeria. Sudan, Ethiopia, and Kenya are leading producers. Some 10 million people are employed in the industry.1
Ninety percent of the ingredient is harvested from acacia Senegal trees. The acacia seyal gums are also marketed. The sap is typically pale to orange-brown in color and graded after harvest. Gums that form whole or round tears and are orange-brown are deemed the highest quality.1
Acacia gum is non-GMO. Some 99 percent of the trees from which the product is harvested grow wild; however, commercial scale plantations are being developed in Senegal. Food and beverage account for 60 percent of global demand.2, 1, 5
Function
Acacia gum is unique due to its emulsifying properties, which allow it to efficiently stabilize a food system. This results in products with a superior texture and a good mouthfeel. Acacia gum used to improve the texture of gluten-free breads in conjunction with starches, oils, enzymes or skimmed milk powder. It has reportedly improved softness in breads by 25 percent and extended commercial product shelf life by 50 percent.3
Nutrition
Acacia gum is high in fiber with 90 percent soluble fiber in dry extract8 and is a natural prebiotic.
However, FDA does not consider gum arabic as dietary fiber due to insufficient evidence to support the physiological effect of gum arabic on human health.4
Composition
It is a heteropolysaccharide with extremely high solubility in water.  It can be subdivided into three structural groups:
Arabinogalactan protein
Arabinogalactan
Glycoprotein
Its main structure reoccurs from the following:
Chemical structure of acacia cum.
Commercial production
The gum is harvested and sold to either a trader or directly to a trading organization. The gum is cleaned and sorted for export. Upon import, the majority of acacia gum undergoes additional processing. It is either "kibbled" or powdered. As the Food and Agriculture Organization of the United Nations explains, "Kibbling entails passing whole or large lumps of gum through a hammer mill and then screening it to produce smaller granules of more uniform size. These pieces are more easily dissolved in water, and under more reproducible conditions, than the raw gum and so are preferred by the end-user."
The powdered gum is produced by taking a solution of gum in water that is filtered and pasteurized before being spray dried. The process can be controlled to produce a powder meeting the end user's specific requirements.9
Application
Dissolve in water portion before introducing it to any oils. It is heat sensitive. Due to the proteins in its structure, its emulsifying capabilities decrease with heat. The best results are reported with a concentration of 1 to 3 percent. It can be used in products with an acidic pH.3
In pastries, it is typically used in fillings or frosting due to its ability to emulsify the fat/water interfaces. It is traditionally used on gingerbread products to give a glossy and tacky shine.
FDA regulation
The United States Food and Drug Administration deems acacia gum as a generally recognized as safe food additive under specific conditions within Code of Federal Regulations, Title 21.  In cakes, brownies, pastries, biscuits, muffins, and cookie its use should not exceed 3 percent of the final formulation, while in grain-based bars, the allowable amount is 35 percent. The FDA has approved its use in confectionery and frostings, puddings and fillings, and snack foods.6, 7
The FDA has confirmed that acacia gum has physiological effects that are beneficial to human health and therefore is in compliance with the dietary fiber definition.10
References
"The Gold in Acacia Trees." Daily Nation, 28 Apr. 2017, www.nation.co.ke/business/seedsofgold/The-gold-in-acacia-trees/2301238-3907240-q5p2mxz/index.html. Last accessed 23 October 2018.
 "Gum Arabic Market Estimated To Be Valued At US$ 476.1 Mn By 2025: Persistence Market Research." GlobeNewswire, Persistence Market Research, 21 Sept. 2018, 01:26 ET , globenewswire.com/news-release/2018/09/21/1574135/0/en/Gum-Arabic-Market-Estimated-To-Be-Valued-At-US-476-1-Mn-By-2025-Persistence-Market-Research.html. Last accessed 23 October 2018.
Macdonald, Caroline. "Acacia Gum Shows Promise in Gluten-Free Bread." Food Dive, 27 Apr. 2017, www.fooddive.com/news/acacia-gum-shows-promise-in-gluten-free-bread/441445/. Last accessed 23 October 2018.
Setback for acacia gum as FDA not yet persuaded it meets dietary fiber definition. https://www.foodnavigator-usa.com/Article/2020/02/05/Setback-for-acacia-gum-as-FDA-not-yet-persuaded-it-meets-dietary-fiber-definition. Last accessed 02 Mar. 2020.
Gore-Langton, Louis. "Will Acacia Gum Finally Get the Clean-Label Recognition It Wants?" Foodnavigator.com, William Reed Business Media Ltd., 20 Feb. 2017, www.foodnavigator.com/Article/2017/02/20/Will-acacia-gum-finally-get-the-clean-label-recognition-it-wants. Last accessed 23 October 2018.
 "CFR – Code of Federal Regulations Title 21." Accessdata.fda.gov, www.accessdata.fda.gov/scripts/cdrh/cfdocs/cfcfr/CFRSearch.cfm?fr=172.780.
"CFR – Code of Federal Regulations Title 21." Accessdata.fda.gov, www.accessdata.fda.gov/scripts/cdrh/cfdocs/cfcfr/CFRSearch.cfm?fr=184.1330
Salovaara, Hannu, et al. Dietary Fibre Components and Functions. Wageningen Academic Pub., 2007. Page 271.
"Chapter 2." Gums, Resins and Latexes of Plant Origin, FAO of the UN, 1995, www.fao.org/docrep/v9236e/V9236e05.htm.
FDA Grants Citizen Petition on Acacia (Gum Arabic) as a Dietary Fiber. December 17, 2021. https://www.fda.gov/food/cfsan-constituent-updates/fda-grants-citizen-petition-acacia-gum-arabic-dietary-fiber.