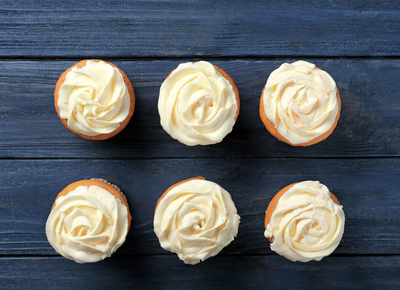 Tropical Vanilla Frosting
---
Ingredients
In Baker's Percent: (%)
Powdered Sugar – 62.3
Water – 16.4
Cavamax W6 by WACKER – 3.3
Vegetable Oil – 13.8
High Fructose Corn Syrup – 3.3
Vanilla – 0.1
Vinegar – 0.2
SOR-Mate Natural Preservative J&K Ingredients – 0.6
Method
Add water to a sauce pan together with Cavamax and half the powdered sugar.
Heat and stir with a whisk to target (140 – 150°F).
Pour it into the mixing bowl and add in the oil, corn syrup, vinegar and SOR-Mate.
Whip on high for 1 min, then scrape down the sides. Continue to whip for 2 more minutes.
Add the second portion of the powdered sugar. Whip on low for 30 sec, scrape down, then whip on high for 2 mins. This formula can tolerate tropical temperatures.