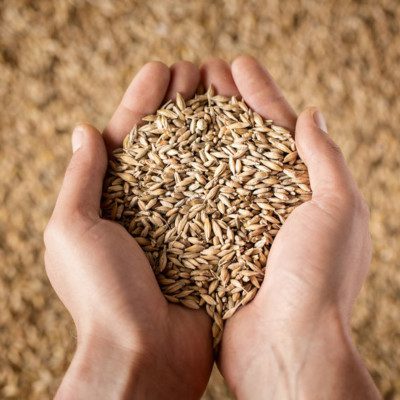 Grain Traceability
---
What is Grain Traceability?
Grain traceability is tracing grains/cereals and cereal-based products from seed to plate.
In a more complete definition, grain traceability means the ability to identify at any specified stage of the grain supply chain from farmer to consumer where the food products come from (one step back) and where they end up (one step forward).1
Origin
The term "traceability" has always existed in the food industry, although it has been known by other names such as logistics control or inventory management. From food safety standpoint, traceability has involved product recalls.
Historically, when a major quality/food safety defect or allergen mislabeling occurred, a company recalled the "defective" product. When the defect or contamination was found, the organization would attempt to trace back and locate the source of deficiency.
How does it work?
Traceability mechanisms and systems have become a priority, especially in the produce, grains and cereals industry. Such systems become essential to provide transparency and security to consumers who are demanding healthier and safer products with higher quality and nutritional characteristics.
Grain traceability is very important for cereal and grain growers because it ensures the quality of grains that are introduced into the food supply chain, allowing certification and accreditation of their products, and quickly locating problematic product shipments.
Application
A traceability program is essentially an information management system. Such a program should be able to identify the parties, locations, and shipments involved in the planting, harvest, transportation, transformation, processing, packaging, storage, and distribution of products. Finally, the program should record the processes that need to be validated by auditors to demonstrate compliance with food safety and food quality systems (e.g. ISO 22000, HACCP).1,2
Grain traceability systems allow the detailed monitoring of technical data and information of products as they are processed and move through players of the supply chain; from harvest through transport, storage, processing, distribution, and final customer.
Benefits of grain traceability systems:1,2,3
Increased market transparency
Means for inventory control and a method to recall defective products
Allow for early warning for quality problems and hazards so that product recalls can be properly executed when needed
Preserve the identity and origin of grain-based products
Facilitate opening of new markets
Prevention of fraud, economically motivated adulteration (EMA) and unfair competition
Provide a mechanism to remove (recall) affected products and locate sources of contamination during an outbreak of foodborne disease
Offer a mechanism to support non-GMO, Kosher/Halal, organic claims on product spec sheet and label
Protection of brand or regional name of value of certain bakery products like bread
Maintain desired physical properties and composition of products
Possibility to properly link raw materials to lots, batches, pallets and production lines
To properly implement traceable grain supply chains, technological innovations are needed for product identification, process and characterization, information capture, data collection, analysis, storage and transmission of recorded information, as well as overall system integration.1,2
Such an integration of technologies relies on the application of appropriate information and computer systems which link the traceability chain to a central database. Components of a traceability program should ensure that sharing data and relevant traceability information of a given material along to the next component in the process are seamless.1,2
In a fully implemented traceability system, each trade unit of a specific grain material is given a unique identifier which accompanies it and is recorded at all stages of its progress through the supply chain.
Aspects required for implementing a grain traceability system/program include:1,2,3
Analytical techniques, based on molecular methods [e.g. Near-Infrared spectroscopy (NIR), Inductively Coupled Plasma–Mass Spectrometry (ICP-MS)]
Certification and accreditation auditors and laboratories
Third party verification
Batch scheduling
Standards
Architecture to support and integrate system (e.g. ERP, MES, food safety management digital tools)
Technology for automated monitoring of processing, displacement/transport, and storage of food items (e.g. RFID or Radio Frequency Identification)
References
Bennet, G.S. "Identity Preservation and Traceability Theory, Design, Components, and Interpretation." Food Identity Preservation and Traceability: Safer Grains, CRC Press, Taylor and Francis Group, LLC, 2010, pp. 47–72.
Scholten, H., et al. "Defining and Analyzing Traceability Systems in Food Supply Chains." Advances in Food Traceability Techniques and Technologies. Improving Quality Throughout the Food Chain, Woodhead Publishing, Elsevier Ltd., 2016, pp. 9–32.
Furness, A., and Osman, K.A. "Developing traceability systems across the food supply chain: An overview." Improving Traceability in Food Processing and Distribution, Woodhead Publishing Limited and CRC Press LLC, 2006, pp. 3–25.