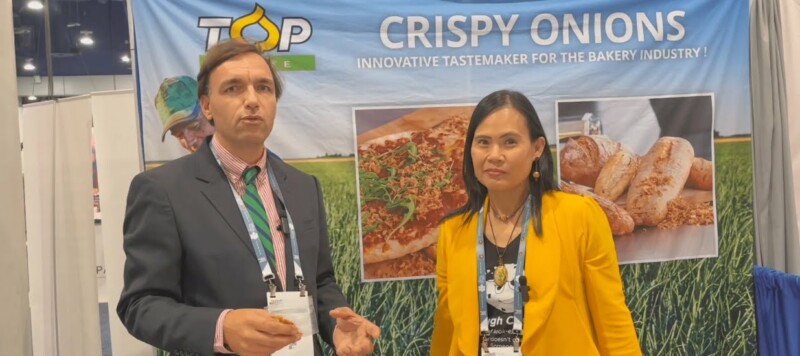 Did you know that a significant part of how good bakery products taste is actually how they smell and look? Bakers hoping to improve or scale up their production should always be on the search for ways to add more visual appeal and flavor to baked goods. During the Baking Expo in September, I spoke to Rogier Janssen, Sales and New Market Development at TOP Taste BV, about their crispy onions and how they can make baked goods look and taste worlds better.
Pack in the flavor with crispy onions
Bakers are no strangers to onions. After all, they are popular natural flavorings for snacks and baked products. Also, they can be included in the dough or as a topping for products like focaccia or bagels. While quality and taste are important to the TOP Taste BV team, so is sustainability. How do I know that? They use 100% RSPO-certified palm oil in the production of their crispy onions, as well as re-use energy and do their best to use the least amount of plastic in their packaging.
As a family-owned business, TOP Taste BV is dedicated to the quality of their crispy onions, which they produce from the seeds to the finished product. Plus, these delicious onions are clean-label friendly, vegan, GMO-free, as well as Halal and Kosher certified. Want to learn more?
Watch the full interview here: