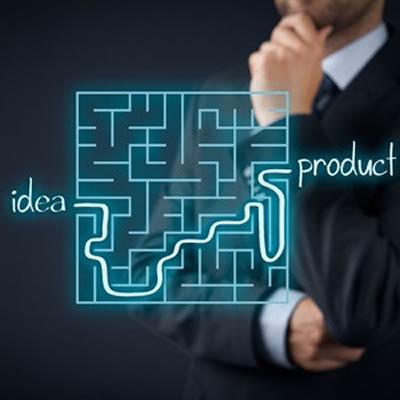 Product lifecycle management (PLM)
---
What is Product Lifecycle Management? 
Product Lifecycle Management (PLM) is a comprehensive, systematic and scientific approach for managing and developing products and product related information. It represents the process of managing the entire lifecycle of a product from ideation, product innovation, product development, manufacturing, and product commercialization—managing the product from the cradle to grave.1
Origin
PLM approaches were the answer to an unmet need by fast-paced and large-scale firms with the advent of internet and cloud-based databases. Throughout the last decade, manufacturers tried  to tackle challenges with shorter product life cycles, increased outsourcing, mass customization demands, complex products, geographically dispersed design teams, inventories subject to rapid depreciation, and rapid fulfillment needs.
Global competition has resulted in increased price pressures, material and energy costs, smaller and more frequent orders, dramatically-shorter life cycles, multiple supply, environmental and financial sustainability, and more governmental food safety regulations.2
How does PLM work?
Product lifecycle management is not  a computer software or a method, per se. It is a broad concept and a set of systematic methods that attempt to control product information. Leading industrial software companies have successfully developed PLM solutions that address most of the challenges faced by production firms.
The idea with PLM is to control and steer the process of creating, processing and handling, distributing products and further recording product related information. Currently, PLM is carried out with the help of a wide variety of information processing systems.3
PLM focuses on the lifecycle phases of a product:4
Beginning of life
Middle of life
End of life

Idea generation
Formulation and specifications
Design/development
Sourcing of materials
Lab trials and scaleup
Manufacturing

Distribution
Commercialization
Use or consumption
Service/support

Retire
Disposal
Reuse
Product data refers to the information related to the product and  can be divided into three groups:3
Definition data: Includes physical and functional properties of the product or service. This group also includes exact technical data such as physicochemical and microbiological specifications.
Lifecycle data: This group of information is connected to research, design and production, use, maintenance, recycling, and destruction of the product, and regulations connected with the product.
Metadata (product and lifecycle information): Describes the type of information gathered, its location (which databank), who recorded it and where/when it can be accessed.
Application
PLM information technologies integrate people, data, processes and business computer systems such as ERP and MES. PLM systems have been developed for electronics, food and beverage, automotive, oil & gas, and other industries.
Applications of PLM include:
Management of bills of materials (BOM), from design to service
Compliance management
Computer assisted design (CAD) integration
Life cycle assessment
Materials requirement planning (MRP)
Process simulation (discrete and continuous)
Benefits of PLM include:
Managing products across the lifecycle
Providing reliable data and information from products and processes
Speeding up product development (reducing time from idea to market)
Enabling and improving collaboration at all supply chain levels
Providing control and visibility of a product throughout its lifecycle
Reducing environmental impact  during a product's life cycle (sustainability)
Knowing the exact technical and financial characteristics of a product throughout its lifecycle
References
Saaksvuori, A., and Immonen, A.  "Introduction". Product Lifecycle Management, 2nd edition, Springer Berlin, 2005, pp. 1–5.
X.G. Ming, J.Q. Yan, X.H. Wang, S.N. Li, W.F. Lu, Q.J. Peng, Y.S. Ma, Collaborative process planning and manufacturing in product lifecycle management, Computers in Industry, Volume 59, Issues 2–3, 2008, Pages 154-166.
Saaksvuori, A., and Immonen, A.  "Fundamentals". Product Lifecycle Management, 2nd edition, Springer Berlin, 2005, pp. 6–27.
Stark, J.  "Product Lifecycle Management". Product Lifecycle Management: 21st Century Paradigm for Product Realisation, 2nd edition, Springer-Verlag London Limited, 2011, pp. 1–16.