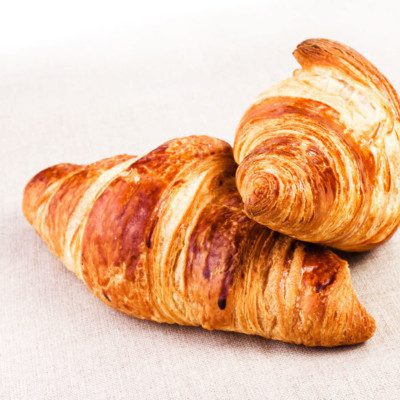 Croissant
---
What is a Croissant?
A croissant is a laminated, yeast-leavened bakery product that contains dough/roll-in fat layers to create a flaky, crispy texture. Croissants belong to the Viennoiserie or pastry category of baked goods along with brioche, Danish and puff pastries. A croissant usually contains normal levels of salt, yeast and sugar.1 The texture and eating quality of croissants are created:
Lamination: a folding process creates alternating dough and fat layers
Expansion: caused by the leavening action of yeast fermentation, and physical separation of the dough and fat layers during the oven spring stage of baking as the water trapped between them vaporizes to steam.1
Origin
As legend has it, the croissant was invented as a special roll in Vienna to celebrate the end of its invasion by Turkish troops from the Ottoman Empire in 1683. The enemy decided to attack at night to avoid being seen, but the Viennese bakers, who were working at the time, realized the city was under siege and alerted the authorities.
To immortalize this victory, a baker with the name of Peter Windletter was selected to create the Hörnchen ("small horn" in German), with the shape of a crescent to symbolize the Ottoman flag and emblem. By eating this roll the people in Vienna celebrated symbolically their victory over their feared enemy. Marie-Antoinette d'Autriche, originally from Vienna, officially introduced and promoted the popularity of the croissant in France, starting in the late 1700s.1,2
How are croissants made?
Croissant production follows the straight dough system. A typical croissant formula includes:1,3
Commercial production
Producing high-quality croissants requires the following steps:1,3
| | |
| --- | --- |
| Ingredients | Formula % |
| All Purpose Flour | 45.11% |
| Sugar | 4.62% |
| Salt | 0.75% |
| Yeast | 1.77% |
| Water | 24.66% |
| Laminating Butter | 23.10% |
*The standard quantity of roll-in fat for croissant is 25% based on total dough weight.
Ingredients scaling/metering
Mixing for 4–5 minutes at second speed setting to incorporate dry ingredients and obtain a smooth, not fully-developed gluten (full development takes place during rolling-in procedure). Dough temperature after mixing should be maintained in a narrow range 22–25°C (72–77°F).
First fermentation (45 minutes to 1 hour at room temperature)
Punching down of dough
Resting in refrigerator or retarder for 8 hrs to 24 hrs at 4°C (40°F)
Dividing or cutting bulk dough to obtain rectangular pieces of desired weight
Sheeting of dough with a roller pin or dedicated equipment
Laminating (sheeting and folding). Rolling in the fat using the English method followed by 3-fold. This method  results in 3 layers of dough separated by 2 layers of roll-in fat. By doing this, the dough is folded to form 54 separate layers (three three-folds).
Retarding/resting the dough in a refrigerator to allow the dough to relax for 30 minutes between each fold or series of folds. Dusting flour can be applied to the container or pan.
Make-up. In wholesale bakeries, croissants are shaped from pieces of laminated dough that have been sheeted to desired thickness and cut into a triangular shape. The dough is rolled starting from the base and given 3–4 turns or curls.
Proofing for 90–120 minutes at 26°C (79°F), 75–80% RH. The proofing temperature should never exceed the melting point of the roll-in fat.
Egg washing
Baking for 10–20 minutes at 200°C (392°F). Shorter baking times are possible in high  temperature ovens.
Application
In laminated products, quality of the baked goods product depends heavily on the ability of water vapor to force apart the dough layers during baking. This creates a flakier product with superior eating quality, vital for consumers' acceptability and market success. The objective of lamination is the creation of a large number of separate dough layers. The more individual layers created, the flakier the finished product will be.4
It is important to maintain a relatively low temperature in the bakery (10–20°C or 50–68°F) in order to keep the roll-in fat plastic below its melting point so its pliable and not absorbed by the dough. Care should also be exercised to prevent the fat from becoming too firm at cold temperatures as this could cause handling issues. The temperature inside the plant can be controlled with a properly installed HVAC system.
The key quality parameters when purchasing laminating fats is their melting point and temperature range of plasticity, i.e., essential for better workability of the dough at room temperature.
References
Suas, M. "Viennoiserie" Advanced Bread and Pastry: A Professional Approach, first printing, Delmar, Cengage Learning, 2009, pp. 331–346.
Cauvain, S. "Speciality Fermented Goods" Technology of Breadmaking, 3rd edition, Springer International Publishing Switzerland, 2015, pp. 253–277.
Gisslen, W. "Rich Yeast Doughs" Professional Baking, 7th edition, John Wiley & Sons, Inc., Hoboken, New Jersey, 2017, pp. 181–193.
Cauvain, S. "Dough Retarding and Freezing" Technology of Breadmaking, 3rd edition, Springer International Publishing Switzerland, 2015, p. 204.