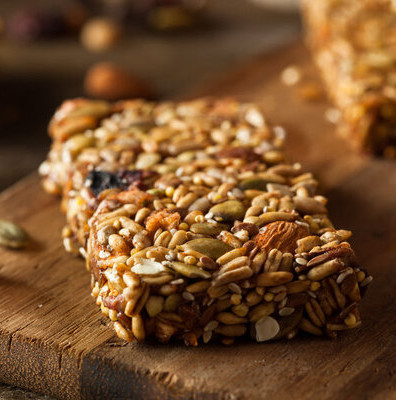 Tocopherols
Also known as α, β, γ, ẟ tocopherols or vitamin E
---
What are Tocopherols?
Tocopherols are natural antioxidants whose main function is to stop or delay primary oxidation. Primary oxidation involves the formation of hydroperoxides (ROOH). Tocopherols stop or delay oxidation chain reactions by removing or scavenging free radicals.1,2
Along with natural polyphenols, ascorbic acid and ascorbyl palmitate, tocopherols have the capacity to replace traditional synthetic antioxidants which are not compatible with clean label formulations, such as:
Butyl-hydroxy-anisole (BHA)
Butyl-hydroxy-toluene (BHT)
Tetra-butyl-hydroquinone (TBHQ)
Propyl-gallate (PG)
Origin
Tocopherols are obtained from vegetable oils, beans, eggs, and milk. Vitamin E is a collective group in which alpha tocopherol is the main constituent. Vegetable oils contain a higher concentration of natural antioxidants, including tocopherols, than animal fats and are thus more stable.
The plural term "tocopherols" implies that there are several types of tocopherols. α, β, γ, ẟ tocopherols are the variants which are used in the food industry. The following chemical structure and table helps identify the different types of tocopherols found in commercial mixed tocopherol concentrates.

| Name | Chemical Denomination | R1 | R2 | R3 |
| --- | --- | --- | --- | --- |
| α-tocopherol | 5,7,8-trimethyl-tocopherol | CH3 | CH3 | CH3 |
| β-tocopherol | 5,8-Dimethyl-tocopherol | CH3 | H | CH3 |
| γ-tocopherol | 7,8-Dimethyl-tocopherol | H | CH3 | CH3 |
| ẟ-tocopherol | 8-Methyl-tocopherol | H | H | CH3 |
Function
The main functionality of tocopherols is to preserve food colors and flavors by retarding deterioration, rancidity, or discoloration due to oxidation.
Tocopherols are highly synergistic with ascorbic acid and ascorbyl palmitate (an antioxidant formed by combining ascorbic acid with palmitic acid). Ascorbic acid is not fat soluble but ascorbyl palmitate is. So, combining them produces a fat-soluble antioxidant.3
Commercial production
Tocopherols are obtained by vacuum steam distillation of edible vegetable oil products.
Application
Tocopherols can be used in an infinite number of food products. The following products are some examples:
High-stability bakery oils that are rich in unsaturated fatty acids (e.g. linoleic and oleic). The tocopherols prevent the oil from oxidizing rapidly.
Frying oils (as long as oil temperature does not exceed the boiling point of each tocopherol fraction)
Cake and all-purpose shortenings
Margarine and spreads
Mayonnaise & dressings
Baked products (refrigerated and frozen dough)
Snack foods
Breakfast cereals
Considerations when using tocopherols
In their natural state, tocopherols are reddish-brown viscous liquids. Given their highly hydrophobic structure, tocopherols are only soluble in oil, the reason why they should be thoroughly mixed and incorporated into the dough or batter. Tocopherols could also include vegetable oil and carriers like lecithin to help them to be better incorporated into water.
Commercial preparations of this natural antioxidant usually contain 75% tocopherols (in all its chemical forms) and 25% vegetable oil.
Usage levels usually range from 100 to 1500 ppm (based on flour weight). Final dose highly depends on the formulation, shelf-life expectations and packaging type.
Tocopherols are readily degradable by heat, hence during processing they are partly destroyed. This is why higher doses are needed in comparison with other antioxidants, such as BHA or TBHQ. One way to make sure that the right concentration of tocopherols is obtained in the finished product is to analyze their concentration before and after thermal treatments (baking, roasting, frying, etc.).
Tocopherols can be successfully sprayed on the surface of baked goods and other snack products. A solution containing 0.2% tocopherol in 96% ethanol can be used for such purposes.
Regulation
Tocopherols are substances generally recognized as safe (GRAS) by the U.S. FDA when used in accordance with good manufacturing practices.4,5
References
Shahidi, F., and Wanasundara, Janitha. "Antioxidants." Food Additives Data Book, 2nd edition, Blackwell Publishing Ltd., 2011, pp. 96–99.
Igoe, R.S. "Antioxidants." Dictionary of Food Ingredients, 5th edition, Springer Science+Business Media, LLC, 2011, pp. 164–166.
Msagati, T.A.M. "Antioxidants and Radical Scavengers." Chemistry of Food Additives and Preservatives, John Wiley & Sons, Ltd., 2013, pp. 1–31.
U.S. Food and Drug Administration, CFR – Code of Federal Regulations Title 21, Part 182 – Substances Generally Recognized As Safe, https://www.accessdata.fda.gov/scripts/cdrh/cfdocs/cfcfr/CFRSearch.cfm?CFRPart=182, Accessed 26 december 2020.
U.S. Food and Drug Administration, CFR – Code of Federal Regulations Title 21, Part 184 – Direct Food Substances Affirmed As Generally Recognized As Safe, https://www.accessdata.fda.gov/scripts/cdrh/cfdocs/cfcfr/CFRSearch.cfm?CFRPart=184, Accessed 26 december 2020.