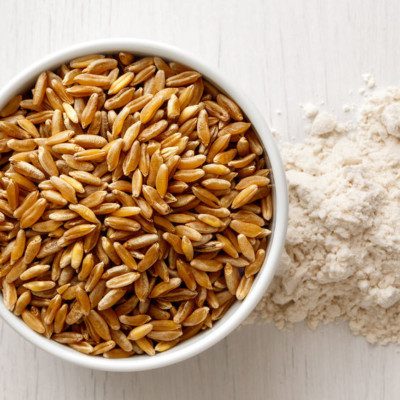 Khorasan
---
What is khorasan?
Khorasan (Triticum turgidum ssp. turanicum) is an "ancient wheat" grain, such as einkorn, emmer and spelt which consist of land races, i.e. are made up of many closely-related strains. It is a close relative of durum wheat.
Interest in khorasan and other ancient grains has been renewed as part of growing consumer awareness of natural and non-hybridized grains and cereals.  Compared to modern wheat, khorasan contains 20-40% more protein and is higher in:
Lipids
Amino acids
Dietary fiber
Minerals
Vitamins
Carotenoids (especially lutein)2
Origin
Khorasan can be traced back to Mesopotamia and ancient Egypt. Similar to durum wheat, it has a kernel with a large humped back.3 The grain was brought to the U.S. from Egypt around WWII.3
Nutrition
Typical nutritional profile of khorasan wheat is shown in the following table:4
Servings:  1 cup 100 g 1 oz(s)
| | | | |
| --- | --- | --- | --- |
| Calories | 627 | Sodium | 9 mg |
| Total Fat | 4 g | Potassium | 750 mg |
| Saturated | 0 g | Total Carbs | 131 g |
| Polyunsaturated | 1 g | Dietary Fiber | 21 g |
| Monounsaturated | 0 g | Sugars | 15 g |
| Trans | 0 g | Protein | 27 g |
| Cholesterol | 0 mg |  Calcium |  4% |
| Vitamin A | 0% | Iron | 39% |
| Vitamin C | 0% | | |
*Percent Daily Values are based on a 2000 calorie diet. 
Functional performance of khorasan was assessed in a recent study which concluded that animals fed khorasan bread had better responses to oxidative stress than those animals fed breads made with modern wheat varieties, suggesting that its antioxidant properties may reduce the risk of chronic illnesses.5
A study by the International Food Allergy Association also showed that 70% of participants with significant wheat sensitivities were able to eat foods made with khorasan with no or only minor adverse reactions.
Other studies have concluded that khorasan may help in reducing cholesterol as well as other markers of inflammation compared to modern wheat. Other nutritional benefits of include its potential in promoting probiotic strains in the GITb.6 However, since it is a wheat, it is not recommended for people with celiac disease.
Commercial Production
Khorasan wheat crops are grown mainly in the U.S. (Montana) and Canada (Alberta and southern Saskatchewan). It is characterized by large and humped kernels with mild and nutty flavor. Canada is the largest global exporter while Italy is the number one importer.
Application
Milled khorasan can be used as an alternative to whole grain flour in bread, cookies, snacks, tortilla, cereal, waffles, pancakes, bread mixes, sour dough and other baked goods.1
Quick bread recipes have been easily adapted to the addition of khorasan. In such systems, substitution of up to 50% wheat flour has been achieved. However, when incorporating it into a formula the following changes in product attributes may be expected:
Higher water absorption (if not compensated for, may lead to the formation of a dry and crumbly dough)
Higher nutritional value
Less volume
Dense texture
FDA regulation
The USDA classifies khorasan as a species of wheat.1 The FDA provides specific guidelines for labeling major food allergens. Since khorasan is in the same species (Triticum) it is listed in regulation F11. Section 201(qq) of the FD&C Act to be listed as a major food allergen.7
References
"United States Department of Agriculture." Grain Inspection, Packers & Stockyards Administration, 20 Jan. 2012, https://www.gipsa.usda.gov/fgis/commgallery/gr_emmer.aspx.
Quinn, R.M.. "Kamut®: Ancient grain, new cereal". In:Jancik, J. (ed.) Perspectives on New Crops and New Uses.  ASHS Press, Alexandria, VA. (1999) p. 182–183
"Khorasan Wheat: the Story of an Ancient Grain | The Whole Grains Council." Whole Grain Stamp | The Whole Grains Council, 13 Dec. 2017, https://wholegrainscouncil.org/blog/2017/12/khorasan-wheat-story-ancient-grain
"Calories in Wheat, Khorasan, Uncooked." Free Calorie Counter, Diet & Exercise Journal | MyFitnessPal.com, www.myfitnesspal.com/food/calories/303296467.
Sofi, F., Whittaker, A., cesari, F., Gori, A.M., Fiorillo, C., Becatti, M., Marotti, I., Dinelli, G., Casini, A., Abbate, R., Gensiniand, G.F. and Benedettelli, S. Characterization of Khorasan wheat (Kamut) and impact of a replacement diet on cardiovascular risk factors: cross-over dietary intervention study. Eur. J. Clin Nutr.(2013) 67: 190-195.
Marotti, I., Bregola, V., Aloisio, I.Di Gioia, D., Bosi, S. and Di Silvestro, R. Prebiotic effect of soluble fibers from modern and old durum-type wheat varieties on Lactobacillus and bifidobacterium strains. J. Sci. Food Agric. (2012) 92: 2133-2140.
King Arthur Flour Company, Inc. "Guide to Baking with Ancient Grains." Flourish – King Arthur Flour, 8 June 2017, blog.kingarthurflour.com/2017/02/10/baking-ancient-grains/.
Center for Food Safety and Applied Nutrition. "Labeling & Nutrition – Guidance for Industry: Food Labeling Guide." U S Food and Drug Administration Home Page, Center for Food Safety and Applied Nutrition, Jan. 2013, http://www.fda.gov/foodlabelingguide.