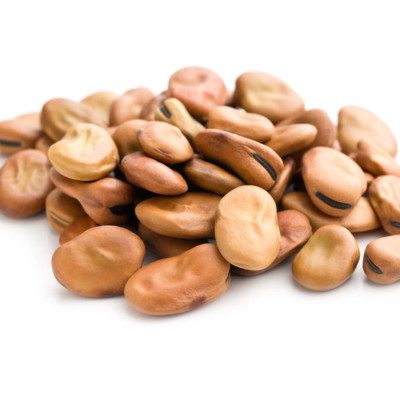 Faba Beans
---
What are Faba Beans?
Faba beans (Vicia faba) are a pulse crop in the pea family. They  are utilized for human food and livestock feed. The dried seeds are cooked, canned, frozen, roasted as snacks, or ground into flour.1 High-protein breads can be made by adding up to 20% faba bean flour. The flour can also be used in gluten-free baking.
Faba beans are also known as:
Fava bean
Field bean
Broad bean
Bell bean
English bean
Faba beans can be ground into flour and used in gluten-free baking applications. For added protein, faba bean flour can used in formulas for pizza dough, bread, pancakes, cookies and muffins. Substituting ingredients may affect flavor, texture, and volume.
Origin
Beans are an important food crop consumed globally. They were first domesticated around 10,000 BC.2 In 2013 faba bean production reached 4.56 million tonnes.2  Faba beans are native to the near east but have extended to North America, South America, Burma, China, Sudan, and Uganda.2
Function
Faba bean flour and faba bean protein powder are used in gluten-free baking applications. The flour can be used up to 50% in combination with of starches and gums commonly used in gluten-free formulas. In conventional baking, it can be added to increase the protein content of the baked good.
Faba bean flour provides the following:
Texture and volume
Additional protein
Dough strengtheners
Crumb whitening
Thickener
Nutrition
Faba beans proteins are a rich source of lysine. Using 25% faba bean flour adds protein, fiber, and iron to a baked good.5
Faba Bean Flour4
Calories
330
Sodium
0 mg
Total Fat
2 g
Potassium
0 mg
Saturated
0 g
Total Carbs
48 g
Polyunsaturated
0 g
Dietary Fiber
10 g
Monounsaturated
0 g
Sugars
3 g
Trans
0 g
Protein
27 g
Cholesterol
0 mg
Calcium
 0%
Vitamin A
0%
Iron
0%
Vitamin C
0%
*Percent Daily Values are based on a 2000 calorie diet. Your daily values may be higher or lower depending on your calorie needs.
Application
Dried faba beans can be ground into a flour and used in the following applications:5
Protein bars
Gluten-free coatings
Pasta
Gluten-free bread
Protein enriched bread
For a high-protein bread, faba beans can be used at 20% (flour weight). The protein value will be about 7 grams per 50 gram serving, so this may potentially meet a 'Good Source of Protein' claim.
FDA regulation
Faba beans are listed as broad beans under the Code of Federal Regulations Title 21 as safe for food use.6
References
G., Tran, and Lebas F. "Faba Bean (Vicia Faba)." Rhodes Grass (Chloris Gayana) | Feedipedia, www.feedipedia.org/node/4926.
Fouad, M, and et al. "Genetic and Genomic Resources of Grain Legume Improvement 5 – Faba Bean." Egyptian Journal of Medical Human Genetics, Elsevier, 2013, www.sciencedirect.com/science/article/pii/B9780123979353000050. pp. 113-116
DiMuzio, Daniel T. Bread Baking: an Artisans Perspective. 1st ed., John Wiley & Sons, 2010. page 8
"Calories in Home Made Fine Fava Bean Flour." Free Calorie Counter, Diet & Exercise Journal | MyFitnessPal.com, www.myfitnesspal.com/food/calories/hodmedod-fine-fava-bean-flour-498004398.
"How to Use Bean Flours." Gluten-Free Recipes, www.glutenfreecookingschool.com/how-to-use-bean-flours/.
U.S. Food and Drug Administration. "CFR – Code of Federal Regulations Title 21." Accessdata.fda.gov, https://www.accessdata.fda.gov/scripts/cdrh/cfdocs/cfCFR/CFRSearch.cfm?CFRPart=112&showFR=1&subpartNode=21:2.0.1.1.12.1