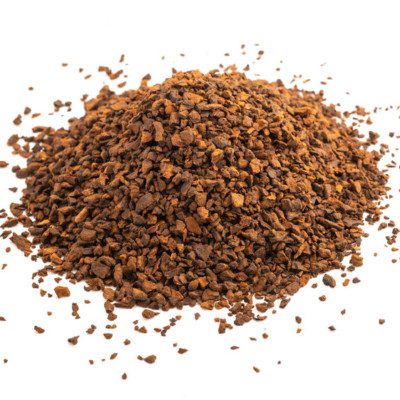 Chicory Root Fiber
---
What is Chicory Root Fiber?
Chicory root fiber is a derived from Cichorium intybus var. Satvium, a member of the dandelion family. A soluble fiber and food additive, it's a good source of inulin. It's a fructooligosaccharide that provides many functional and health benefits in baking including:
Low calorie replacement to sugars
Bulking and masking agent
Fat mimetic
Digestive health
Weight management
No impact on glycemic index
 Origin
Chicory root fiber is extracted from the Chicory root (curly Endive plant) found in Europe. It's now common in North America, China and Australia where it was used mainly as a feed for livestock.
Traditionally, the roots of chicory were roasted and ground to be used as a coffee substitute. Discovery of their high fiber content and the associated health benefits in the early 1970s have paved the way for formulating many foods, bakery products and beverages with this type of fiber.
Function
Chicory root fiber provides bakery products with many benefits such as:
Water binding
Thickening and bulking
Creamy texture
Fat replacement
Yeast food
Clean taste
Mild sweetness (10% of sucrose)
Health benefits due to its high soluble fiber content and prebiotic properties
Composition and Nutrition
Chemical composition of chicory root:1
| | |
| --- | --- |
| Total carbohydrates | 68.50% |
| Inulin | 44.69% |
| Crude protein | 16.78% |
| Crude fiber | 16.78% |
| Ash | 10.91% |
| Crude ether extract | 3.68% |
Health benefits:
Encourages the growth of healthy gut bacteria
Aids bowel movement
Improves blood sugar control
Supports weight loss
Relieves constipation
Enhances calcium absorption
Commercial production2
The got water extraction of chicory roots and further purification produces soluble fiber mixture of inulin and other fructooligosaccharides. The removal of the low molecular weight (low degree of polymerization) molecules produces inulin-rich substance. The powder form can be prepared using spray drying.
Application
Due to its low glycemic index, chicory root fiber is considered a suitable sugar alternative in sugar-free or low-sugar bakery products for diabetics. Adding this fiber can improve the nutritional properties of white bread. In whole wheat bread, it can improve the rheology and eating qualities of baked goods.
In gluten-free bakery products, this fiber ingredient can improve appearance as well as improve the sensory profile due to improved moistness and perception of sweetness.
Optimal level of chicory root fiber in baked goods is around 5% where an additional water (2-3%) may be needed. If added in excess, than it may result in a soft dough which is difficult to mold. It may also alter the texture of some baked goods.
FDA regulation
Chicory root fiber is labeled as vegetable fiber, fructooligosaccharide, oligosaccharide, chicory extract and fructan. The FDA considers it as a dietary fiber.3
References
Massoud, M., Amin, W.A. and Elgindy, A. Chemical and technological studies on Chicory (Cichorium Intybus L) and its applications in some functional food. Journal of Advanced Agricultural Research, 14(2009): 735-42.
Kalyani Nair, K., Kharb, S., and Thompkinson, D. K. Inulin Dietary Fiber with Functional and Health Attributes—A Review. Food Reviews International, 26(2010): 189–203.
FDA confirms dietary fiber status for chicory root fiber. https://www.bakemag.com/articles/8717-fda-confirms-dietary-fiber-status-for-chicory-root-fiber. Last accessed by Jan 20.2020.