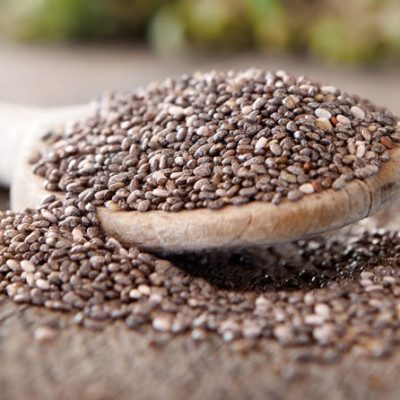 Chia Seed
---
What is a Chia Seed?
Chia is a small, black seed native to the Americas. It is a subtropical crop, recently popularized for its unique nutritional composition, mainly high omega-3 fatty acids which account for 60% of its oil content.
Chia seeds, flour, oil and mucilage can be used in food and bakery products to improve their nutritional value.
They are also good candidates as egg substitutes in cakes.1
Origin
The word chia means "strength" in the Mayan language. The seed was used by Aztec rulers during their rituals. In pre-columbian times, various populations used the seed for sustained energy and medicinal benefits. The crop (Salvia hispanica) is native to the southwest United States and Northern Mexico.2  The seed has an oval shape and varies in color from white to brown and black.
Function
Chia flour, fiber and seed mucilage have been used in food and baked products.
The seed, flour and fiber can absorb high amounts of water to form gels. They can also inhibit amylopectin retrogradation in dough formulations, important for bread keeping quality.3 Oil in water emulsion gels containing chia have also been suggested to replace animal fats in healthy meat products.4
Commercial production
In addition to the seed, several types of  products are available for commercial use. These include:
Whole chia flour
Semi-defatted chia flour
Low-fat chia flour
Due to its high oil content, milling the seeds can be very challenging. Methods such as double-knife crushers or stainless steel grinders are commonly used.5
Nutrition
With high fiber content, chia has numerous nutritional properties that have increased consumer demand for this ingredient. It is also high in omega-3, omega-6 and linoleic acid and contains various antioxidants and minerals as well as protein and soluble fiber.
Composition of chia seeds
Chia seed nutritional composition per 100 grams. Total per 100 g = 371 kcal.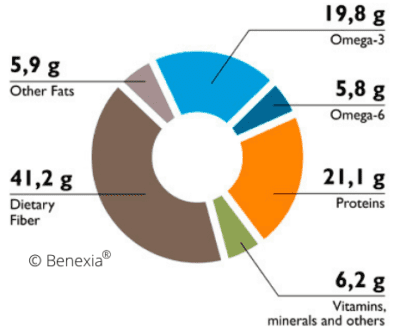 Application
Chia can be added to breads and cereals either as a flour or with the whole seed intact. Evaluations of these at 5 percent levels resulted in breads with higher proteins, lipids, ash and dietary fiber. They also had an increase in specific bread volume and a decrease in crumb firmness. In sensory analysis, the addition of chia seed increased consumer acceptance.3
In gluten-free bread formulations, incorporation of 15% chia flour or seed to rice flour led to reduced specific volume and increased hardness (this was more with chia flour than with seed). The crust and crumb were darker and the texture was deemed better than control loaves. Some questions remain about hydration prior to incorporation and whether it changes the characteristics of the dough and bread.
FDA Regulation
The United States Food and Drug Administration considers chia a food, which exempts it and the flour made from it from regulation.
The European Food Safety Authority deemed chia, whole seeds and ground, suitable for use in bread and cereal products. Its use is limited to 5 percent. It is considered a novel food ingredient.6
References
Muckian, M.. "Bringing Ancient Grains to Market in Wisconsin." Wisconsin Gazette, 11 Aug. 2017, www.wisconsingazette.com/lifestyle/bringing-ancient-grains-to-market-in-wisconsin/article_2fa1113a-7ec7-11e7-bff6-3b005be25f2e.html. Last accessed 18 October 2018.
Kintzios, S. E., editor. Sage: The Genus Salvia. CRC Press, 2003. pp. 21-22.
Iglesias-Puig, E., and M. Haros. "Evaluation of Performance of Dough and Bread Incorporating Chia (Salvia Hispanica L.)." European Food Research and Technology, vol. 237, no. 6, 2013, pp. 865–874., doi:10.1007/s00217-013-2067-x.
Pintado, T., Ruiz-Capillas, C., Jimenez-Colomenero, F., Carmona, P. and Herrero, A.M. Oil-in-water emulsion gels stabilized with chia (Salvia hispanica L.) and cold gelling agents: Technological and infrared spectroscopic characterization. Food Chemistry, 2015, 185, pp: 470-478.
Zettel, V., Krӓmer, A., Hecker, F. and Hitzmann, B. Influence of gel from ground chia (Salvia hispanica L) for wheat bread production. Eur. Food Res. Technol., 2015, 240, pp: 655-662.
SINC Science News and Information Service. "The Aztec and Maya Seed Arrives in Europe." / Noticias / SINC, 2 Dec. 2013, 08:58, www.agenciasinc.es/en/News/The-Aztec-and-Maya-seed-arrives-in-Europe. Last accessed 29 November 2018.