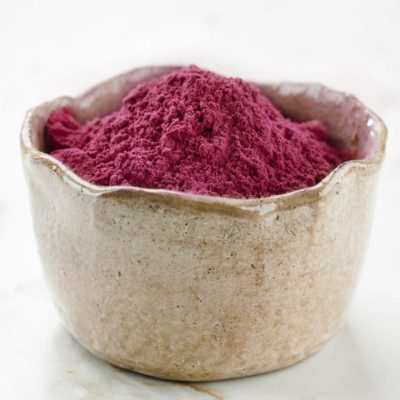 Beet Powder
Also known as beetroot red or beet red
---
What is Beet Powder?
Beet powder is a natural food colorant derived from good quality, dehydrated, edible beet (Beta vulgaris L. var rubra).
It is a dark red colored additive used in flavored and fermented milk products, cheese, dairy analogs, dried fruits and vegetables, among others.2 It's  an ideal colorant for clean label foods.
Origin
Beetroot originated in Mesopotamia around the 8th century and is indigenous to Asia and Europe.2 It was used in the 19th Century to color wine.3
Composition
The color beetroot red contains several pigments belonging to the betalains class. The main coloring agent is betacyanin, other minor components may include betaxanthin (yellow colored) as well as some degradation products of betalains (light brown). Beetroot red is a red to dark red powder which is soluble in water, but insoluble in alcohol.1
Commercial production
Natural varieties of red beets (predominantly, Beta vulgaris L. var rubra) are macerated and concentrated followed by membrane filtration and if necessary, clarification. The resulting product (beet juice) is further dried and pulverized, followed by the removal of fiber, sugars and other non-water soluble carbohydrates. Food grade acids (citric acid) and carriers such as maltodextrin may be added to stabilize the dried powder.1
Functions
Beetroot red can be used as a replacement for synthetic colors. Since it is natural, it can be used in clean label formulations. It does not pose any risk of allergic reactions or immunogenicity.1
Stability
The betacyanins component of beetroot red is fairly stable to heat and light and are suitable for minimally processed products. They are pH stable, but are prone to oxidation, thus heating in the presence of air results in degradation. In alkaline media, betanin can turn into a red-violet pigment which further decomposes to become colorless. Progressive color degradation should be expected at high temperature, pH and water activity. So all commercial products may slowly lose their color depending on storage conditions and time.1
Applications
Beet red can be used as a colorant in a wide range of products including:
Strawberry ice creams, yogurts, jellies, candies, etc.
Fortified multigrain snacks
Biscuits
Cream cheese spread2
FDA regulations
The FDA states that color additives may be used safely as food colorants in amounts consistent with Good Manufacturing Practices. Red beet color is exempt from certification and any certification requirements and labelling should conform to FDA regulation 21CFR70.25.
Labeling should include the name of the color and any general and quantitative limitations, such as 'for food use only' and the maximum amount that can be used safely.
References
EFSA Panel on Food Additives and Nutrient Sources added to Food., "Scientific Opinion on the re-evaluation of beetroot red (E 162) as a food additive", EFSA Journal, 13 (12), 2015
Chhikara, N., Kushwaha, K., Sharma, P.,Gat, Y., Panghal, A., "Bioactive compounds of beetroot and utilization in food processing industry: A critical review" Food Chemistry, 272 (), 2019, pp 192-200.
Nilsson, T. "Studies into the pigments in beetroot (Beta vulgaris L. ssp. vulgaris var. rubra L.)." Lantbrukshogskolans annaler 36 (), 1970, pp 179-219.