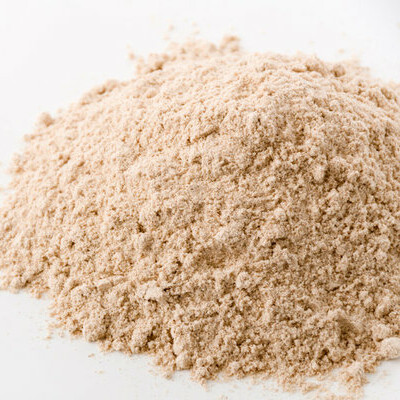 Bamboo Fiber
---
What is Bamboo Fiber?
Bamboo fiber is a fine white powder obtained from bamboo trees. Bamboo fiber is an indigestible polysaccharide and a promising  dietary fiber with  functional benefits.1
As an insoluble fiber, it can be added to gluten free bakery products to improve texture, machinability and stability of the baked goods by up to 10%.1
Origin
The bamboo plant (Bambusoideae) originated in China and India. Its use dates to 960 AD, and its cultivation could be traced back to 3 BC.3 Current health trends have created the need for  dietary fibers  and other novel dietary products like bamboo fiber.1
Function
This powder is used for several purposes in the manufacture of baked goods: 1,2
Enhances nutritional value (dietary fiber)
Increases water absorption capacity
Bulking agent
Thickening agent
Retards stalling
Anti-caking agent
Nutrition
Nutritional value of a commercial bamboo fiber per 100 g:2
| Component | Value |
| --- | --- |
| Carbohydrate | 94.30 |
| Water | 5.67 |
| Fat | 0.02 |
| Ash | 0.01 |
This fiber provides 189.78 kcal per 100 g serving. Dietary fibers can help improve gut health, prevent cardiovascular diseases and control blood glucose levels.2
Commercial production
Bamboo flour is commercially produced through the following process:4
Cleaning: removal of stalks, stones and leaves.
Breaking and cutting: bamboo or bamboo waste is broken down into 5 – 150 mm pieces.
Dry sterilization: using dry sterilization dryers operated at a controlled temperature of 88 – 120 oC (190 – 248 oF) to a moisture content of 1-16%.
Pulverizing and grinding: using mechanical grinders (1.2 – 3.0 mm).
Final milling: pulverized bamboo is passed through a flour mill to obtain a 20-40 mesh powder.
Packaging: powder bamboo is packaged in polywoven bags.
Application
Bamboo fiber is used in gluten-free baking. It can improve dough textural  properties and machinability, as well as reduce breakage and tearing.1,3
Frostings and icings made with this have a smooth and creamy texture.2 Typical usage level is 0.25 – 10.00% w/w weight depending on the formulation. 2
Impact of bamboo fiber addition on some baked goods: 1,3
Product
Usage Level
Effect
Bread
3-6 %

Decreased specific loaf volume
Slightly increased hardness

Cookies
3 %

Increased thickness
Decreased browning
Increased hardness
Lower spread factor
Regulations
In  2018, the FDA recognized bamboo fiber as  a healthy dietary fiber .5
The EU doesn't have a specific regulation for bamboo fiber as a food additive. Its use in the production of plastic in direct contact with food products is banned.6
References
Kučerová, Ji, Šottníková,V and Nedomová,S. "Influence of dietary fibre addition on the rheological and sensory properties of dough and bakery products." Czech Journal of Food Sciences 31.4 (2013): 340-346.
"Nutriloid® Bamboo Fiber – 75000377." Ingredion.Com, 2021, https://www.ingredion.com/na/en-us/ingredient/nutriloid-bamboo-fiber-75000377bn.html .
Mancebo, Camino M., et al. "Effect of the addition of soluble (nutriose, inulin and polydextrose) and insoluble (bamboo, potato and pea) fibres on the quality of sugar‐snap cookies." International Journal of Food Science & Technology 53.1 (2018): 129-136.
杨三. Bamboo Flour Producing Process Abstract A Process For Preparing Bamboo Powder From Raw Bamboo Or Bamboo Leftover Includes Such Steps As Cutting, Breaking, Drying While Sterilizing At 80-280 Deg.C, Pulverizing By 40 Meshes, And Grinding By 40-200 Meshes. Its Advantages Are Stable Water Content, Uniform Granularity, And Low Cost.. No. CN1406724A, 2001.
Food and Drug Administration. Review Of The Scientific Evidence On The Physiological Effects Of Certain Non-Digestible Carbohydrates. Food And Drug Administration, 2018, p. 8.
European Commission (EC). Commission Regulation (EU) No 10/2011 of 14 January 2011 on plastic materials and articles intended to come into contact with foodstuffs. Official Journal Of European Communities, 14 January 2011.