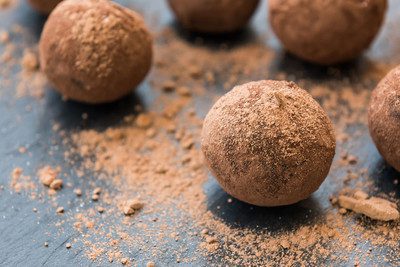 Ingredients
12 oz Bittersweet chocolate chips
3.5 oz Fruit & nut chocolate (or favorite candy bar)
¾ C Heavy whipping cream
1¼ tsp Vanilla extract
¼ tsp Cayenne pepper
1 tsp Ground cinnamon
½ tsp Ground cardamon
½ tsp Ground cloves
½ tsp All spice
½ tsp Nutmeg
¼ tsp Ginger
12 oz White chocolate
Method
Set aside chocolate chips and fruit & nut chocolate in small dish.
Set aside spices and vanilla in two separate dishes.
Warm cream in small saucepan until just reaching boiling point.
Pour cream over chocolates. Slowly blend the two via spatula and place over double broiler, continually stirring until the chocolate is completely melted.
Remove from heat. Stir in vanilla and spices.
Use tablespoon to delve out dollops of truffle onto parchment paper, OR spray mini-cupcake tin and fill with truffle. Freeze roughly 1 hour until solid.
Melt white chocolate and pour desired amount over frozen truffle bites.
Sprinkle cinnamon over white chocolate.
Enjoy!
*Fruit & Nut Chocolate can be substituted with any favorite chocolate bar of equivalent ounce weight.