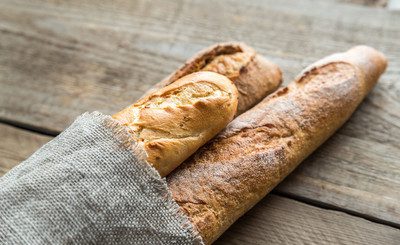 Softgrain Amber Sprouted Baguette
---
Ingredients
In Baker's Percent: (%)
Sprouted Flour – 100 %
Salt – 2 %
Dry Yeast – 0.5 %
S500 Green – 1 %
Soft grain Amber – 35 %
Water – 60 %
Method
With mixing spiral, mix 5 minutes first speed and then 5 minutes second speed.
Dough temperature should be 75 – 78.
Then, bulk fermentation for 30 minutes.
The scale should be about 12 oz.
It will then have intermediate proof in 20 minutes.
The make up is a baguette
For the final fermentation, overnight, an hour at room temperature the 25 minutes proofer at 95°F  and 85 % humidity.
Cut it in 5 for the decoration after baking.
The oven temperature should be in °C, first at 425°F then drop it to 385°F
The baking time is about 22 minutes.