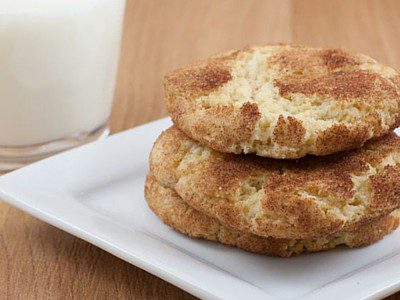 Ingredients
1 Cup Butter (softened)
¾ Cup Granulated sugar
½ Cup Brown sugar
1 Egg plus 1 yolk
1 Tbsp Vanilla
1 tsp cream of tartar
1 tsp baking soda
½ tsp Salt
1 tsp Cinnamon
2¾ Cup AP flour
Cinnamon Sugar
¼ Cup Granulated sugar
1 Tbsp Cinnamon
Method
Preheat the oven to 325 oF. Grease two cookie sheets.
Blend the baking soda, cream of tartar, salt, cinnamon and flour in a separate bowl.
Cream the butter with both the sugar in the mixer.
Gradually add in the beaten egg, vanilla, and beat on high.
Add in the dry ingredient blend and mix well.
In another bowl, mix together the cinnamon and sugar.
Use an ice cream scoop to drop the cookie dough into the cinnamon sugar and coat it well.
Place it on the cookie sheet about 2 inches apart, and flatten it slightly.
Bake it for 10-12 mins.