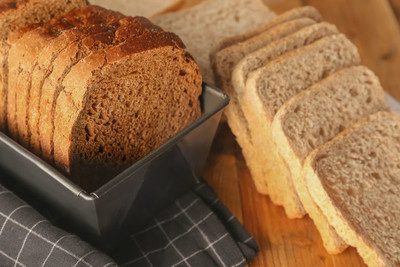 Rye Multigrain Pan Loaf
---
Ingredients
In Baker's Percent: (%)
Bread Flour – 85%
Rye Medium Flour – 15%
Salt – 2%
Dry Yeast – 1.5%
Canola Oil – 2%
Sapore Adelia – 10%
S500 Green – 1%
Soft grain Amber – 25%
Water – 55%
Method
Mixing spiral for 5 minutes on the first speed, then 5 minutes for the second speed.
The dough temperature should be about 75 – 78.
Leave it for bulk fermentation for 10 minutes.
With a scale of 14 oz.
Intermediate proof for 10 minutes.
The make up of the pan loaf should be seeded.
For the final fermentation, leave it for 90 minutes proofer at 95F, 85% humidity.
Dust it with with rye flour and cut it into 4.
Bake it for 35 minutes at 425F the drop to 375F.